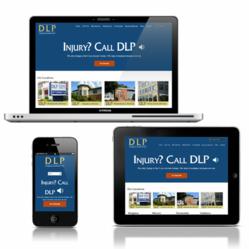 DLP Law Firm Site
Ensure their visitors have a great experience no matter what device they're using
Scranton, Pennsylvania (PRWEB) April 11, 2012
Otreva Designs, a Pennsylvania website design company, launched two responsive websites in the first quarter of 2012 helping clients reach visitors on all types of devices including smartphones and tablets. The first website was for the Pennsylvania car accident lawyers of Dougherty, Leventhal and Price. The second was for Vitamin Partners, an online health supplement store that specializes in healthcare practitioner brands of popular supplements.
Otreva Designs specializes in designing responsive websites that automatically adjust to a device's width. Responsive web designs adapt automatically to the device's width they are being displayed on using CSS3 media queries. A smartphone screen is normally around only 320 pixels wide while a desktop screen can be 1440 pixels or more. At over 4.5x the size of a normal smartphone, the desktop screen can support much more content than a smartphone. However with a responsive web design, designers can plan for these differences in size and display the content based on need. This eliminates excessive resizing, panning and scrolling as well as accidental clicks on incorrect web page links when using a smartphone. "Responsive web design is a great solution for many websites owners who want to ensure their visitors have a great experience no matter what device they're using," says lead responsive designer Mike Averto. "However it isn't a complete replacement for a mobile application. Until frameworks like Sencha Touch can compete with all the native features of devices like smartphones, native mobile applications cannot be completely replaced."
35% of all American adults have a smartphone and some 87% of these owners have access to the internet from their device according to Pew Internet. When asked what device these adults normally use to access the internet, 25% of the smartphone owners said that they mostly go online using their phone, rather than with a computer.
About Otreva Designs
Otreva Designs is a Scranton, Pennsylvania based web marketing company focused on creating web products that help website owners reach their online potential. Creating a website is only a small part of internet marketing. Otreva Designs also offers custom application development, Search Engine Optimization, PPC Management and Social Media Marketing services for its customers. For more information on Otreva Designs & its PA Web Design services, please visit http://www.otreva.com or call 888.570.8166