Are you using a Windows 10 laptop but the computer screen goes black randomly? This is an annoying thing but don't be worried. And this post is written for you to help you get rid of laptop black screen issue to run the computer smoothly.
You may experience random PC black screen and it may bother you a lot since there is not any error code or message giving you an idea where to start troubleshooting.
Back up Important Files before Troubleshooting Black Scren
No matter which method you use to fix screen goes black randomly, in order to ensure your data security, we strongly recommend you to back up your important files first of all since data loss may happen at any time and anywhere in case of random black screen.
If the laptop screen keeps going black, perhaps you are unable to enter the computer desktop. Then, you may ask: how can I back up my files in the event of an unbootable laptop? Actually, it is so easy as long as you use professional Windows backup software for Windows 10/8/7.
Here, I suggest using MiniTool ShadowMaker Bootable Edition to create a file backup when the screen goes black randomly. First, you need to use the Trial Edition of this software and create a bootable disc or USB flash drive by using the Media Builder feature to back up files in WinPE.
After the bootable disc or drive is created, go to BIOS to change it as the first boot order to run your PC from it and then start a backup.
Step 1: In MiniTool PE Loder interface, you can click the first option Minitool Program to launch MiniTool ShadowMaker.
Step 2: Then, this backup software for Windows 10/8/7 will run. Just go to the Backup page where you can view all system related partitions are selected in the Source section.
The purpose is to back up files before fixing the ramdom laptop black screen, so you need to manually choose what you need to back up. Just go to the Source moduel so as to enter the following interface, click Folders and Files and choose the significant files you want to back up in the pop-up window.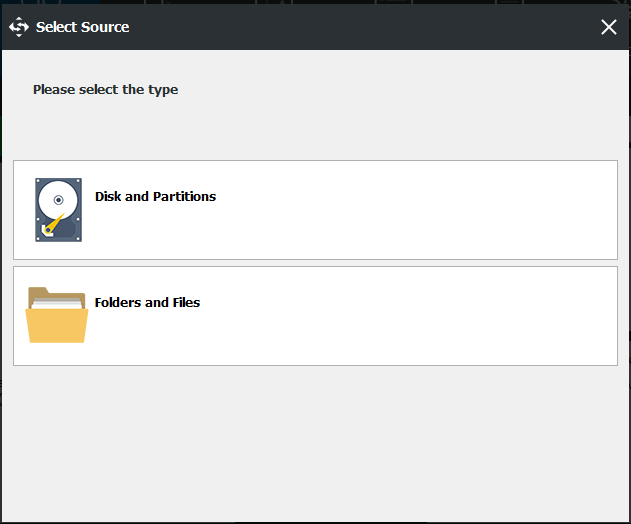 Step 3: Next go to the Destination moduel where some options are offered for you to choose. Just select one to store the backed up file image. Here, it is recommended to select an external hard drive or USB drive.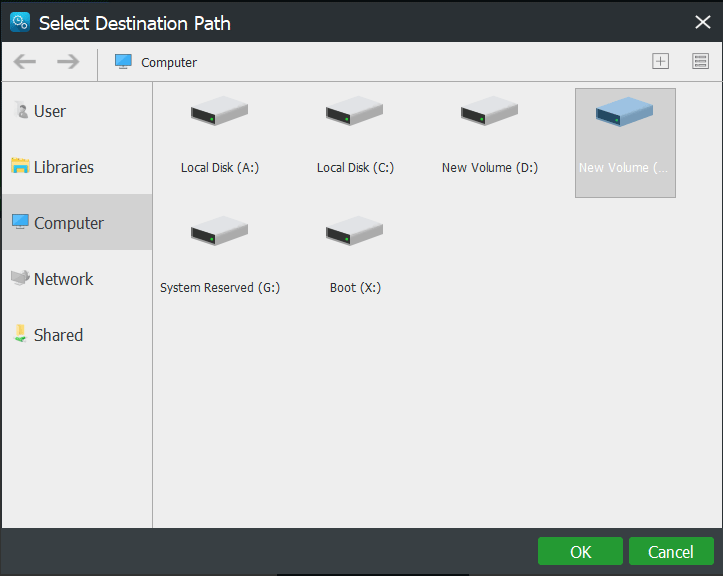 Step 5: After finishing the source and destination selection, click Back up Now button to run a file backup at once.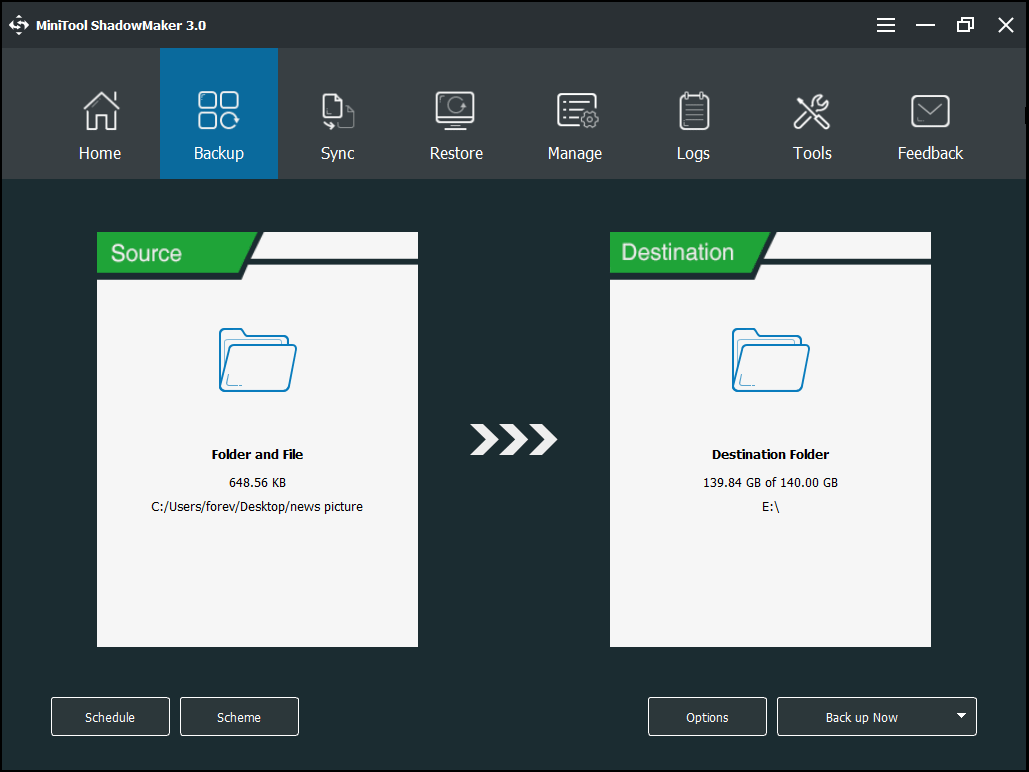 Now it is time for you to fix the random laptop black screen problem after you have backed up or saved your important data. Go to the next part to find the solutions.
Fixed - Screen Goes Black Randomly Windows 10/8/7
Case 1: Hardware Issues Cause Screen to Get Black Randomly
Perform Simple Checks
The most common and critical hardware that can cause laptop black screen are the power supply, liquid crystal display, memory bank, hard disk, motherboard, etc. So it is necessary for you to troubleshoot one by one.
First, check your power supply. Sometimes, for a laptop, if the power itself has a problem, it is possible that the screen goes black even though plugging in an external power supply.
If the power indicator is on all the time and the external power is plugged in properly, random laptop black screen is not caused by the power. Then, you need to carefully check the cooling fan port to see whether there is wind and check if hard disk indicator light is on.
If there is no problem, restart your laptop and hear if there is always a beeping voice. If yes, perhaps the memory stick is loose. Just plug it back in.
Next, check your graphics card or liquid crystal display. Connect the external monitor to the external display interface of the laptop, restart Windows OS and see whether the external display can work normally.
If yes, the motherboard, CPU, hard disk, graphics card, and memory don't go wrong. And perhaps it is the liquid crystal display that leads to the issue laptop screen keeps going black. And then you need an after-sales service to fix the displayer.
If the external dispalyer doesn't show anything, the motherboard or graphics card may be broken. Also, you need to ask an after-sales service for help.
5. Sometimes, the laptop temperature is too high and you often play games but the heat dissipation performance is not good, as a result, graphics card temperature is too high, the screen goes black randomly. Check your graphics card to see if it's burned out. If not, please clear the dust thoroughly, reclean the exhaust system, apply silicone, and replace the fan.
Case 2: Laptop Screen Goes Black Randomly due to Software Isuses
In addition to hardware issues, your computer screen goes black randomly because of some software problems. First, try a simple way.
Wake up the Display
This way is an easy solution. Just use the Windows logo key + Ctrl + Shift + B keyboard shortcut to wake up your display. If Windows is responsive, a short beep will sound and the screen will blink or dim when Windows attempts to refresh the screen.
If it couldn't work, you can boot your laptop to Safe Mode to fix a black screen problem.
Boot in Safe Mode to Fix Black Screen
Step 1: If you are unable to see anything on the screen due to a black screen, restart your PC, when the blue Windows logo appears, press the power button and reboot. Repeat these steps several times until Windows 10 automatic repair is triggering.
Or you can prepare a repair disc and boot your laptop from it, then click Repair your computer to enter WinRE.
Step 2: Once you see Choose an option menu, just click Troubleshoot.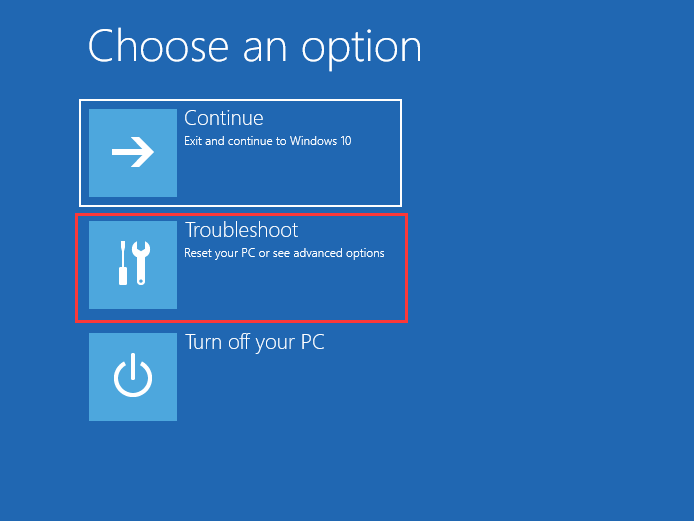 Step 3: Go to Advanced options > Startup Settings > Restart.
Step 4: In the Sratup Setting page, press F4 or F5 to enter Safe Mode.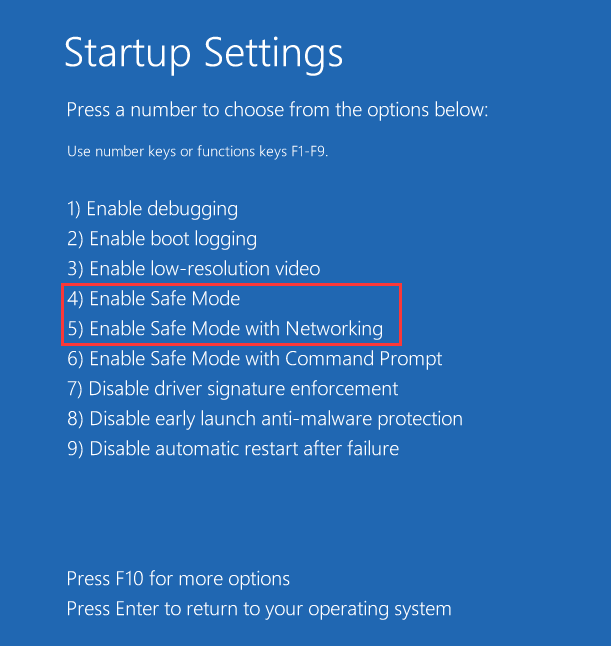 In the Safe Mode, you can try some troubleshooting steps. Let's see details from the following paragraphs.
Way 1: Reinstall Your Graphics Card Driver
Some of you report the issue - computer screen goes black but computer still running, for example, you are listening to the music or playing the games but only the screen becomes black and you can still hear the voice. In this case, you can take graphics card driver into consideration.
If the video driver isn't working properly, you can uninstall it in Safe Mode, and then let the operating system reinstall the driver automatically in the process of a restart.
Step 1: If your Asuse, HP or Lenovo laptop screen goes black randomly in Windows 10, right-click on the Start button and choose Device Manager.
Step 2: Expand Diskpay adapter, find your graphics card driver and right-click on it to choose Uninstall device button to fix laptop screen goes black but still on issue.
Step 3: In the pop-up window, click Uninstall to comfirm.
Later, restart your laptop to see whether screen goes black randomly or not.
Way 2: Change Power Settings
If the screen goes black automatically or turns black every minute, but it can go back after moving a mouse. In this case, maybe it is due to the power setting of your laptop.
Step 1: In Safe Mode on Windows 10, type Control Panel in the search box and run this utility.
Step 2: Click Power Options.
Step 3: Click Choose when to turn off the display link to enter the Edit Plan Settings interface.
Step 4: Next, set the Turn off the display option to Never and click Save changes.
Way 3: Scan and Remove Virus or Malware
Sometimes viruses can cause the screen to go black. If you haven't installed antivirus software on your laptop or the installed program isn't powerful enough to block the viruses or malware, viruses may attack your laptop.
To scan and remove viruses, you also need to boot in Safe Mode with Networking, then run the installed antivirus program or download one online, and next perform a full scan your Windows system.
If your screen goes black randomly, you can just try these solutions to troubleshoot.
News From
MiniTool Solution
Category:
Data Recovery Services
Company about: MiniTool Solution Ltd. is a software development company based in Canada. As a dedicated software development company, MiniTool Solution Ltd. provides customers with complete business software solutions in the data recovery and partition management industry.