Many Windows 7 users encountered the Windows failed to start error when trying to boot computer, which will absolutely cause data loss. This article tells how to retrieve data from unbootable computer and helps fix Windows boot manager Windows failed to start issue with top 7 methods.
There are various Windows boot errors and Windows failed to start is a typical error for Windows Vista, Windows 7, Windows 8 and Windows 8.1 operating systems. What leads to this error? There are many reasons that can cause the error.
How to Get Files off from the Unbootable Computer
You can try MiniTool Partition Wizard's Data Recovery feature to recover important files from the computer with Windows failed to start error immediately. Just follow the steps as below.
Step 1. Get MiniTool Partition Wizard Pro Ultimate from the following button and install it on a normal computer.
Step 2. Create a bootable USB drive or CD/DVD disc using the Bootable Media embedded in this software to boot the computer with the Windows failed to start error.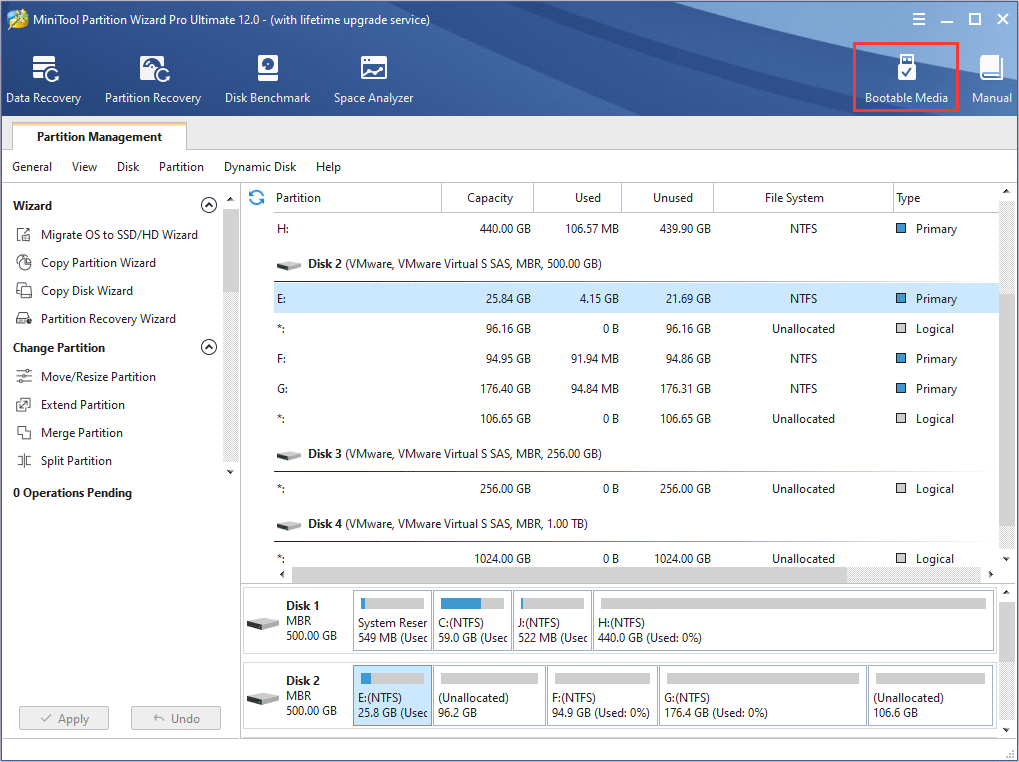 Step 3. Connect the boot disk you've made to the computer with Windows failed to start error.
Step 4. Enter the BIOS settings menu of your computer to give the bootable USB drive or disc boot priority. Then boot from the disk.
Step 5. When you get the interface of MiniTool Partition Wizard, launch the Data Recoverywizard.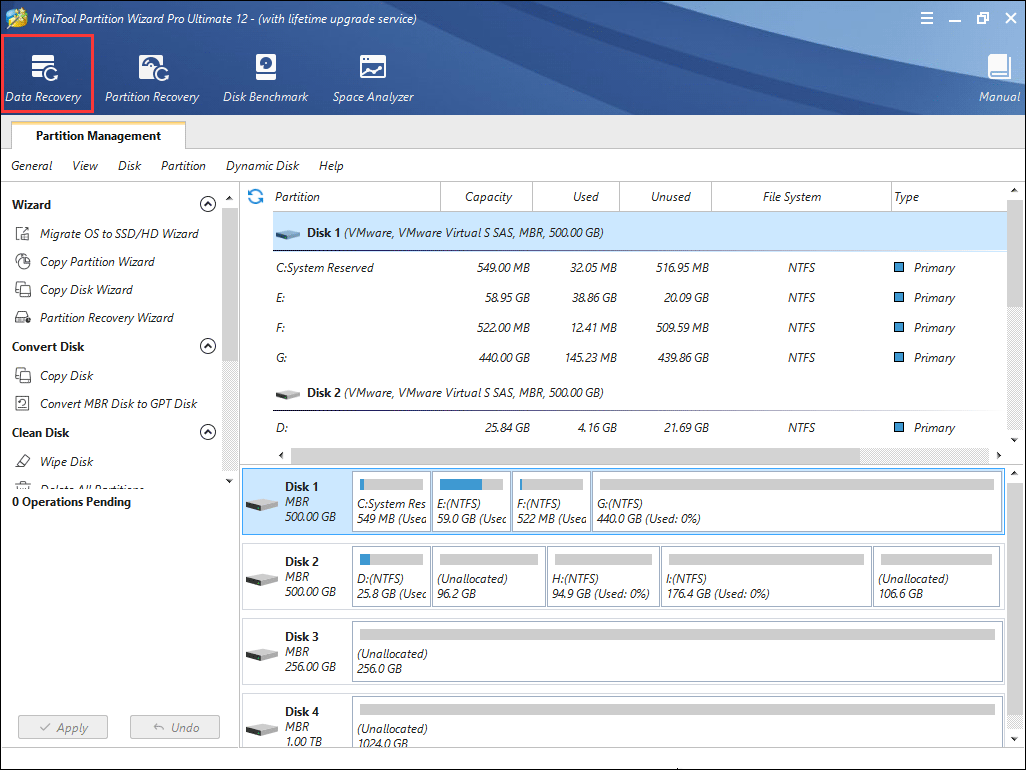 Step 6. After launching Data Recovery function, you can see that all the detected disk partitions are arrayed by drive letters.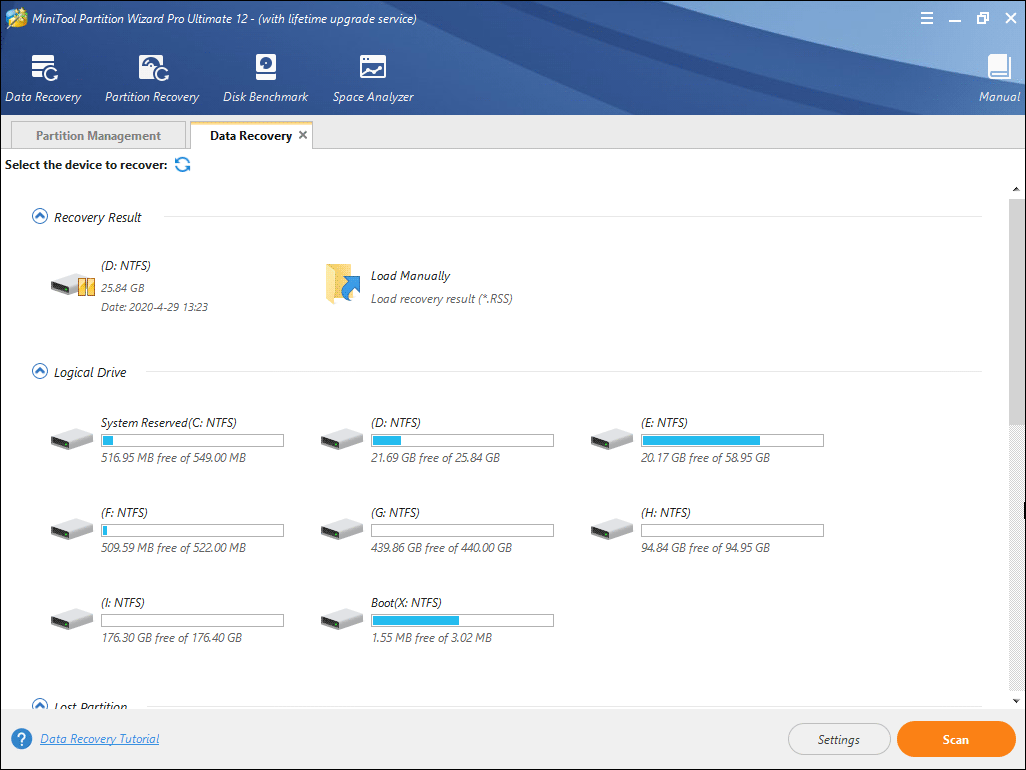 Here Data Recovery will list 5 parts, and every part is different from each other.
Recovery Result: this section will show the last scanning result record and you can manually load scanning result to check recovered files directly.
Logical Drive: this section will show all existing partitions on your computer, including removable devices.
Lost Partition: this section will show all lost partitions detected by Data Recovery, and then you can recover data from lost partitions.
Unallocated Space: this section will show all unallocated spaces on your computer.
Hard Disk: this section will list all hard disks on the computer. Users can also select a hard disk to scan.
Step 7. You can select a partition and click Scan. Here I take partition G as an example.
Note: In the bootable edition, every partition has its drive letter, including system reserved partition. So the drive letter of the system partition can be changed. You can pay attention to the partition size to make sure you choose the right partition to recover.
Step 8. Waiting for the scanning completed. During the process of scanning, you can pause or stop the scanning by clicking the Pause or Stop button if you find what you need.
Step 9. After completing the scan, you can check items that you need and click Save button.
Step 10. At last, choose a directory to save selected files. It is recommended to save the recovered files on another drive. Otherwise, the lost/deleted data could be overwritten. You can save the files to a USB drive or other external devices.
Solutions to Fix Windows Failed to Start Windows 7 Error Solution 1. Remove Newly Installed Hardware or External Devices and Reboot. Solution 2. Use the Last Known Good Configuration to Boot up Windows Solution 3. Run Startup Repair Solution 4. Rebuild BCD configuration Solution 5. Run CHKDSK Utility Solution 6. Perform a System Restore Solution 7. Reinstall Windows Operating System
If none of the solutions listed works, you may need to reinstall Windows altogether. Since reinstalling window will clear all of the data and third-party programs on your computer, you'd better backup everything on the disk.
Step 1. Also get MiniTool Partition Wizard Pro Ultimate to create a bootable USB drive on a normally running computer.
Step 2. Boot your computer with the USB drive/disc and get the main interface of MiniTool Partition Wizard. Select the disk that you want to copy and click on Copy Disk.
Step 3. Follow the instructions on the Partition Wizard and at last click Apply on the upper left corner.
Then you can reinstall Windows 7.
Step 1. Insert a Windows installation disc into the computer with Windows failed to start error.
Step 2. Restart the computer with its power button. Press any key to boot when you see "Press any key to boot from CD or DVD".
Step 3. Choose your language and other preferences and then click on Next.
Step 4. On this screen, click on Install now to start Windows 7 reinstallation.
After reinstallation, you can manage Windows 7 disks and partitions with a professional Windows 7 partition manager and backup Windows 7 regularly in case of any accidental boot failure.
News From
MiniTool Solution
Category:
Data Recovery Services
Company about: MiniTool Solution Ltd. is a software development company based in Canada. As a dedicated software development company, MiniTool Solution Ltd. provides customers with complete business software solutions in the data recovery and partition management industry.