In order to install the Windows operating system or fix a broken Windows, a bootable USB flash drive is needed. How to create bootable USB from ISO Windows 10? A Windows 10 USB tool or USB bootable software will be introduced.
When you cover creating bootable USB drives for Windows, It's recommended the Windows 7 USB/DVD Download Tool (time to update that name Microsoft), but many of us have some problems creating one and started looking for different options.
To install the operating system or to create a rescue disc, it is a choice to burn the operating system into a CD or DVD disc. Though it is nothing hard, the method is clunky, expensive and no-so user-friendly when considering the CD/DVD writer and the cost of an actual CD/DVD disc. Thankfully, you can use a USB flash drive.
How to Create Bootable USB from ISO Windows 10 Way 1: Use Windows Media Creation Tool
Microsoft offers you a utility called Media Creation Tool, allowing you to download a Windows 10 ISO file compatible with your PC or directly create a bootable USB drive so as to install Windows 10.
This is the easiest and reliable method. Just follow the step-by-step guide to make bootable USB from ISO.
Step 1: Go to Windows 10 download page and click Download tool now to get MediaCreationTool.exe.
Step 2: This is an independent executable file that doesn't need installation, so you can simply run the tool and create bootable USB from ISO. Just double-click on the .exe file and then accept the terms.
Step 3: Then, choose the Create installation media (USB flash drive, DVD or ISO file) for another PC option and click the Next button to continue.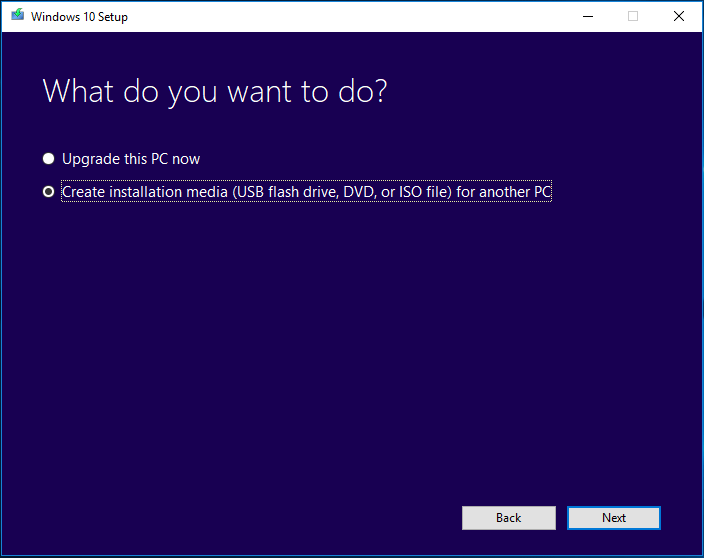 Step 4: Then this tool will capture the language, Windows edition and architecture details from your Windows installation. Also, you can uncheck the option Use the recommendation for this PC and re-specify these details.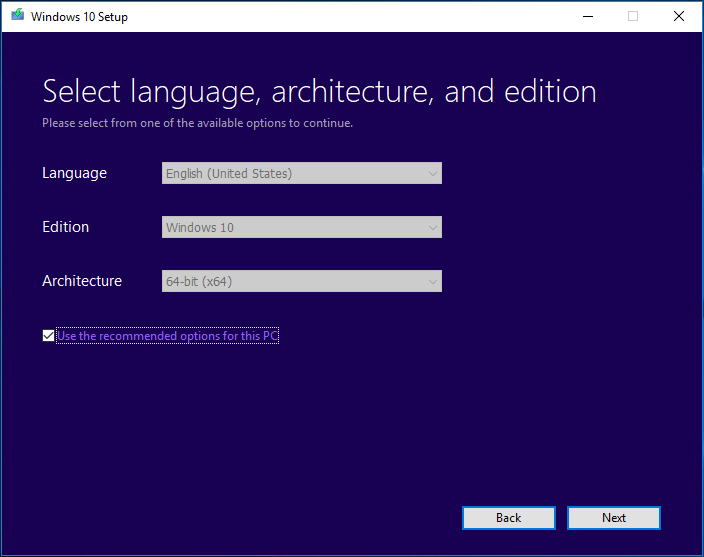 Step 5: In the following page, you can see two options: USB flash drive and ISO file. Here you can directly choose the former option and make bootable USB from ISO. Please ensure your USB has 8 GB capacity at least.
Step 6: Select a USB flash drive and click Next to continue.
Step 7: The tool is downloading Windows 10 to your selected USB. Please wait patiently.
Step 8: The tool is creating Windows 10 media, just be patient to wait.
Step 9: After a few minutes, your USB flash drive is ready. Click the Finish button at last.
Way 2: Download ISO File and Burn Windows ISO to USB
In addition, you can choose to download an ISO file of Windows 10 first of all and then use USB bootable software to burn the file to your drive.
Move 1: Download Windows 10 ISO File
To do this, you can also use Media Creation Tool. But note that this tool can only help you to download the ISO file of the latest Windows 10 version (now is 1809). In Choose which media to use page, please choose ISO file. Then, save the ISO file to a location. Next, continue the operations by following the wizard.
If you don't want to install the latest Windows 10, you can search for the ISO file you need on the internet and then download it.
Move 2: Burn Windows 10 to USB Drive
To create bootable USB from ISO, some of you may choose to use USB bootable software like Rufus. It is thought as one of best, free, open-source and easy-to-use Windows 10 USB tool since it can create bootable USB for different kinds of operating systems.
Step 1: Start USB bootable software free download for all Windows. Here, go to get Rufus from its official website.
Step 2: Run this ISO to USB burning tool, and then plug your USB flash drive to your PC.
Step 3: This tool will detect your USB flash drive. You need to click the SELECT button to choose the ISO file you have downloaded, specify the partition scheme and volume label. Then, click the START button to create bootable USB from ISO.
Step 4: Later, the tool will start to burn ISO to USB flash drive, which will take a few minutes. When the Status is ready (in green), just click the CLOSE button to exit the tool.
After you complete USB bootable drive creation, you can boot your PC from the drive and start to install Windows 10 operating system or enter PC repair environment for a fix from the repair drive.
Suggestion: Back up Windows & Restore System
If you have created a system image, you can restore it to the PC where you need to install OS or solve system issues. By this way, you won't deploy a new OS and you can easily restore the PC to a previous state, enjoying the previous system settings, applications, and everything.
How can you back up your Windows 10? Here, we highly recommend using a piece of professional backup software for Windows 10, MiniTool ShadowMaker.
This backup software is designed to back up the Windows operating system, files, the entire disk or partitions. During the backup, the selected backup source is compressed to an image. Above all, it offers a feature called Media Builder to create a bootable USB drive or CD/DVD disc to boot the crashed PC and perform a system recovery.
Move 1: Back up OS
Step 1: Run MiniTool ShadowMaker Trial Edition, click Keep Trial and choose the Connect button in This Computer.
Step 2: Go to the Backup interface, you see system related partitions are selected by default. To back up Windows OS, here you can go to the Destinationsection to specify a path like an external hard drive, USB flash drive, network or NAS.
Step 3: Finally, click the Back up Now button to run the system image backup.
Move 2: Create Bootable USB from ISO
After finishing the system image backup, you can go to create a bootable USB drive. Just go to the Tools page, click Media Builder, choose your USB flash disk and create USB boot disk from ISO.
After that, you can boot the PC that needs to install an OS from the bootable USB flash drive and then start system recovery.
Move 3: System Image Recovery
In MiniTool Recovery Environment, you can run MiniTool ShadowMaker and then restore the system image to a hard drive which can be the system disk that has system issues or the hard drive where you want to deploy a system.
Step 1: Go to the Restore interface, find the system image file and click Restore to continue.
Step 2: Select a backup version.
Step 3: Choose the system related partitions to restore. Here, MBR and Track 0 should be selected, otherwise, Windows won't boot normally.
Step 4: Decide which disk you want to restore the image to.\
Step 5: The backup software is performing a recovery. This will take a few minutes, so wait patiently.
With MiniTool ShadowMaker, you can easily restore the PC to a previous state without reinstalling OS or easily deploy the system to a computer without OS. Compared to the above part - create bootable USB from ISO for OS installation, this way is worth recommending.
News From
MiniTool Solution
Category:
Data Recovery Services
Company about: MiniTool Solution Ltd. is a software development company based in Canada. As a dedicated software development company, MiniTool Solution Ltd. provides customers with complete business software solutions in the data recovery and partition management industry.