One day, when you connect a USB flash drive or an external hard drive to the computer, you see that USB thinks it's a CD drive. This is so strange. Do you know why this issue happens? How to solve this issue effectively?
USB Thinks It's a CD Drive?
When USB recognized as CD drive, you will see the following similar window in File Explorer. Even in some cases, when you want to open the drive, you may receive a message like "There is no disk in the drive. Please insert a disk into drive *".
Why USB Thinks It's a CD Drive?
Some early USB drives can simulate themselves as the CD drives by using a specified switch. If the switch of one such USB drive is located to the specified side, you may see the USB drive is showing up as a CD drive on the computer.
In other case, this issue always happens when Windows recognizes the USB flash drive as an empty CD-ROM due to some internal drive issues.
Recover Files from the USB Drive Which is Reading as CD ROM
It is very simple to recover your data from the USB device which is bothered by USB recognized as CD drive or similar issue with this software. Please follow these steps:
Step 1: Connect the USB drive to your computer and open the software. Then, you will enter This PC module interface directly.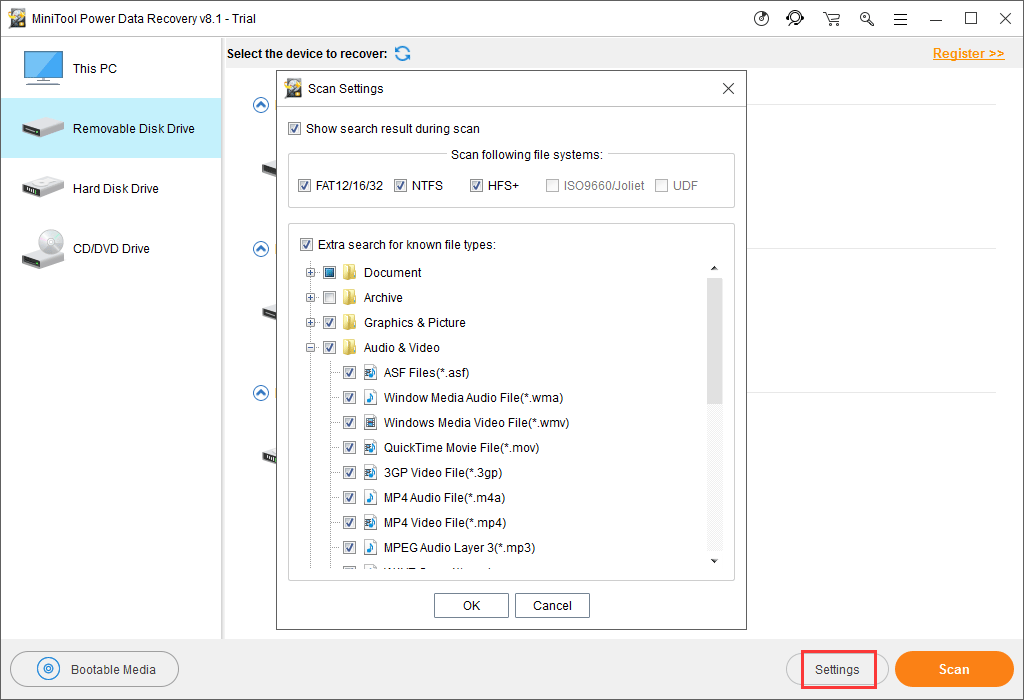 Step 2: The software will take a while to scan the whole USB drive. Please be patient.
Step 3: Since you are using MiniTool Power Data Recovery Trial Edition, you are not allowed to save the selected files you want to restore with this software. Or else, you will get the following popup window which reminds you to upgrade the software.
If you discover that this data recovery software can scan the files you want to recover, you can opt to update it to an advanced edition. If you are a personal user, the Personal Deluxe Edition can meet your needs completely.
Fix USB Thinks It's a CD Drive Issue
Some users who are bothered by USB recognized as CD drive usually fix the issue by formatting the drive. Thus, you can also have a try. To format a USB device, you can try this professional partition manager - MiniTool Partition Wizard.
Format the USB drive with MiniTool Partition Wizard
MiniTool Partition Wizard is a dedicated partition management program which can be used to manage several kinds of data storage devices including hard disk drives, solid-state drives, USB flash drives, SD cards, memory cards, and more.
This software has many useful functions including creating partition, deleting partition, formatting partition, wiping partition, migrating OS to SSD/HD, rebuilding MBR, and more.
To format a USB device, you can use its Format Partition function.
This Format Partition feature is available in MiniTool Partition Wizard Free Edition.
Step 1: Connect the USB flash drive to your computer and then open MiniTool Partition Wizard to enter its main interface. Next, right-click on the target USB drive and choose the Format option from the popup menu to continue.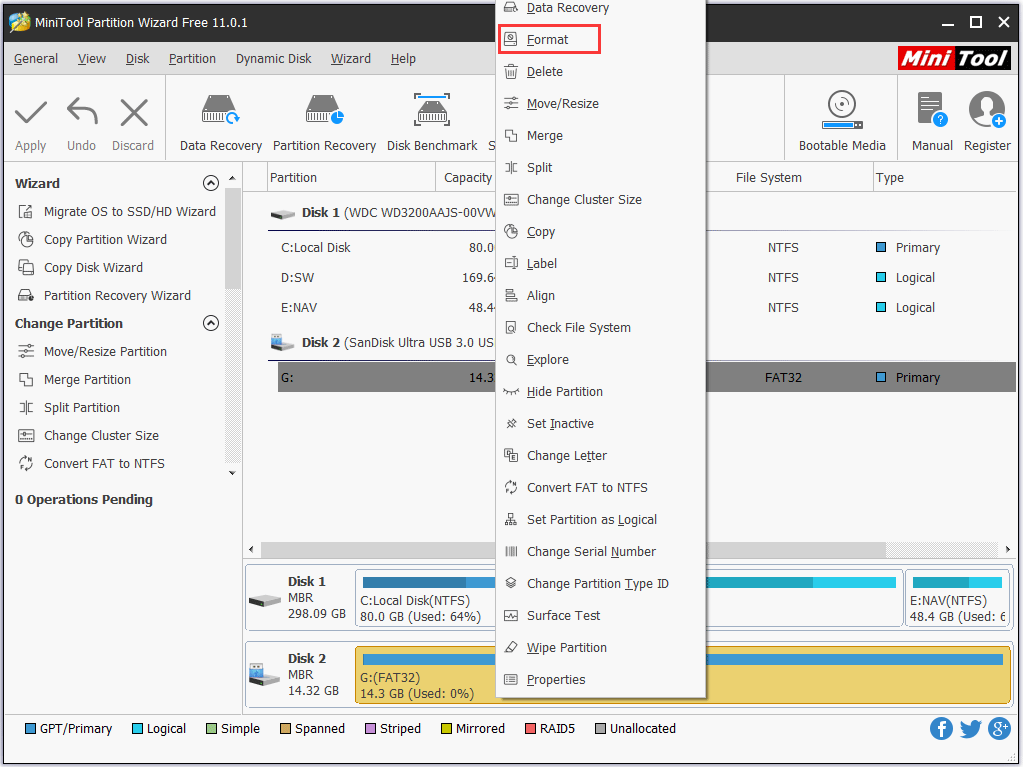 Step 2: A small Format Partition window will pop out. In that window, you can define its Partition Label, File System and Cluster Size. After that, click on the OK button to go back to the software's main interface.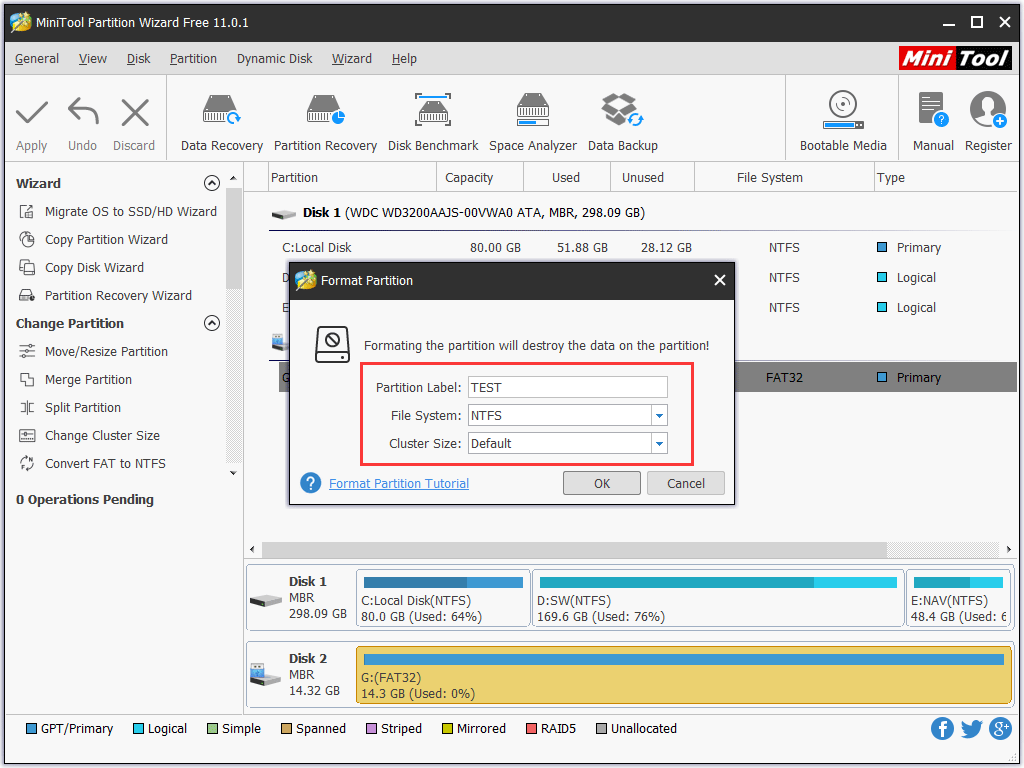 Step 3: You can preview the format result in the software main interface. When you are sure everything is OK, you need to click on the Apply button to execute all the changes on the USB drive.
At last, close the software, and then go to check whether the USB drive is displayed normally. If there is no other problem, USB thinks it's a CD drive issue should disappear.
News From
MiniTool Solution
Category:
Data Recovery Services
Company about: MiniTool Solution Ltd. is a software development company based in Canada. As a dedicated software development company, MiniTool Solution Ltd. provides customers with complete business software solutions in the data recovery and partition management industry.