When using Windows Backup and Restore to create a system image, you may receive the error message "there was a failure in preparing the backup image of one of the volumes in the backup set". This post will show the alternative to this utility - MiniTool ShadowMaker and give you full solutions to fix this error code 0x807800C5 on 3 cases in Windows 10/8/7.
Windows 10 Backup Error 0x807800C5
To protect PC from system corruption, most of you choose to use Windows built-in tool called Backup and Restore to create a system image. Sometimes, an error message "there was a failure in preparing the backup image of one of the volumes in the backup set" appears on the screen.
Actually, this error suggests a conflict of the identical folders named WindowsImageBackup. To put it more specifically, when creating a system image, the image file is stored to the WindowsImageBackup folder that is set to locate at a specified location.
Having the backup of data is very important in case your system accidentally gets damaged, this backup data comes very handy. Hardware or Software as they ages becomes less efficient and sometimes they malfunctioned resulting in corruption of your Windows in which case you will lose all your data on the system, so that's why taking a backup of your system is very important.
Use MiniTool ShadowMaker to Back up OS without Error Code 0x807800C5
When meeting the error "there was a failure in preparing the backup image", you can choose another free system backup solution to create a system image backup if you think it is troublesome to fix it.
As a piece of professional PC backup software, MiniTool ShadowMaker enables you to create a backup for the operating system, files, folders, data partition/disk and restore the image file whenever computer crashes, data is inaccessible, the disk is formatted, etc.
Step 1: Run MiniTool ShadowMaker Trial Edition, choose Keep Trial button to use Trial Edition for system backup creation without Windows 10 backup error 0x807800C5 and then hit the Connect button in the Local section.
Step 2: If it is the first time for you to use this software to back up your PC, you will be asked to click SET UP BACKUP in the Home page for backup.
Step 3: Under the Backup feature, this software has selected all system partitions that are required for Windows to run, as well as a destination folder to save the system image file. And you can directly click the Back up Now button to execute this backup task in Manage page.
Further tips: make advanced settings
In the Backup page, you see there are other features. To back up Windows automatically, please click Schedule to configure a time point. To create incremental or differential backups along with disk space manage, use Scheme for this work.
If you want to create another system image to the same folder, MiniTool ShadowMaker will generate a new folder name.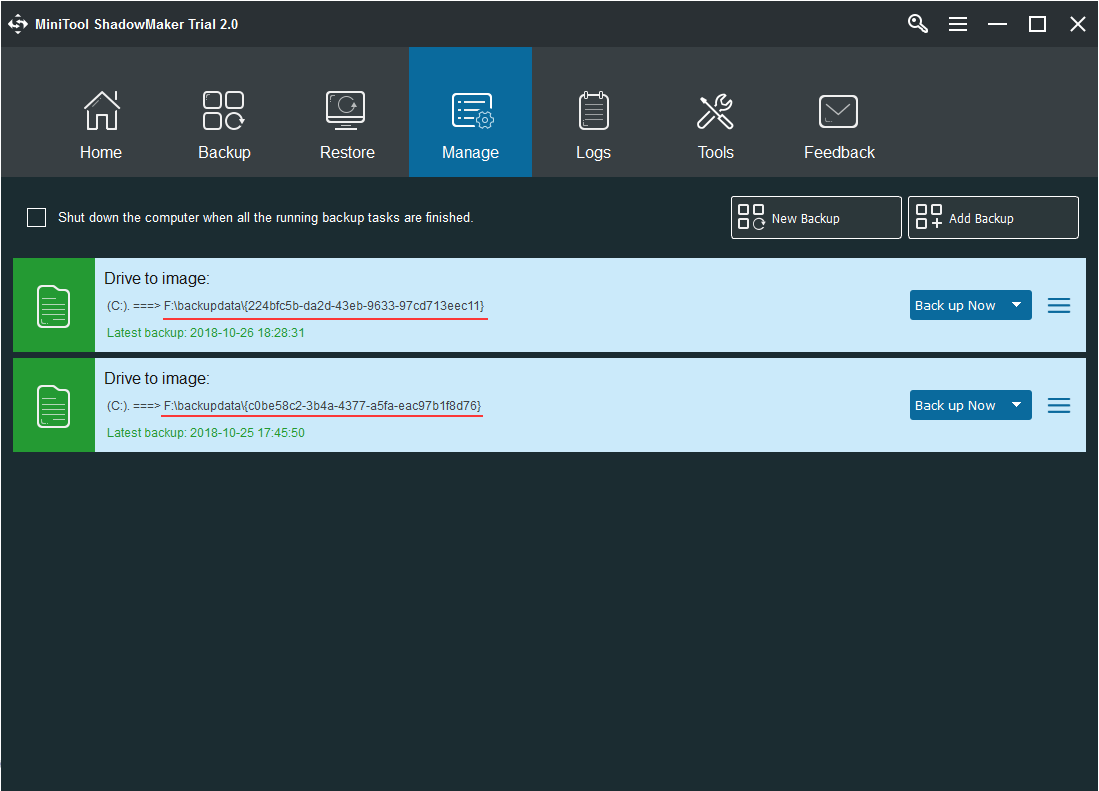 Be troubled by the error "there was a failure in preparing the backup image 0x807800C5" in Windows 10/8/7? Now, get MiniTool ShadowMaker Trial Edition to make a system image backup.
How to Fix Preparing the Backup Image Error ① The Specified Backup Disk Cannot Be Found 0x80780081
Way 1: Disable the Security Software
In most cases, you should not disable any antivirus software. Here, you can temporarily disable it to check whether Windows system image backup fails with error code 0x807800C5 and 0x80780081.
If this doesn't help, go to the next method.
Way 2: Free up Space on the Destination Disk and Convert it to NTFS
If there is not sufficient space for saving the system image, Windows will fail to back up with the specified backup disk not found error. Thus, you should free up disk space on the target drive.
When there is no important data on the destination disk, you can directly format it to NTFS and then start to create a system image again.
If this target disk has some files, just save the data to another device and then format it to NTFS. Or you can use the professional partition manager, MiniTool Partition Wizard, to increase the size of the target drive, as the following figure shows.
Way 3: Restart Volume Shadow Copy Service.
When searching for solutions online, some users advise to restart Volume Shadow Copy service to get rid of the specified backup disk cannot be found issue.
Step 1: Press Windows+R to open the Run dialog box
Step 2: Type services.msc in the textbox and press Enter.
Step 3: Locate to Volume Shadow Copy service and start it again.
There are other solutions out there. If your Windows shows the additional information like "the version does not support this version of the file format (0x807800C5) " or "the I/O operation has been aborted because of either a thread exit or an application request", you can search for the solutions online and here I don't introduce them in detail.
Verdict
Receive the prompt "there was a failure in preparing the backup image" 0x807800C5 when backing up your system with Backup and Restore utility in Windows 10/8/7?
Now, you can use another system backup software, MiniTool ShadowMaker, to create a backup image or choose the proper way to fix the error code 0x807800C5.
News From
MiniTool Solution
Category:
Data Recovery Services
Company about: MiniTool Solution Ltd. is a software development company based in Canada. As a dedicated software development company, MiniTool Solution Ltd. provides customers with complete business software solutions in the data recovery and partition management industry.