Have a need to back up Windows 10 to USB drive so that you can restore your computer to a previous state in case of Blue Screen of Death, black screen, ransomware attack, etc.? Take it easy. Just read this post to learn how to back up Windows 10 OS to a flash drive easily.
You may save your Windows backup files to an internal hard drive, but you may lose the backups in the event of hard drive failure. In addition, NAS (network-attached storage) is another choice.
Nevertheless, if many persons have access to the shared location that is always connected, malware and virus may infect this shared folder.
Thus, backing up Windows 10 to your USB drive is recommended.
Here comes a question: can I back up my computer to a flash drive? Or can I back up Windows 10 to a flash drive?
The answer is yes. Now USB manufacturers have made USB extremely light with huge capacity and stable performance. And it is safe for system and data since it is separated from a computer.
For a detailed explanation about how to back up Windows 10 to your USB drive, please follow the tutorial below.
How to Back up Windows 10 to USB Drive
Windows 10 system backup on USB drive is pretty easy. And here I will show you two ways to do this: one is to use a free backup program, MiniTool ShadowMaker and the other one is to ask Windows built-in tool for help.
Method 1: Back up to USB Windows 10 with Freeware
MiniTool ShadowMaker, a reliable and all-around backup software for Windows 10/8/7, is designed to back up Windows OS, files & folders, partitions or the entire disk. When the system goes wrong or data is lost, you can restore your PC to an earlier state or get lost files back easily and effectively.
Above all, you can use this Windows backup software to clone the entire disk to a USB drive for PC data protection.
Now, never be hesitate to free download MiniTool ShadowMaker Trial Edition from the button below to start Windows 10 backup to USB drive.
Create System Image on USB Windows 10
How to back up Windows 10 OS with this freeware? Follow the guide below.
Step 1: After downloading and installing MiniTool ShadowMaker, double-click it to run this program. Then, click Keep Trial button to continue to use the Trial Edition.
Next, choose the local computer to start a backup by clicking the left Connect button.
Step 2: If you haven't yet backed up your PC, MiniTool ShadowMaker will ask you to click SET UP BACKUP for PC backup. Or you can directly click the Backup button in the toolbar.
In the following interface, you will find this software has specified system partitions required for Windows to run as the backup source. And a destination folder is also selected.
To back up Windows 10 to USB drive, here you only need to specify a USB drive as the target path. Note that the target USB flash drive should have enough storage space for saving the system image backup.
Step 3: Finally, click the Back up Now button to execute a system image creation at once in the Manage page.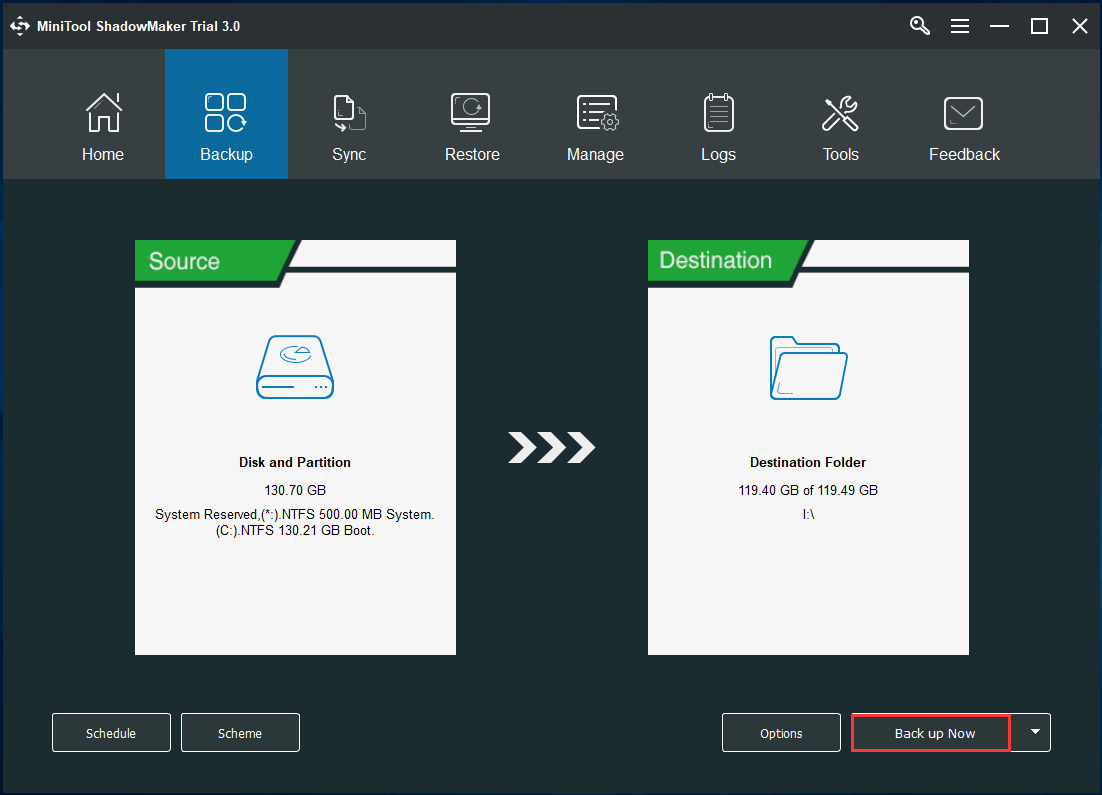 After finishing Windows 10 backup to USB drive, in order to make sure that your computer could boot even when the system crashes, you need to create a bootable CD/DVD or USB drive. To do this job, please go to the Tools page, and click Media Builder for bootable media creation.
If there is something wrong with your Windows 10 OS, you can boot the PC from the bootable disc or drive, and perform a system image recovery from USB drive within simple clicks.
In addition, if you don't have a CD/DVD or extra USB flash drive, you can choose to add a Windows start-up menu for MiniTool Recovery Environment by clicking Add Boot Menu utility in the Toolspage. In case of OS crash, you can choose to directly boot the PC without a disc for system recovery.
Clone System Disk to USB Drive in Windows 10 for Data Protection
In addition to using MiniTool ShadowMaker to create a system image on a USB drive for Windows 10 OS, you can also use it to back up the entire computer to the flash drive via disk cloning. This freeware offers a feature called Clone Disk, allowing you to transfer everything including Windows files, settings, applications and data to another drive.
Method 2: Back up to USB Windows 10 Using Built-in Tool
Usually, when mentioning creating a system image, some of you may think about Windows built-in Backup and Restore utility. But perhaps you will fail to directly back up Windows 10 OS to USB flash drive with an error message The Drive Is Not a Valid Backup Location when choosing a destination drive in the process of creating a system image.
In this case, if you want to continue to save the system image file to your USB drive, you can share the USB stick as a network drive and back up to this location.
Here are the steps:
Format the USB drive to NTFS.
Create a directory on the USB flash drive and right-click it to clickShare withand Specific people.
Choose yourself from the users' list and clickShareand Done.
Right-click on the directory to selectProperties, then go toSharing tab and choose Advanced Sharing.
Ensure the allow permissions are set toFull Control.
Go toBackup and Restore (Windows 7)interface and click Create a system image.
Browse your PC and select the network drive (shared folder on your USB drive) as the storage path.
Then Windows 10 shows you the backup will include all system partitions required for the OS to run.
After confirming your backup settings, click Start backup button. After a few minutes, you can successfully create Windows 10 backup to a USB drive.
Tips: Back up System Files to USB via Creating Recovery Drive
When searching for "back up Windows 10 to USB" on Google, you can find some users advise to use another Windows built-in tool to create a Windows 10 recovery drive. In case of a system problem (even if the PC can't start), the Windows recovery USB drive can be used to troubleshoot problems or reset the PC.
How to create Windows 10 recovery USB? Please follow these instructions:
Step 1: Type create a recovery drive in the search box in the Windows 10 desktop and click this utility in the result.
Step 2: Windows will immediately enter the Recovery Drive interface where you can tick Back up system files to the recovery drive option if you want to use it to reinstall Windows. Then, click the Next button to continue.
Step 3: Please wait patiently until this wizard successfully detects your USB flash drive and gets ready to copy files. Later, select the USB drive.
Step 4: A warning message will appear, informing you that everything on the drive will be deleted. Please ensure you have backed up your personal files if there is any before you go on.
Step 5: Now Windows 10 is creating the recovery USB drive. Wait patiently until the creation process completes.
When your PC can't start, you can boot it from this Windows 10 repair USB. Just enter the BIOS to set the recovery drive as the first boot order.
And then, you will enter Windows Recovery Environment where you can troubleshoot issues or recover Windows 10 from a recovery drive to reset your PC.
News From
MiniTool Solution
Category:
Data Recovery Services
Company about: MiniTool Solution Ltd. is a software development company based in Canada. As a dedicated software development company, MiniTool Solution Ltd. provides customers with complete business software solutions in the data recovery and partition management industry.