Sometimes "this app can't run on your PC" error may pop up on your computer screen when trying to run a piece of software or an application in Windows 10. This is annoying. Here, take it easy now and I will provide you different solutions to fix this issue. Just try them to get rid of the error.
"This app can't run on your PC" error message on Windows 10
Although Windows 10 is an amazing operating system, it definitely has a few flaws. Most of these flaws are related to older software, and speaking of which, a number of Windows 10 users reported "This app can't run on your PC"error message. This problem affects a number of different applications, but it can be easily fixed by following one of the solutions.
This App Can't Run on Your PC may come in all sorts of different forms and here are the most common ones:
This app can't run on your PC access is denied.
This app can't run on your PC check with software publisher.
This app can't run on your PC Kaspersky, Bitdefender, Avast.
This app can't run on your PC batch file.
This app can't run on your PC Windows Store error.
This app can't run on your PC game error.
Don't worry much about it if you are also troubled by it.
Although it is annoying as it seems, this is an easy problem as long as you find out what cause it. And here, follow the instructions below and you can easily get rid of it in Windows 10.
Solution 1: Update Windows Store
When the Windows Store app can't open on your Windows 10 PC, it is possible that a temporary bug is plaguing the current version of the Store. Then, the effective solution is to update it straight away to eliminate bugs and glitches
Step 1: Go to the Start menu to find and open Microsoft Store window.
Step 2: Click on the 3-dot menu in the upper right corner and choose Downloads and updates option.
Step 3: Click the Get updates button.
Solution 2: Update Your Windows 10
As a quick reminder, Microsfot constanly keeps rolling out Windows updates so as to improve the stablity of the operating system and fix various problems. Therefore, make sure you are running the latest OS update.
Back up Files before Update
How can you create a backup for the important files? Usually, a peice of free Windows backup software is recommended.
And here, I suggest using MiniTool ShadowMaker Trial Editiion which is compatiable with Windows 10/8/7. It is designed to back up files, OS, disk, and partition with simple clicks. To back up files well, please free dowload it from the following button and have a try.
Step 1: After MiniTool ShadowMaker is launched, choose to create a backup for the local computer by clicking the left Connect button.
Step 2: Under the Backup page, go to Disk and Partition > Folders and Files.
Then, choose files you want to back up.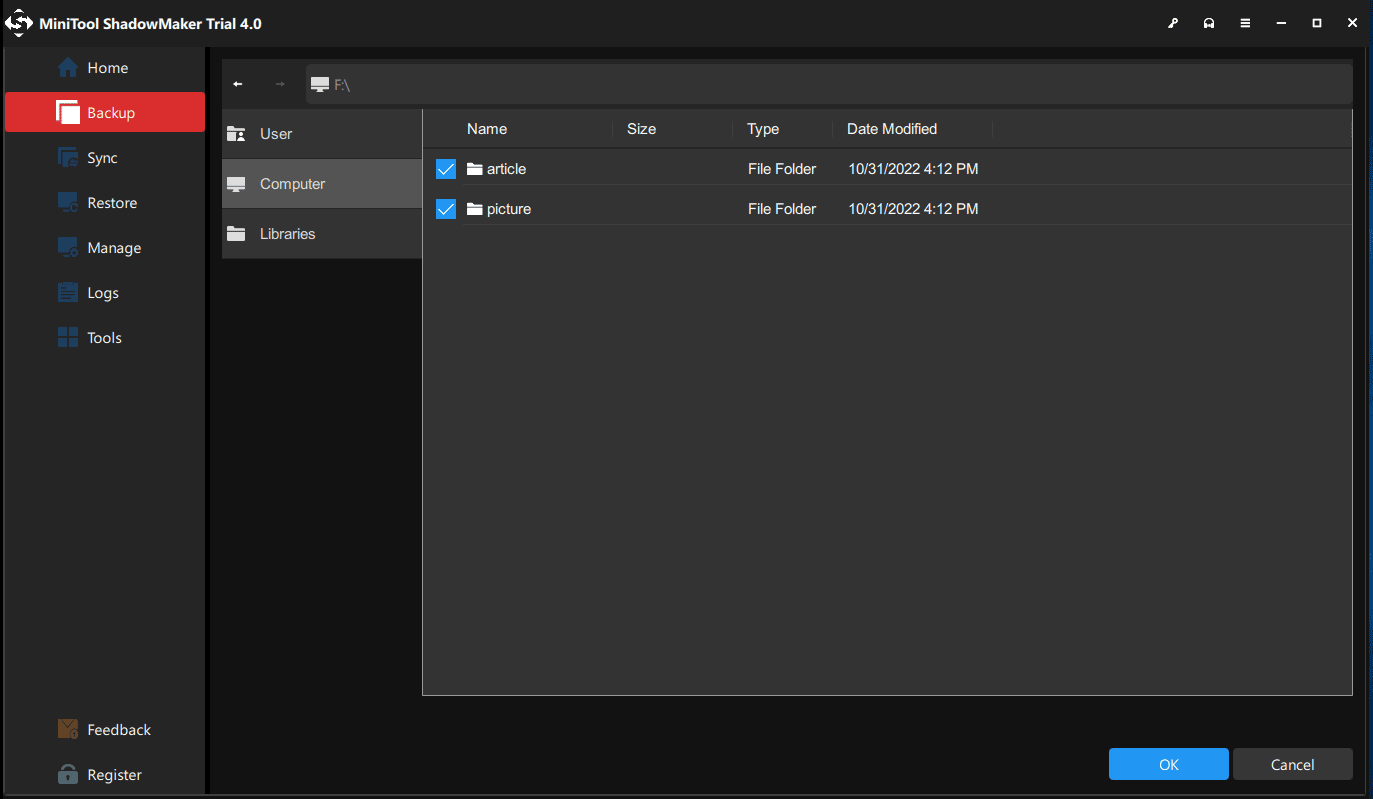 Step 3: Next, go to the Destination section to choose a storage location.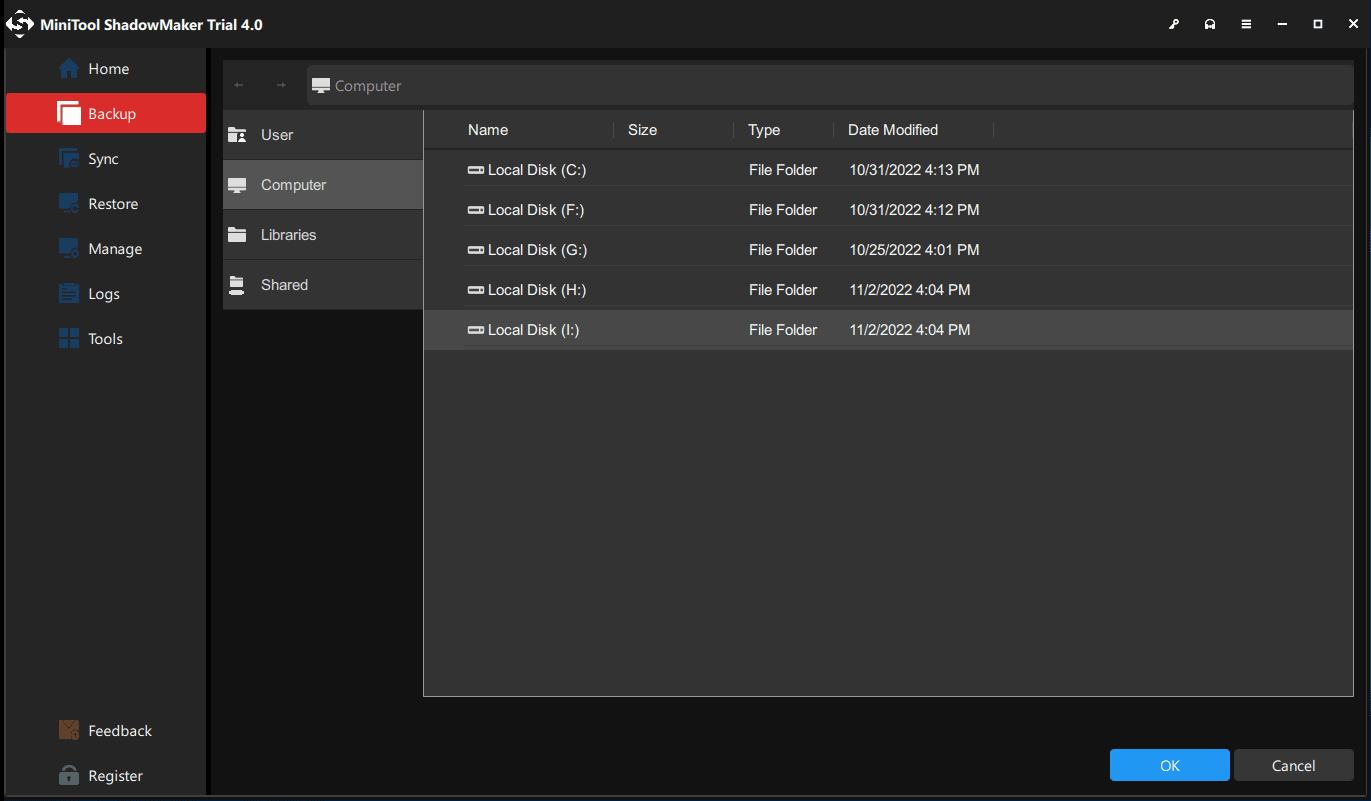 Step 4: At last, start the backup task by clicking Back up Now button.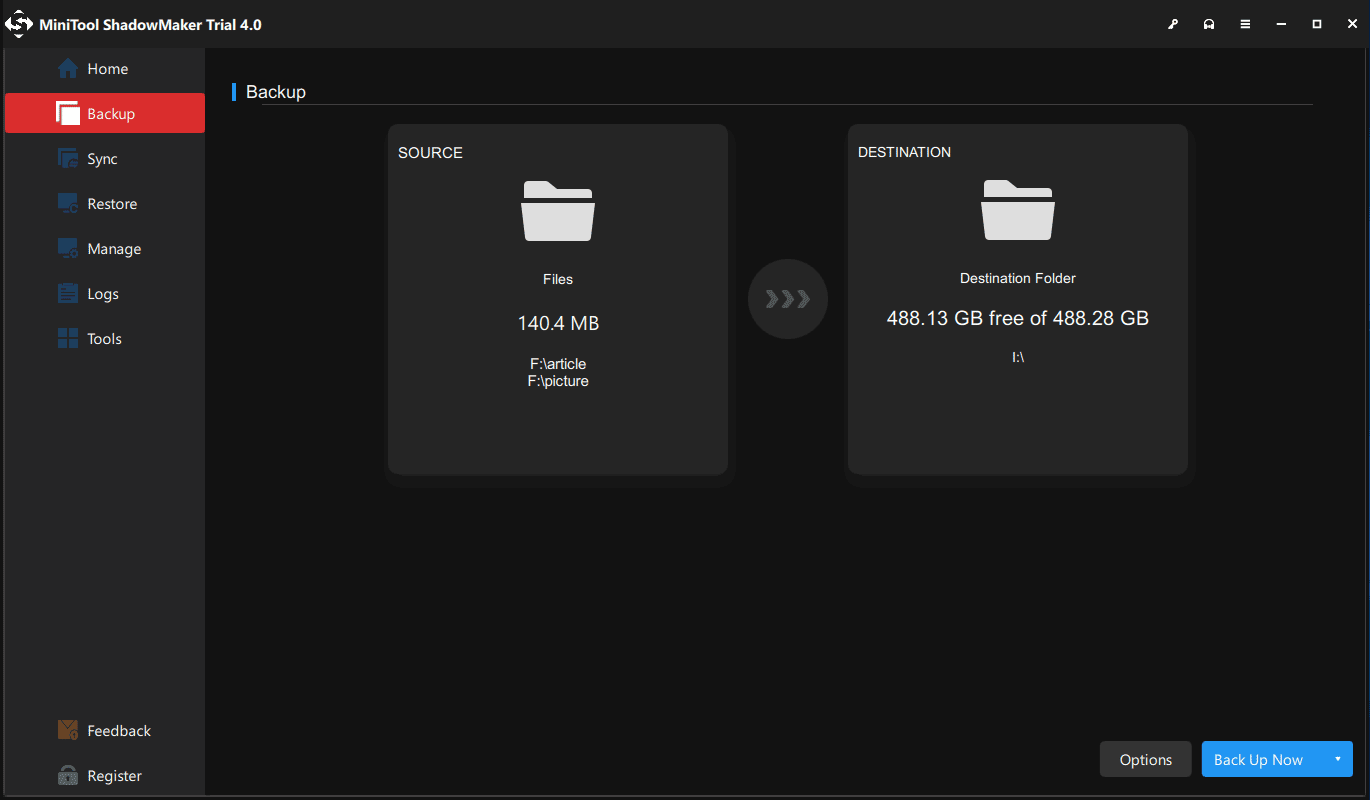 After finishing the file backup, now it's your turn to update your OS.
OS Update
To access Windows Update section, go to Settings > Update & security. And then you can check if there are any suggested updates on the screen. If so, install the available updates to fix this app cannot run on your PC.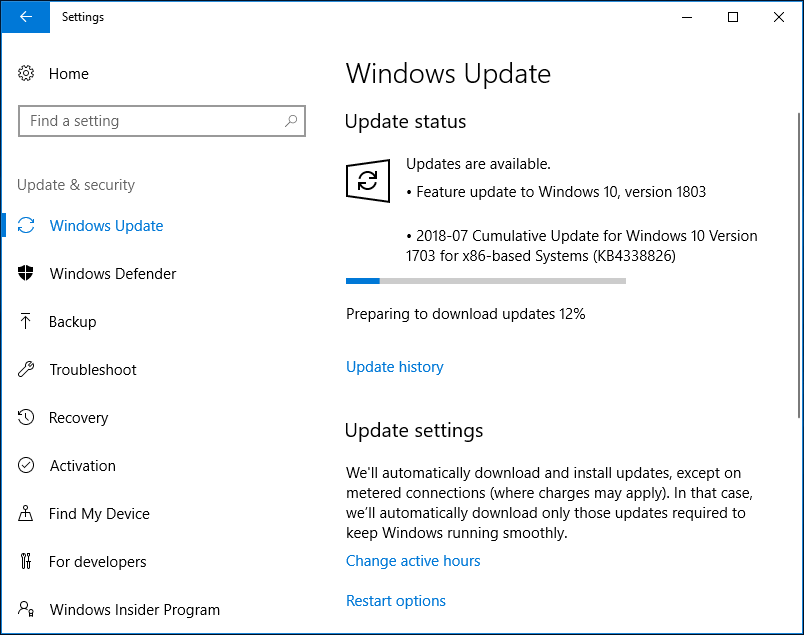 Solution 3: Disable SmartScreen
Nowadays phishing scams and malware are getting more and more sophisticated, thus, it goes without saying that reliable tools are important for you to protect the computer against the threats.
In Windows 10, the SmartScreen utility is a case in point. However, sometimes it can be too sensitive to a point where ceratin apps can't run on your PC.
Therefore, the best way is to disable it temporarily and check if "this app can't run on your PC" occurs.
To do this:
Click Win + S to open the search box and type smartscreen in the box.
Click App & browser control from the search results.
Then, Winodws Defender Security Center will appear. Then, check Off under the Check apps and files section.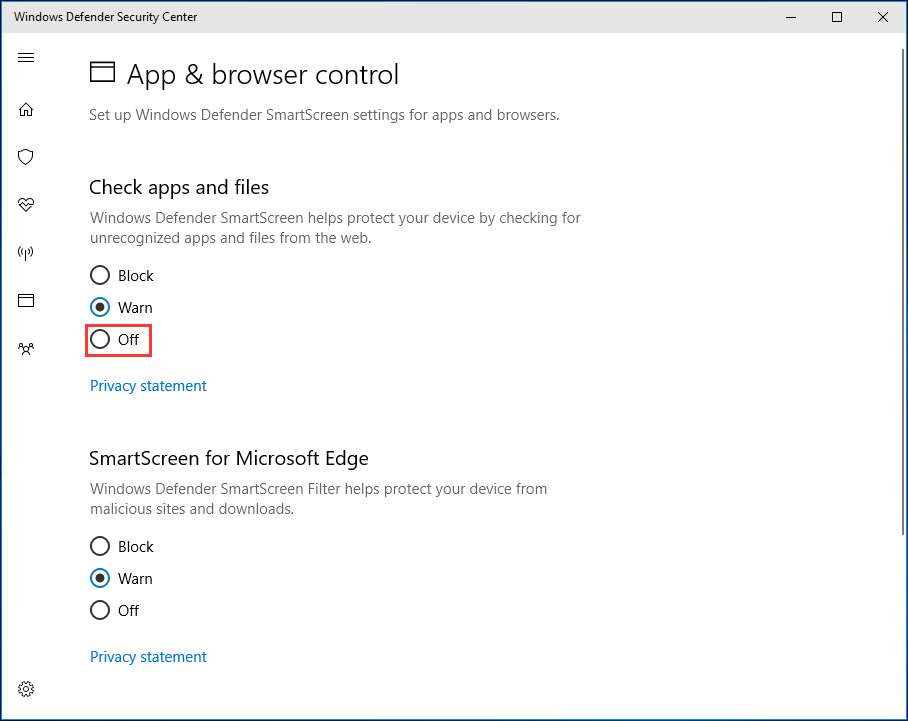 Windows will pop up a small window to ask you to provide administrator approval to proceed. Just click Yes to continue.
Resinsall the app that can't open and see if this app cannot run on your PC issue occurs.
If this app still fails to run in Windows 10, change the Windows SmartScreen setting back to Warn and try the other ways below.
Apart from above solutions, there are more methods that may solve the issue.
Keep Your PC Safe to Avoid This App Can't Run on Your PC
To avoid this error message or other system issues in the future, I strongly suggest using MiniTool ShadowMaker to back up your system or the disk data.
Step 1: Run MiniTool ShadowMaker and choose local backup.
Step 2: In the Backup page, you can see this freeware have selected system partitions in the Sourcesection and a destination folder for the backup image.
If you want to back up the entire disk data, please go to the Source section to choose a disk and check all partitions.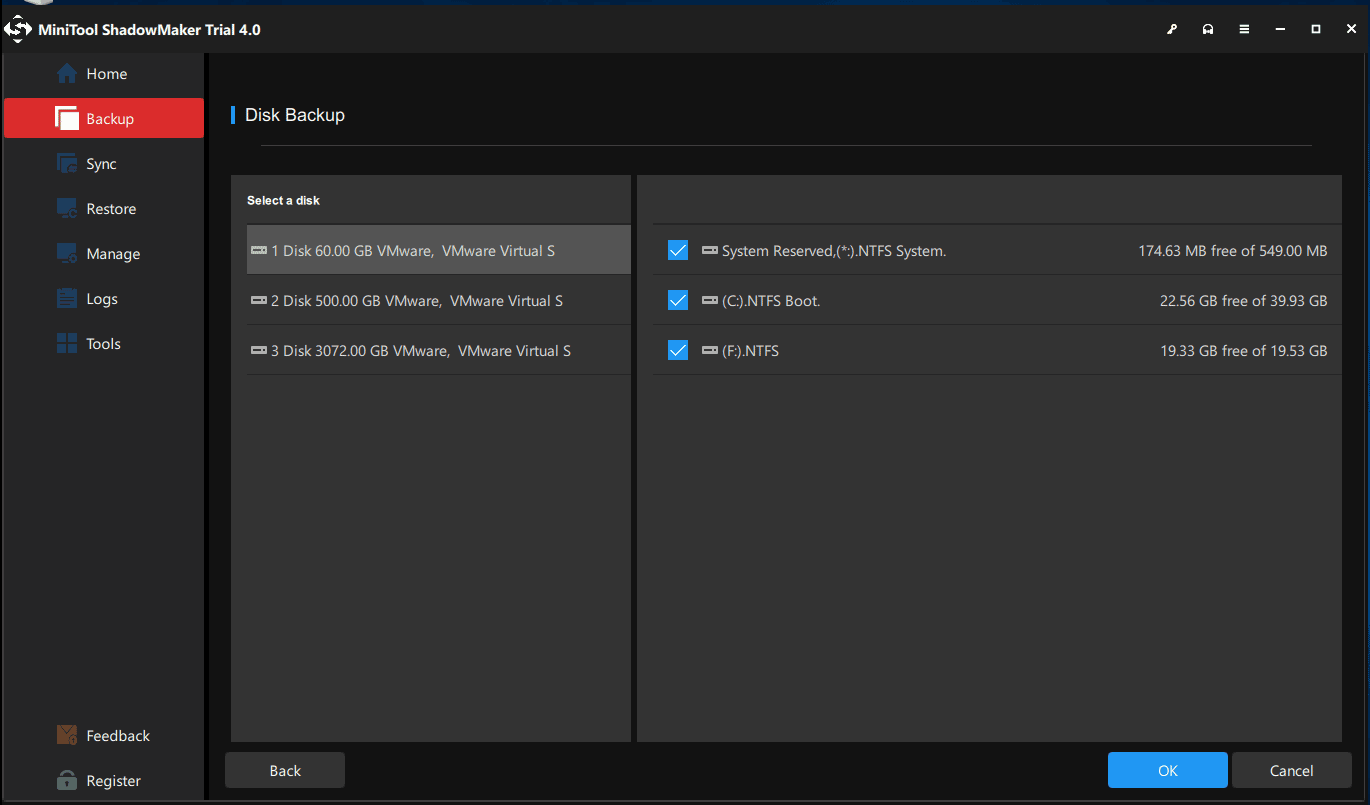 If you don't want to back up your PC to the specified path, please click the Destination section to choose one based on your needs. An external hard drive, USB drive and NAS are available.
Step 3: Click Back up Now button to begin the backup process.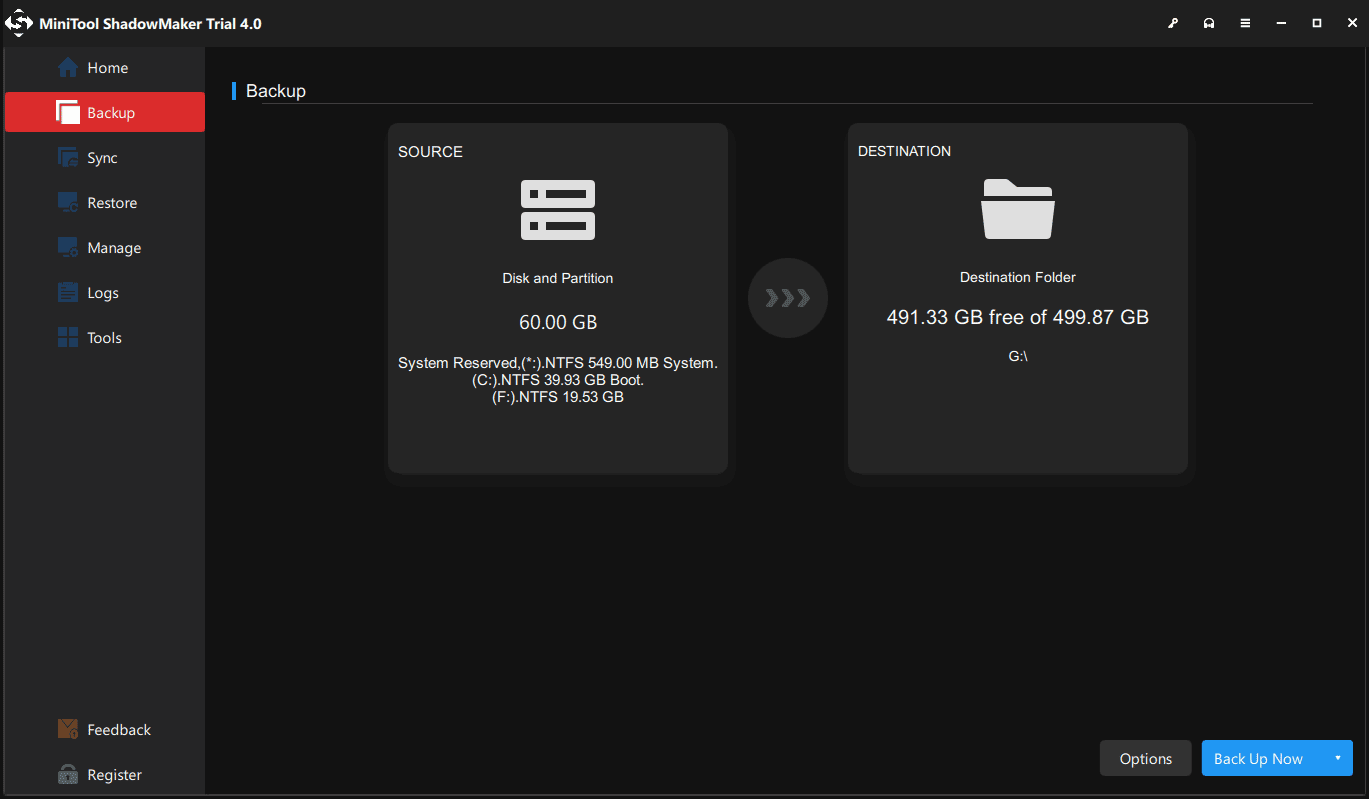 Tip: Once your OS goes wrong, you can use the backup image to directly restore it. In addition to this freeware, you can use Windows built-in tool to back up the OS and restore it, but some issues may happen, for example, Windows backup stuck, system restore does not appear to be functioning, etc.
Hope this post can help you.
News From
MiniTool Solution
Category:
Data Recovery Services
Company about: MiniTool Solution Ltd. is a software development company based in Canada. As a dedicated software development company, MiniTool Solution Ltd. provides customers with complete business software solutions in the data recovery and partition management industry.