Receive an error message "Setup was unable to use the existing partition because system volume does not have required free space" when installing Windows 10? This post will show you 3 different cases as well as corresponding solutions and you can try them based on your actual situations to fix setup cannot use the existing partition issue.
"Setup Was Unable to Use the Existing Partition" Error
In most situations, you could install Windows smoothly since setup gives detailed instructions, but there are many unexpected things happening. For example, in the Where do you want to install Windows interface, you may receive the following error message:
"Setup was unable to use the existing partition because the system volume does not contain the required free space"
I will take how to fix Windows 10 system volume does not contain required free space issue as an example.
3 Cases - Fix Windows 10 Install Setup Was Unable to Use the Existing Partition Case 1: Install or Reinstall Windows 10 to Overwrite Old System
If you plan to install or reinstall new Windows 10 to overwrite your old system, there are four choices for you.
Way 1: Unplug All Peripherals
Way 2: Delete or Format System Partition
Way 3: Clear Contents Saved in System Partition
Way 4: Create a New boot Partition
But what if you plan to dual boot system rather than reinstall? Keep reading the post to get the corresponding solution.
Case 2: Dual Boot Windows
If you want to install another Windows with keeping the current one, to delete system partition is not recommended, because it will make the existing system unbootable since the partition saves boot files for existing systems.
How to Extend System Partition without Data Loss
To perform this operation, you need the help of a third-party partition tool. Here, MiniTool Partition Wizard Bootable Edition makes extending partition nothing more than a child's game.
Just as it is mentioned above, you should buy a paid version, build Boot CD/DVD Discs and Boot Flash Drive, and then boot your computer from it to solve your problem.
Step 1: After successfully booting Windows, MiniTool Partition Wizard Bootable Edition will run by itself. To extend system partition, please select this partition and choose "Extend Partition" feature from the left action pane.
Step 2: Then, from the drop-down list of "Take Free Space from" please choose an existing partition or unallocated space, and drag the sliding handle to decide how much free space to take to extend system partition. After that, click "OK" to go back to the main interface of the program.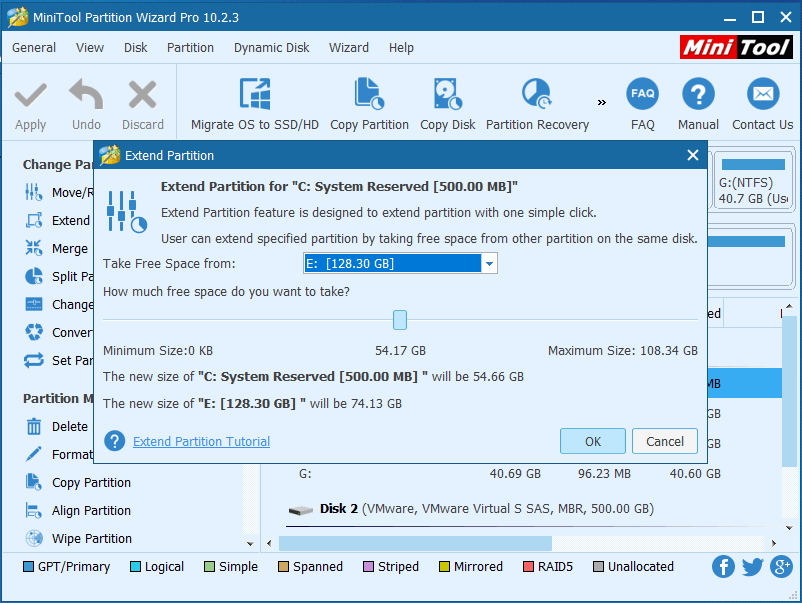 Step 3: Now you can see system partition has been enlarged, but this is just a preview effect. Please click the "Apply" button to make all changes finally performed if the preview effect is desired.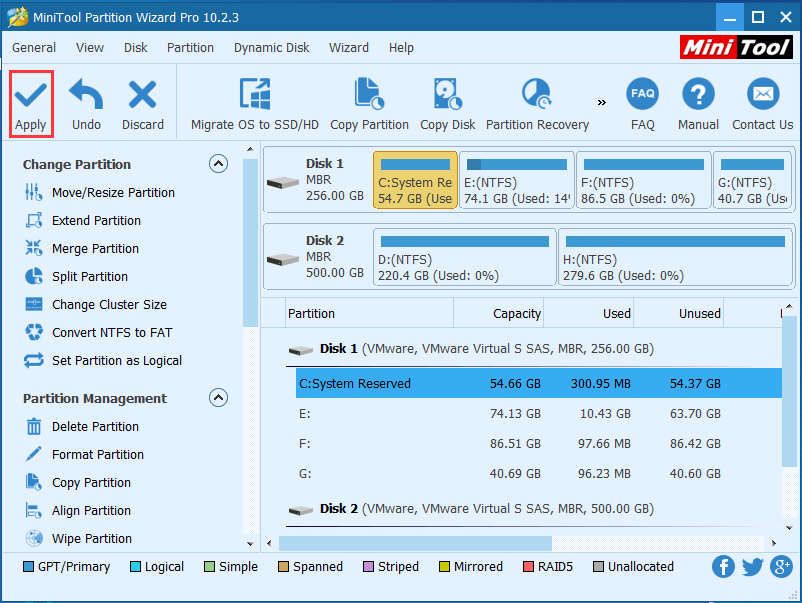 If you are running Windows under UEFI/GPT mode, most probably there is a 128MB or 16MB (for Windows 10) Microsoft Reserved partition (MSR) between the EFI system partition and the partition where you want to take free space.
Under this situation, please delete the MSR partition in Partition Wizard, and then perform operations mentioned above to enlarge system partition. Deleting MRS partition does not bring any damage to Windows.
After successful extending, you should be able to continue to install Windows.
Case 3: Dual Boot Mac OS X and Windows
It's relatively difficult to fix the "Setup was unable to use the existing partition" error if the error emerges when you are installing Windows to Bootcamp partition on Mac.
To solve setup was unable to use the existing partition windows 10 Bootcamp issue, you can search on the internet to see whether there is partitioning tool for Mac to enlarge the system partition without data loss.
Disappointingly, so far we haven't found such a program. If you discover one, please share it with us so as to help more people. Much appreciate!
However, if you don't want to use third-party partitioning program, you'll need to delete both EFI partition and Mac OS partition, then reinstall Mac system without creating the EFI system partition or creating a larger EFI partition, and next install Windows to Bootcamp partition.
Since Windows 7, system partition and boot partition could be separate. Therefore, installing more recent Windows OS on a non-partitioning hard disk will create an additional partition, which could be System Reserved Partition (on MBR disk) or EFI system partition (on GPT disk).
And its size could be 100MB, 260MB, 350MB, etc., depending on versions of Windows as well as hard disk formats.
EFI System Partition (ESP)
The ESP is a FAT32 formatted partition containing the bootloaders or kernel images for all installed operating systems, device driver files for hardware devices present in a computer and used by the firmware at boot time, system utility programs that are intended to be run before an operating system is booted, and data files such as error logs.
System Reserved Partition (SRP)
The SRP contains the Boot Manager and Boot Configuration Data for all installed operating systems. It is always located before partition C and marked active. When your computer boots, the Windows Boot Manager starts up and reads the boot data from the Boot Configuration Data (BCD) Store. Your computer boots the boot loader off the System Reserved partition, and it boots Windows from your system drive.
That is to say, this partition stores boot files rather than Windows system files, and boot files for all installed Windows will be saved to this partition by default if there is such a partition. And the more versions of Windows installed, the more boot files saved.
News From
MiniTool Solution
Category:
Data Recovery Services
Company about: MiniTool Solution Ltd. is a software development company based in Canada. As a dedicated software development company, MiniTool Solution Ltd. provides customers with complete business software solutions in the data recovery and partition management industry.