This post illustrates the usage of seven common recovery options in Windows 10: Startup Repair, Command Prompt, System Image Recovery, Go back to the previous version, System Restore, Reset this PC, and Uninstall update. It makes users fix computer problem easily.
Windows Recovery Environment
If you recently installed an app, drive, or update in Windows 10, you possibly encounter computer problems such as black screen, blue screen, or other issues. Then, you need to repair it with Windows 10 recovery options.
Most of these options are tools in Windows Recovery Environment (WinRE), which can repair common causes of unbootable operating systems. Then, how to enter Windows Recovery Environment? You need consider two situations.
Situation One: How to Enter WinRE if You Can Enter Windows 10
In this situation, your computer can boot normally and enter Windows 10 operation interface. Here is a tutorial for it.
Step 1: Click the Start button and then select Settings.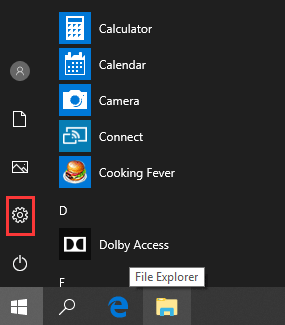 Step 2: Scroll down to the bottom of the pop-up interface and then select Update & Security.
Step 3: Select Recoveryand click Restart now, and then you can enter WinRE after the restart.
Besides, you can enter WinRE more easily by pressing "Shift" key while you are clicking Power> Restart button.
Situation Two: How to Enter WinRE if You Can't Boot Windows 10
If your Windows 10 won't boot, you could manage to make WinRE start automatically.
Generally, WinRE will boot automatically if the following problems are detected.
Two consecutive failed attempts to start Windows.
Two consecutive unexpected shutdowns that occur within two minutes of boot completion.
A Secure Boot error (except for issues related to Bootmgr.efi).
A BitLocker error on touch-only devices.
Surely, you can also use Windows 10 install media to enter WinRE when Windows 10 fails to boot.
Use Windows 10 Recovery Options
When you enter WinRE, you get an interface like the following picture. Click Troubleshoot for Windows 10 recovery options.
Under Troubleshoot, there are several options. As the picture shows, there is Reset this PC option under Troubleshoot, and System Restore, Startup Repair, Go back to the previous version, Command Prompt, System Image Recovery, as well as Startup Settings options under Advanced options.
Option One: Startup Repair
When you encounter computer problems, you should try startup repair option first. This option will fix most common issues that prevent your computer from loading correctly.
Select your account and type your password after you click Startup Repair in advanced options.And then click Continue. (You can click Continue directly if there is no password set for the account.)
In general, when the computer fails to boot, Windows 10 will detect and attempt to repair the problem automatically. And finally, Windows 10 will inform users about the repairing result.
Option Two: Command Prompt
If Startup Repair doesn't work, you can try Command Prompt to fix the boot error. Here is a tutorial.
Step 1: Click Command Prompt and follow the computer guide to get an input window.
Step 2: Input commands to repair it. (Click Windows Commands for help.)
Option Three: System Image Recovery
If you have created a system image before your computer doesn't work well, you can use system image recovery Windows 10 to repair your computer. A system image is a backup of the partition that contains Windows 10, applications, and data. The system image recovery Windows 10 can restore your computer completely. However, the system image can be only created by users.
How to create a system image? Here is a brief tutorial.
Step 1: Click Start button, and then navigate to Settings > Update & Security > Backup. And then click Go to Backup and Restore (Windows 7).
Step 2: Click Create a system image under backup and restore interface.
Step 3: Choose a place to save the system image backup and then click Next. (You can store it on a hard disk, a DVD, or on a network location.)
Step 4: Choose drives that you want to back up and click Next. And then confirm your backup settings and start backup.
If you have created system images, you can read below for guide to restoring the computer with the backup.
Step 1: Choose System Image Recovery in Advanced options to get a new window.
Step 2: Choose the latest system image or an image backup from the place where you save it in advance. And then click Next.
Step 3: Follow the guidance to restore your PC, but a warning window for formatting may pop up during the process. Just click Yes.
If the system image recovery fails to repair your PC, and you really want to use the image backup to restore your computer because of the data and applications on the drive, you can try Solutions to the System Image Restore Failed (3 common cases) for some help.
Option Four: Go Back to the Previous Version
If you upgraded your PC to Windows 10 in the past ten days, you can go back to the previous version of Windows to solve some computer problems that occur after Windows update. Click Should I Upgrade to Windows 10 to help you to make a decision.
This option will keep your personal files, but it'll remove installed applications, drivers, and changes you made to settings after the upgrade.
Besides, this option has many other limitations.
This option isavailable only for ten days after the installation of Windows 10.
This option is not available if you do a disk cleanup, refresh, reset, or you delete the files in windows.old and $windows.~bt folders after the upgrade.
In addition, if you used an USB drive to upgrade to Windows 10, you must use the same drive to go back.
Option Five: System Restore
This feature can fix certain types of computer crashes or other computer problems. If your Windows 10 crashed after you installed an app, driver, or update, you can use system restore Windows 10 to revert your computer's state to that of a previous point in time, called Windows 10 restore point.
The restore points can be created manually by users and automatically by Windows. But you need to ensure that you have enabled system protection feature, which could make restore points created automatically by Windows.
After the system protection is enabled, it is configured that the restore points are created automatically when you install a new app, driver, or update. So, you can use system restore Windows 10 for repair, even if you didn't make a restore point manually before.
Option Six: Reset This PC
This option will quickly restore Windows to its factory default configuration. If your computer has poor performance because of many installed applications, you could choose this option to reset Windows 10.
When you choose Remove everything, you will be asked whether you want to remove everything from all drives. If you want to resell your computer, clicking All drives is recommended.
Option Seven: Uninstall Update
If your computer has poor performancebecause of the installation of Windows10 updateor a new app, you can use this option to uninstall Windows update or application update so as to fix the computer problems. Pay attention to that this option is available only when you can enter Windows 10.
Warning: Before you restore your PC, please make a backup of system disk in advance to avoid irrecoverable damage to data. Click here for backup tips when your computer can boot normally, and click here for backup tips when your computer won't start.
News From
MiniTool Solution
Category:
Data Recovery Services
Company about: MiniTool Solution Ltd. is a software development company based in Canada. As a dedicated software development company, MiniTool Solution Ltd. provides customers with complete business software solutions in the data recovery and partition management industry.