Some of you may have used Acronis True Image to clone a disk to SSD for better performance, disk upgrade, backup, etc. Now, an alternative to Acronis clone – MiniTool ShadowMaker can also help you. I will show you some related information on disk cloning software and how to clone a hard disk.
The backup software market is quite competitive so how do you know who's the most efficient at creating a backup image? Usually, you may choose a hard drive cloning software like Acronis clone to back up your computer or replicate the Windows operating system of a computer, software, and patches software.
With PC cloning software, you will not spend time in manually reinstalling and reconfiguring a system. So, you can perform one or more operations, as shown below:
Set up multiple computers with duplicate configurations
Complete system recovery when software problems or computer failure happen
Reboot and restore a computer to an earlier version
Upgrade your hard drive to a larger one or replace a damaged disk
As your Windows partition will be tens or even hundreds of Gigabytes in size, it makes sense to find a program which does a good job of both compressing the image to a smaller size and not taking too long to complete this task.
Backup VS Disk Cloning Software
You can use cloning software to protect your data.
Isn't what backup software is for?
Actually, full-image backup software is not the same as disk cloning software although the reasons for using them may have the similarity. When should you use each? See the guide below:
Use backup software if you have a need to do:
Back up files or folders to the cloud so that you can protect data offsite and access them remotely.
Back up the entire computer regularly to a local, external hard drive or the cloud. The image backup software can create a disk image backup including all boot information, settings, data, applications, etc. With it, incremental or differential backups can be created for only changed data, which takes less time than a new disk image backup.
Use cloning software (Acronis clone) if you want to:
Upgrade disk or replace a disk.
Set up a computer the way you want, clone the disk and install the clone on each machine with duplicate the configurations.
Acronis True Image Key Cloning Software Features
What is the best cloning software? Simply put, it should meet some requirements. See the following key features:
Simple: transfers data by data migration; offers the easiest way to back up and restore the OS
Efficient: restores multiple computers at the same time rather than configuring each computer separately
Secure: uses the most stringent security available to ensure data is protected and safe
Acronis Clone
You may require both backup and cloning solutions. Acronis True Image 2019 will be a good choice since it is an application for disk clone, backup and cloud things.
It supports multiple platforms, such as Windows, Mac, and mobile devices.
You can use the easy-to-use wizards of this software via the set-up process. This cloning software will run automatically once the initial set-up is complete, which eliminates any further time or effort.
MiniTool ShadowMaker: Alternative to Acronis True Image Clone for Windows
MiniTool ShadowMaker is probably another popular and well known commerical backup software around, and with recent versions they are offering support for syncing backups. The standard version suffices for most users needs, features like restore to different hardware are only in the premium version.
With this freeware, you can enjoy the benefit of disk backup and disk cloning tools, including incremental & differential imaging backup, flexible schedule option, multiple choices as to where to store your cloned-disk copy, etc.
Above all, you can clone not only system disk but also data disk to another hard drive. With the system disk copy, it is easy to restore the Windows to a previous version in the event of computer issues.
Besides, you are able to upgrade disk and set up multiple computers with duplicate configurations, which is the same as Acronis clone (as mentioned above).
Right now, click the following button to get MiniTool ShadowMaker Trial Edition (Windows and Server OS are supported) that gives you 30-day free trial with all powerful features. After the specified date, you should upgrade it to a full edition if you want to use this program.
Step 1: Go to Choose a Computer for Disk Cloning
Run MiniTool ShadowMaker that you have installed on a Windows 10/8/7 computer.
Continue to use the Trial Edition by hitting Keep Trial.
In the following interface, decide which computer you want to manage. Here, I choose the local computer by clicking the left Connect button.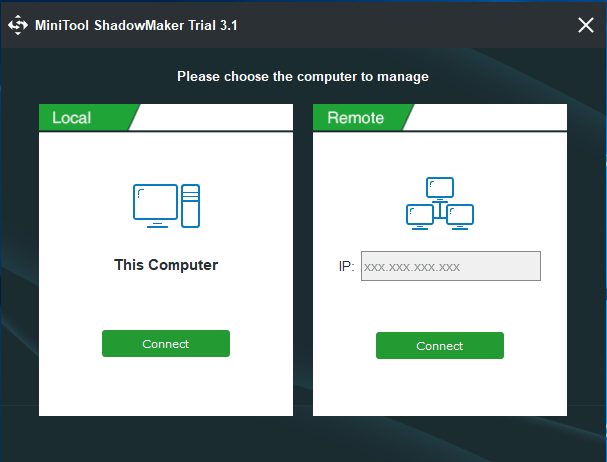 Step 2: Find a Feature for Clone
Enter the Tools
Choose Clone Disk to continue.
Step 3: Configure the Disk Cloning
You are required to choose both the source disk and the target disk. Just click the corresponding section to choose them and click OK to continue.
Both the system disk and data disk can be cloned by this Acronis clone alternative.
An SSD, HDD, or any other device can be as the target disk.
Step 4: Perform the Cloning Operation
MiniTool ShadowMaker is cloning your disk; it gives you the cloning progress bar, the rest time, etc.
You can wait patiently until the process is finished.
Or tick the Shut down the computer when the operation is completed option.
Attention:
Windows might mark either the original disk or the target disk as offline after disk cloning with this alternative to Acronis clone, so you should shut down the computer and disconnect either of them.
For disk backup, remove the target disk.
For disk upgrade, if you want to boot your Windows OS from the target disk, remove the original disk and connect the cloned hard drive to the PC via a SATA interface.
Besides Windows OS, Acronis True Image is also available in Mac. After introducing the alternative to Acronis cloning software for Windows, we will show you the alternative for Mac.
In Mac OS, there is a built-in backup and clone software that is Disk Utility. It has always been able to create clones, although this app refers to the process as Restore, as in restoring data from a source drive to a target drive.
If you're in the process of upgrading to a new hard drive, be that an SSD or traditional hard disk, copying the data off your old one is best done using MiniTool ShadowMaker - the best Acronis True Image and Windows backup alternative.
News From
MiniTool Solution
Category:
Data Recovery Services
Company about: MiniTool Solution Ltd. is a software development company based in Canada. As a dedicated software development company, MiniTool Solution Ltd. provides customers with complete business software solutions in the data recovery and partition management industry.