When you update an app in Windows 10 Store, install Windows updates or restore a system with a restore point, an error code – 0x80070005 may appear on your computer. How to fix this issue? Here, this post will show you possible solutions indifferent cases. Besides, a good way to protect your PC is introduced.
So far you may have seen that different Windows Stre errors require a different kind of treatment for the same error message in Windows 10/8. Today I came across another error code with the same message Something happened and this app couldn't be installed.
Windows Update Error 0x80070005
This error 0x80070005 is a generic error which technically means that for some reason, permissions are denied or access is denied therefore many other windows programs and services may indicate this error when it finds that the permissions are being denied. In this article I'll go through troubleshooting the problem with simple solutions.
Let's see the possible solutions to 0x80070005 access denied.
Solution 1: Switch to Administrator Account
The update error may be caused by some problems with your administrator rights. Follow these steps to fix it (take Windows 10 as an example):
Step 1: Type control panel in the search box and click the exact result to launch this desktop app.
Step 2: Set the View by section to Category.
Step 3: Enter the User Accounts page, and click the Change your account type link to set it to Administrator. If required, input your password.
Step 4: After that, restart your computer. Then, check for Windows updates again to see if the Windows update error 0x80070005 is solved.
Solution 2: Allow User Full Control
Sometimes, the permission to access the files are misconfigured, which prevents from downloading Windows updates since there isn't the correct permission. To fix the Windows update 0x80070005 error code, you need to grant full control to a user.
Follow these steps:
Step 1: Press the Win plus R keys on the keyboard, input C:\Users\USERNAME\AppData in the textbox and click OK.
Step 2: Right click on the Local folder to choose Properties.
Step 3: Navigate to the Security tab, and choose Edit.
Step 4: Click Add, and input Everyone.
Step 5: Go to Check names > OK, and then tick the Full control checkbox.
Step 6: Finally, click OK to save all the changes. Then, restart your PC to check if 0x80070005 access denied update error is fixed.
Solution 3: Configure Windows Update Settings
One of the easiest fixes for Windows update error 0x80070005 is to set the setting to allow automatic updates. Before starting with this, ensure you are logged in as an administrator.
Take Windows 7 as an example:
Step 1: Open Control Panel, view all items by large icons and then click Windows Update.
Step 2: Choose Change Settings.
Step 3: Go to the Important Updates section to choose the Install updates automatically (recommended) option.
Step 4: Then, you can set a schedule for the updates to be installed. Click OK to save the changes.
Solution 4: Use SubInACL Tool
Sometimes, the error 0x80070005 access denied happens in Windows 10/8/7 due to incorrect file permissions or registry permissions. To help you out of the issue, you can use the command-line tool, SubInACL to reset the permissions.
Step 1: Download SubInACL Tool from the Microsoft website.
Step 2: Follow the instruction within the installer itself to install it.
Step 3: Run Command Prompt as an administrator, type notepad reset.cmd and press Enter.
Step 4: Copy the following data to the reset.cmd file:
@echo off
subinacl /subkeyreg HKEY_LOCAL_MACHINE /grant=administrators=f /grant=system=f
subinacl /subkeyreg HKEY_CURRENT_USER /grant=administrators=f /grant=system=f
subinacl /subkeyreg HKEY_CLASSES_ROOT /grant=administrators=f /grant=system=f
subinacl /subdirectories %windir% /grant=administrators=f /grant=system=f
@Echo -
@Echo Done.
@Echo -
@pause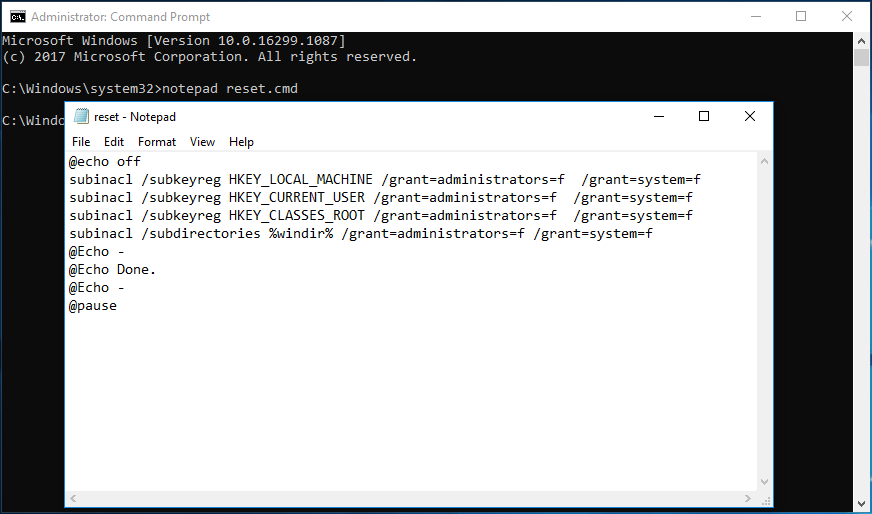 Step 5: Input reset.cmd in Command Prompt to run the file and hit Enter.
Step 6: Restart the PC to check if the update error disappears.
Other Solutions
To fix the Windows update 0x80070005 error code, you can try these possible solutions:
Update available drivers
Run Windows Update Troubleshooter
Scan for viruses
Run Windows System File Checker (SFC)
These methods to this Windows update error are recommended by many users.
Additionally, you may encounter the same error code when performing a system restore. The specific error message is: "System Restore did not complete successfully. Your computer's system files and settings were not changed". You may read the postto learn how to fix this system restore error code.
Just a quick reminder
After fixing the issue, I suggest that you should create a system image for your Windows 10/8/7 so that you can quickly restore the computer to a previous state in case of system issues.
MiniTool ShadowMaker can be your assistant for OS backup. As professional and free backup software, it is designed to back up the system, files & folders, partitions or the entire disk. Above all, it supports automatic backup, and incremental & differential backup for only changed data.
Besides, it can help you to restore the unbootable system to a normal state as long as you use a bootable CD/DVD disc or USB flash drive that is created by its Bootable Media feature.
The software offers 30-day free trial. After expiration date, if you want to use it, you can just purchase a full edition by clicking the Store link.
News From
MiniTool Solution
Category:
Data Recovery Services
Company about: MiniTool Solution Ltd. is a software development company based in Canada. As a dedicated software development company, MiniTool Solution Ltd. provides customers with complete business software solutions in the data recovery and partition management industry.