RAID 5 is a common RAID setup used frequently in small businesses and other organizations. Like other storage devices, RAID 5 could be corrupted due to different reasons. Once a RAID 5 crashes, data saved there will be put in danger. Now, I will show you how to perform RAID 5 data recovery easily and quickly. Then, tips on how to rebuild a RAID 5 will be given to you.
What Is RAID 5 Data Recovery
You may have heared about RAID 5, which is a redundant array of independent disks configuration that uses disk striping with parity. Because data and parity are striped evenly across all of the disks, no single disk is a bottleneck.
Striping also allows users to reconstruct data in case of a disk failure.
The benefits of RAID 5 primarily come from its combined use of disk striping and parity.
Striping is the process of storing consecutive segments of data across different storage devices, and allows for better throughput and performance. Disk striping alone does not make an array fault tolerant, however.
Disk striping combined with parity provides RAID 5 with redundancy and reliability.
Common RAID schemes or data distribution layouts are RAID 0, RAID 1, RAID 5, RAID 0+1, etc. The balance between performance, capacity, reliability, and availability, is different in different RAID levels.
Once you find your RAID is corrupted, you should start to recover data from RAID without any delay. The following content focuses on RAID 5 data recovery only; data recovery from other types of RAID is essentially the same.
But the question is how much you know about RAID 5 data recovery.
Recover Data from RAID 5 with 2 Failed Drives Can RAID 5 Lose 2 Drives
All data saved on the disks contained in a RAID 5 will be available (due to parity) unless the disks get failed suddenly.
Can I recover a RAID 5 array if two drives have failed?
How many disks can you lose in RAID 5?
If only one of the disks fails, it is easy to recover data from single RAID 5 disk since the reconstruction of RAID 5 will start immediately whenever the hard disk failure is detected.
In contrast, if two or more disks are corrupted at the same time, all data will be lost.
That is to say, the RAID 5 can survive if there is only one disk damaged. Once you find two or more disks are getting into trouble, you should carry out data recovery from RAID 5 at once.
How to Recover Data from RAID 2 Disk Failure
If you have a single or multiple disks failed in your RAID 5 and the disks contain important data, you need the help of RAID data recovery software.
A program from MiniTool® Software Ltd. called MiniTool Power Data Recovery is regarded as the best RAID recovery software by most users (it can be the good recovery software for RAID 1, RAID 5, and other types of RAID).
It can help you recover data from both crashed disk and disks with problematic partitions.
You should make sure that the configuration tables of the RAID are functional. If you run into the breakdown issue, please fix it properly before you start RAID data recovery.
If you want to recover data from a drive in RAID 1, you only need to make sure the disk works well.
How to get files off a RAID hard drive:
Step 1: get the setup program of MiniTool Power Data Recovery from the reliable link and save it on your computer.
Step 2: run the setup program to finish the installation process and make sure your failed RAID disk is connected to this PC.
Step 3: launch the RAID recovery software and select the proper function from the left pane.
Please keep This PC selected if you want to recover files from existing hard drive partitions.
You should select Hard Disk Drive to recover data contained in a deleted/lost partition.
Step 4: double click on the partition/disk that includes the data you want to get back to start drive scan.
Step 5: more and more files will be found by the software and you should choose the ones you really need.
Step 6: click Save to choose a storage path in the pop-up window. Then, click OK to confirm and wait for the recovery process to complete.
Please note:
You will see the following prompt window when clicking on Save. It indicates that you are using the trial edition of software which only allows you to scan the disk and preview the found files for free.
If you need to recover data with it, you'll need to upgrade to the full version by clicking on the Upgrade Nowbutton.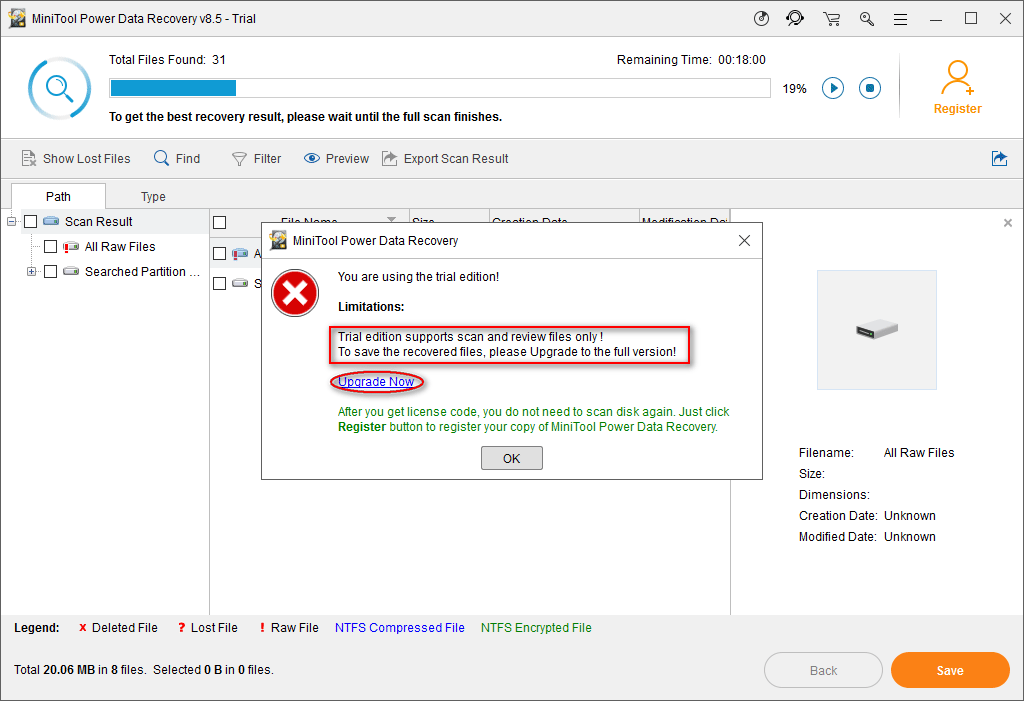 This method also works when you want to recover data from RAID 0, RAID 1, RAID 0+1…
Rebuild Failed RAID 5 Yourself?
One of the most important reasons why RAID 5 is so popular is that it is tolerant of a single drive failure.
Once a certain disk failed, RAID 5 will start to rescue data from the entire RAID array by taking advantage of its parity function. In this way, it can calculate the missing data.
Once there are two or more disks failed, you should hurry to recover data from RAID 5 by using the above method.
When the data recovery is finished, you should try to rebuild the RAID 5. Check out the postfor the detailed steps.
What's the difference between RAID 5 and mirroring?
In RAID 5, the system will start to rebuild by using the parity data when a drive is failed.
During mirroring, multiple copies of data will be kept in different volumes at the same time in case of sudden failure.
Data stored on any two drives can be put together to equal to the data stored in a third hard drive after data has been kept on each drive. In this way, even a single drive is failed, RAID data are not in danger.
Therefore, disks in RAID 5 are hot-swappable; the failed hard disk can be removed and replaced by a new drive without downtime.
News From
MiniTool Solution
Category:
Data Recovery Services
Company about: MiniTool Solution Ltd. is a software development company based in Canada. As a dedicated software development company, MiniTool Solution Ltd. provides customers with complete business software solutions in the data recovery and partition management industry.