How to get data off an old hard drive? This is a common topic. In this post, I will show you different situations, as well as the corresponding methods to get files from the old disk. Just try one based on your needs to extract files from hard drive.
If you've been using PCs for a while, you likely have an old hard drive from previous computers sitting around. If you ever need to get at the data or files on an old hard drive, there's easy way to do so without mounting the drive inside your PC. Depending on different situations, the ways to retrieve data from hard drive are also different. I will show you details on how to get data off an old hard drive in this post.
Access Files on Old Hard Drive Without Bothering to Put It to PC
Since much important information is saved on old disk, you may want to access the disk data. So, how to access files on the hard drive in Windows 10 becomes a common topic. The easiest way is to connect the old disk to your PC rather than putting it inside the PC.
Move 1: Connect Old Hard Drive to PC
The simplest option is to use a special USB cable adapter to connect the disk to your computer. If you only occasionally need to use an old drive or just need to do it once, an adapter is available. Just choose a proper one from the internet.
Besides, you can buy an external hard drive enclosure and install your old hard drive in it if you are planning to access the old disk data regularly. Some instructions on how to install the hard drive to the enclosure are shipped.
Move 2: Access the Disk Data
The disk connected to the PC should be recognized and displayed in Windows Explorer automatically without any software or driver. Now, you can get data off an old hard drive. Just open the partitions on the old disk to use the old files and folders.
Then, you can take some measures to get files from the old disk, for example, pull data from hard drive to your new PC. Of course, you can plug the old disk to your new computer every time for accessing files when you have a need instead of data transfer or copy & paste.
Get Data off Old Hard Drive to a New One
Sometimes, your old computer can run from the old hard drive but it runs very slowly. Then, you may decide to purchase a new PC. You are used to using the Windows settings, applications, personal data, etc on the old computer and also want to keep the old disk on the old computer.
What if you want to get data off an old hard drive so that the new PC uses the same OS, setting, data as the old PC? The simple method is to clone disk. As for this work, third-party software is recommended. So, which one should be used? MiniTool ShadowMaker can be a good option.
At first glance, you may think it is only free backup software to back up Windows OS, file & folder, partition, and disk. Actually, it can be used as a hard drive cloning software that is compatible with Windows 10/8/7, etc.
With its Clone Disk feature, you can easily clone the old hard drive to the disk on your new computer. By this way, everything including Windows OS, settings, apps, personal data, etc. will be moved to your new disk.
Get Files off a Hard Drive That Won't Boot
Windows cannot boot from the old hard drive. So, how to get files off old computer that is unbootable? Take it easy now; the method is very simple provided that you use a piece of third-party software.
Method 1: Use MiniTool ShadowMaker Bootable Edition to Back up Data
Since the computer cannot start up, you need to prepare a bootable medium.
Similarly, get MiniTool ShadowMaker and enter its Tools
Click Media Builder to create a bootable USB drive/externa…VD/CD disc.
Boot the dead computer from the created medium. Now, you can start to get files off an old computer.
Step 1: Run MiniTool ShadowMaker in WinPE
After booting the dead computer, enter the MiniTool PE Loader interface.
Launch this backup software to the Backup page.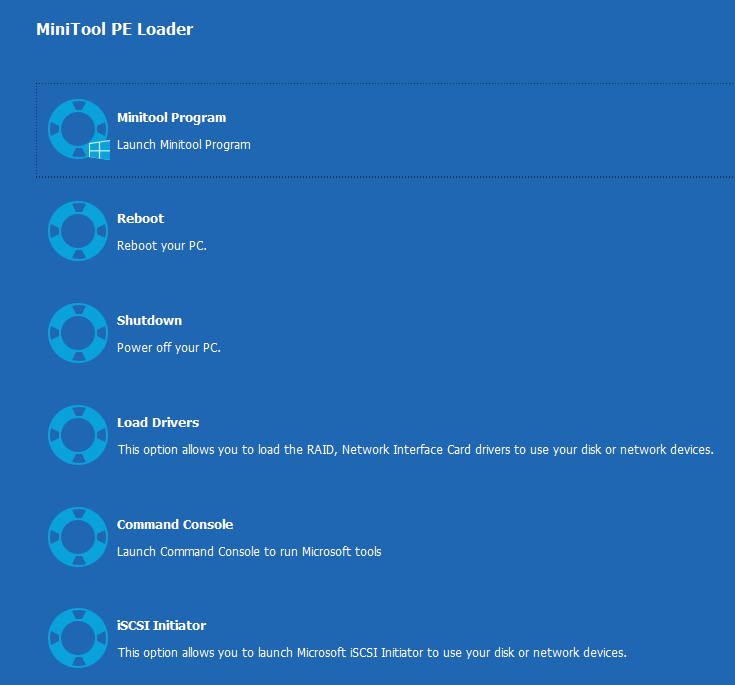 Step 2: Choose Backup Source
You may ask "how to find pictures on old hard drive". Follow the following guide. Of course, searching for any other files is also available.
Go to Source > Folders and Files.
Open your computer drive to check needed files like pictures.
Click OK to go back to the main interface.
Step 3: Choose Backup Destination
We recommend you to get data off an old hard drive to an external hard drive or USB flash drive.
Click OK to continue.
Step 4: Run a Backup
Click Back up Now.
MiniTool ShadowMaker will go to the Manage page to execute the backup operation.
Method 2: Recover Data from Old Hard Drive in a Dead Computer
Additionally, the data recovery software – MiniTool Power Data Recovery is designed to retrieve data from an external hard drive, USB drive, SD card, SSD, HDD, etc. in various situations. Thus, it can be used to easily get files off an old hard drive that won't boot; existing and lost or deleted files will be recovered.
Also, you need to use a bootable disc or drive to boot the dead computer. To create the bootable medium, you need to use Deluxe or an advanced edition. Just get a proper edition from the MiniTool Store and then get files off old computer.
How to get data off an old hard drive that won't boot? Follow the guide:
Step 1: After entering the MiniTool WinPE page, run MiniTool Power Data Recovery.
Step 2: In its This PC interface, choose the target drive and click Scan.
Step 3: Depending on a large amount of the data, the scan might take a while. Ensure the scan process isn't stopped for the best scan result.
Step 4: Then, you can check all the items that you need and click the Save button to recover data from old hard drive to a safe place.
Bottom Line
After reading this article, in situations where you want to extract files from old hard drives
News From
MiniTool Solution
Category:
Data Recovery Services
Company about: MiniTool Solution Ltd. is a software development company based in Canada. As a dedicated software development company, MiniTool Solution Ltd. provides customers with complete business software solutions in the data recovery and partition management industry.