If you upgraded Windows 10 from an old version of Windows, you have a Windows.old folder on the C: drive. In this post, I will show you what Windows.old folder is and how to remove it quickly.
the Windows.old Folder
The Windows.old folder isn't something new with Windows 10. But, prior to Windows 10. There's a good chance that you will have a Windows.old folder on your computer, if you upgraded from an old version of Windows.
What is saved in Windows.old? In particular, you will find the old registry hives in C:\Windows.old\System32\config, and your personal profile files in C:\Windows.old\System32\Users, which includes Cookies, Start Menu, UserData and more, as the screenshot below shows.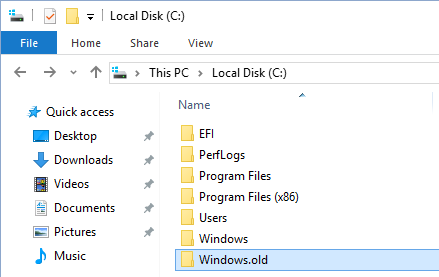 To Delete Windows.old Folder
As the Windows.old folder eats up a huge amount of space, or more precisely, it usually takes 10 GB around disk space, depending on how large your previous Windows installation was.
You can just delete it, but it's different from deleting a normal folder.
1st Move: Show Windows.old Folder
Windows.old is regarded as a system file. In case you have set to hide protected operating system files, you need to make Windows.old appear on your PC to get your important files (if there is any) from it in advance. So the first move here is to make sure that option is unchecked.
Take deleting Windows.old folder in Windows 10 for example.
Step 1. Go to File Explorer, navigate to View > Options > Change folder and search options to get Folder Options window.
Step 2. Then navigate to View tab. Under "Hidden files and folders", be sure to select "Show hidden files, folders and drives" and uncheck the "Hide protected operating system files (Recommended)".
Step 3. Immediately after you uncheck the "Hide protected operating system files (Recommended)", you will receive a warning message saying that these files are required to start and run Windows, deleting or editing them can make your computer inoperable. Just click Yes to confirm the display of these files.
Step 4. Finally, press OK on the Folder Options window to save your change.
2nd Move: Save Important Files from Windows.old
Before you delete Windows.old folder, you'd better take the chance to save important files from Windows.old if there are.
Step 1. Please go to C:\Windows.old to find the folder named with your username.
Then open it and copy the files you need including documents, music, pictures, etc. to another location. If you want to import your Windows Live Mail messages from the Windows.old folder, you can click here to know the detailed steps. <no follow>
Now it's time for you to delete Windows.old files.
3rd Move: Delete Windows.old Files
Please note that deleting Windows.old is different from deleting a normal folder. You can't delete Windows.old folder by simply right clicking that folder and choose Delete. If you do like this, you will need permission from system to delete Windows.old. See the following picture: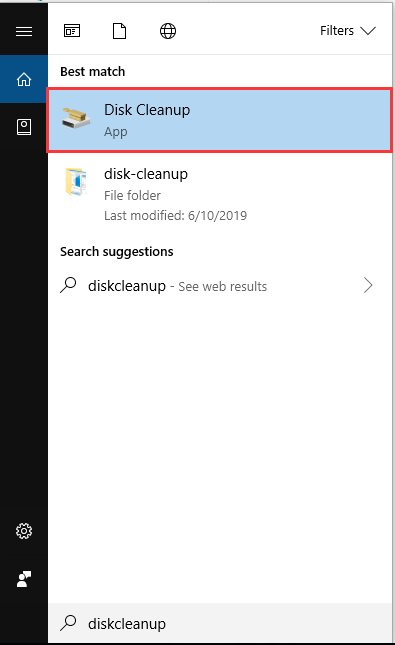 So, you should refer to either of the two ways below to delete Windows.old files.
Way 1: Use Disk Cleanup
Step 1: Click in Windows' search field, type "Cleanup", then click Disk Cleanup form the best match.
Step 2. You will come across a window allowing you to select a drive to clean up. Since Windows.old is saved to C: and C: is selected here by default, you just click OK to continue. Disk Clean-up will take some time to calculate how much space is able to be released. Please wait patiently.
Step 3. Click the "Clean up system files" button. Again, choose the C drive to.
Step 4. Wait a bit while Windows scans for files, then scroll down the list until you see "Previous Windows installation(s)." Check the box next to the entry, then make sure there are no other boxes checked (unless you do indeed want to delete those items). Click OK to start the cleanup.
By doing so, Windows.old should have been deleted.
Way 2: Use CMD
However, some users report that Disk Cleanup does not delete Windows.old. Here is a true example we extract from forums.lenovo.com:
At this time, I strongly recommend using CMD. How to delete Windows.old using CMD? Want to know the best part? Please follow the guide below:
Step 1. Press "Win + X" to call out the power user menu. Then select "Command Prompt (Admin)" and allow it to take control of your PC.
Step 2. In the command prompt window, type "RD /S /Q %SystemDrive%\windows.old" and hit Enter. Then Windows.old folder will be deleted in Windows 10 without any obstacles.
Downgrading Windows 10 to the Previous Version
If you are not certain whether you want to downgrade after 30 days, I suggest that you make a backup of the current Windows 10 before you delete Windows.old. Then use the Windows 10 copy to downgrade to the previous Windows 7/8 or Windows 10. In this way, if someday you want to go back to the previous version, you can avoid the reinstallation.
The rollback option via Windows.old is available for at most 30 days. If you no longer see the option shown above, you either have passed the valid-date OR you installed a newer version of Windows 10, in which case the respective choice will be "Go back to an earlier build".
To learn the detailed steps to downgrade Windows 10 to the previous version, check out the post.
Just a quick reminder, Windows will automatically remove the Windows.old folder a month after you upgrade, anyway.
News From
MiniTool Solution
Category:
Data Recovery Services
Company about: MiniTool Solution Ltd. is a software development company based in Canada. As a dedicated software development company, MiniTool Solution Ltd. provides customers with complete business software solutions in the data recovery and partition management industry.