Notepad is the simple text editor comes with Microsoft Windows systems by default. Accidents happen now and then; you may lose your notepad file all out of sudden. Recovering Notepad documents isn't as complicated as you may think, especially after reading this post.
Have you lost a previously saved Notepad files? There are various circumstances in which a file might get accidentally deleted, perhaps by yourself or third-party programs. Nevertheless, there's still a chance you can recover lost Notepad files. As such, here are a few tips for Notepad file recovery in Windows 10.
Recover Text File in Different Cases
Notepad is a common text-only editor, which means it is able to edit text without formats.
The file created by it is called notepad file, also known as text file. The text file is actually a kind of computer file which is composed of a sequence of lines of electronic text. You can save important information in a notepad file and it won't take up much of your disk space.
As you can see from previous cases, there are a lot of reasons could lead to the loss of a notepad file: accidental deletion, system update, software crash, overwriting, and so on. It is no need thinking too much of the causes of text file loss, the more important thing is how to recover it. Now, I'll show you how to recover notepad file Windows 10 in different situations.
How to Recover Notepad Files Unsaved
The Notepad app is not provided with the advanced functions like files backup or auto-save, which is included in Microsoft Word/Excel/PowerPoint. Therefore, all the unsaved content in Notepad is easy to get lost when:
How can you recover unsaved notepad file?
Since the unsaved content of a notepad file will be kept in the computer memory temporarily, there's still hope for you to get back the missing content: restore the unsaved files or recover the deleted notepad files from local temporary files.
Where are notepad files saved? They are usually kept in: C:\Users\Username\AppData\Roaming.
Open File Explorer (also called Windows Explorer).
Double click on your system drive (usually C:).
Expand the Users folder.
Specify your Username and expand the corresponding folder.
Find AppData subfolder and expand it.
Double click on the Roaming folder to open it.
Type the certain filename into the search textbox in the upper right corner.
Wait for the searching process to proceed.
Click the file from search result to recover unsaved text file notepad.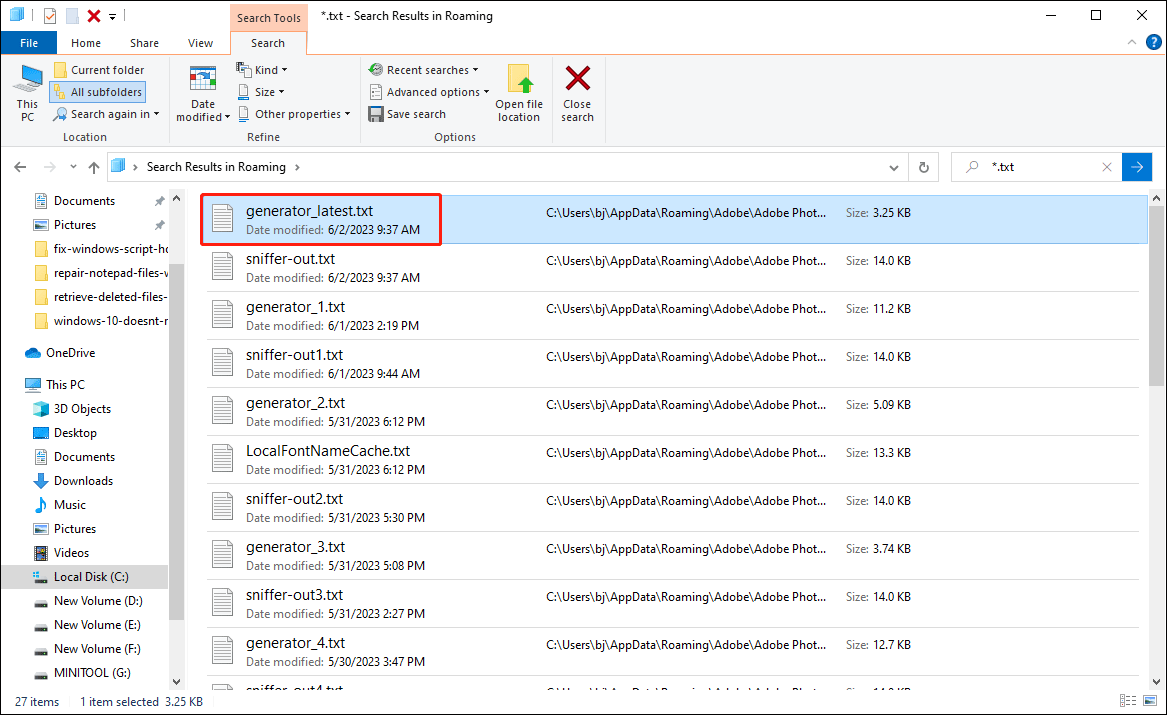 How to fix when you can't find AppData folder?
In fact, this folder is hidden by default in Windows, but you can follow this to show it:
Click on the View tab in File Explorer.
Select Options from the upper right corner.
Choose Change folder and search options from the drop-down list.
Shift to View tab in the Folder Options window.
Check Show hidden files, folders, and drives under Hidden files and folders section.
Click on the OK button located at the bottom of the window to confirm the change of settings.
My suggestions:
One: it is highly recommended that you hit the Ctrl+S buttons every few minutes to save the content in an opening notepad file manually; this will maximize the security of your important information.
Two: apart from this, you can get a Notepad AutoSave app to help you save the notepad contents at fixed intervals.
Three: you may as well use the MiniTool Shadow Maker to back up the drive and achieve files and folders sync in easy steps.
Four: use Notepad++ instead of the original notepad since it will create backup files during the editing process; this helps a lot to enhance data security. How to recover notepad++ files unsaved? As long as you turn on the backup feature, you can resort to the notepad backup files directly to restore the unsaved content. Besides, it can ensure a higher execution speed and smaller program size. So it's a better choice than Notepad.
How to replace Notepad with Notepad++?
If you are using the version 7.5.9 or above, you can finish the replacement conveniently by following steps (take Win 10 as an example).
Click on the Cortana search box on the taskbar (what if Win 10 taskbar is not working?).
Type cmd into the textbox.
Right click on Command Prompt from the search result.
Choose Run as administrator.
Type this command into Command Prompt and hit Enter: reg add "HKLM\Software\Microsoft\Windows NT\CurrentVersion\Image File Execution Options\notepad.exe" /v "Debugger" /t REG_SZ /d "\"%ProgramFiles(x86)%\Notepad++\notepad++.exe\" -notepadStyleCmdline -z" /f.
Please be advised that you can undo the change by typing this command and press Enter:
reg delete "HKLM\Software\Microsoft\Windows NT\CurrentVersion\Image File Execution Options\notepad.exe" /v "Debugger" /f
How to Recover Deleted Notepad Text
The temporary files are only useful for recovering unsaved content; it won't work if you'd like to recover the lost or deleted notepad files. Under such circumstance, I advise you to get MiniTool Power Data Recovery to help you restore permanently deleted text files.
Steps to recover lost notepad file:
Step 1: get the setup application of MiniTool Power Data Recovery and save it to the drive which contains no file to recover.
Step 2: double click on the setup application to run it so as to finish the software installation process.
You can choose to launch the data recovery software immediately at the last step of the installation.
You can also double click on the software icon to run it manually.
Step 3: select a suitable module from the left-side panel (which includes 4 options in total).
If the lost or deleted notepad file was stored on a local drive, please select This PC.
If the file was included in a removable disk, please make sure it is connected to your computer right now and select Removable Disk Drive.
Step 4: take a look at the drives listed on the right-side panel and locate the one from which you need to recover text file. Then, you should scan it for needed files by the following ways:
Select the target drive and press the Scan button at the bottom.
Double click on the target drive directly to start the scan.
Step 5: browse the files the file recovery software has found for you during the scan.
If you can find the notepad file easily from the scan results, you can check it and Pause/Stop the scan.
If there are too many files found by the software, you may as well use Find and Filter function to locate and select the notepad file you need quickly.
If the lost/deleted notepad file is not found yet, please wait until the scan finishes in order to get the best recovery result.
Attention please:
You can click on the Preview button to see the content in the selected notepad file; this helps a lot to determine whether this is the file you want or not when you can't remember the exact file name.
Step 6: click on the Save button at the bottom right corner to open the directory setting window.
Select a drive from the list to restore the recovered notepad file (you can't select the drive which contains this file before it gets lost in order to prevent data overwriting).
Confirm your selection and press OK button to start the recovering process.
Wait for the notepad file recovery to finish (a prompt window will appear at the end of recovery).
Close the software if you don't need to recover other data.
Attention please:
If you're using the Trial Edition to scan the drive for missing notepad file, you are not allowed to recover the found files. Thus, you'll see the following window after clicking on the Save button. To work this out, you need to purchase a license of a full edition; then, use the license to register your software and scan the drive again.
How to Recover Overwritten Notepad File
Some users complained that they had written over a text file on their PC (accidentally saved over the notepad file). Any file recovery program can't help them recover the file on this occasion. How can they restore overwritten text file? In fact, the information from the previous versions of a notepad file is saved in a file in the Windows system; but it is "hidden" by default.
How to use the hidden files to recover overwritten text file:
Open File Explorer.
Navigate to the folder that contains the overwritten notepad file.
Select View from the menu bar.
Click Options from its submenu.
Choose Change folder and search options from the drop-down list.
Select View tab.
Select Show hidden files, folders, and drives to display hidden files and directories.
Click Apply and OK button to confirm changes.
Open the hidden files in the same directory; one of them is the exact copy of the previous version of your overwritten file.
In another case, users have reported that their notepad files have become corrupted and showing Null characters after their system crashed or froze resulting in a forced restart. If you have a corrupted file that you want to recover, there are tips that you can try to recover the text file.
News From
MiniTool Solution
Category:
Data Recovery Services
Company about: MiniTool Solution Ltd. is a software development company based in Canada. As a dedicated software development company, MiniTool Solution Ltd. provides customers with complete business software solutions in the data recovery and partition management industry.