Have you ever faced with horrific slowdown and loud-running fans, and you see that your CPU usage is inexplicably at 100%. It is annoying, but fortunately, not usually too hard to solve. Here in the post I will introduce several fixes for the 100% CPU usage problem.
High CPU Usage
If your computer fans frequently hit top speeds, it's a sign that your CPU usage is reaching 100%. At the same time, your computer may slow down. It's very annoying, especially if you're not actually doing anything. Normally, you can avoid it by staying away from demanding apps.
High CPU usage can be caused by different reasons, icluding but not limited to:
1. Too Many Background Processes
2. Svchost.exe (netscvs) Process
3. WMI Provider Host (WmiPrvSE.EXE)
4. There Is an Annoying Antivirus or a Virus
5. System Idle Process
How to Fix the High CPU Usage
In general, you can stay away from demanding applications to avoid high CPU usage. But sometimes it will go out of control since there is a bug in the process like the notorious WmiPrvSE.exe. You don't need to worry about that because then I will introduce 8 solutions to help you lower the high CPU usage.
Method 1: Restart the WMI Provider Host
If the CPU usage is very high, and you're not running any program that would impact it, it's not normal. You can open Task Manager to check it.
Recently Microsoft has pulled its official fix, the only thing you can do is to restart the service manually. Here is how to fix CPU 100%:
Step 1: Search for Services and open it.
Step 2: In the window, find Application Management and right-click it. Then select Restart.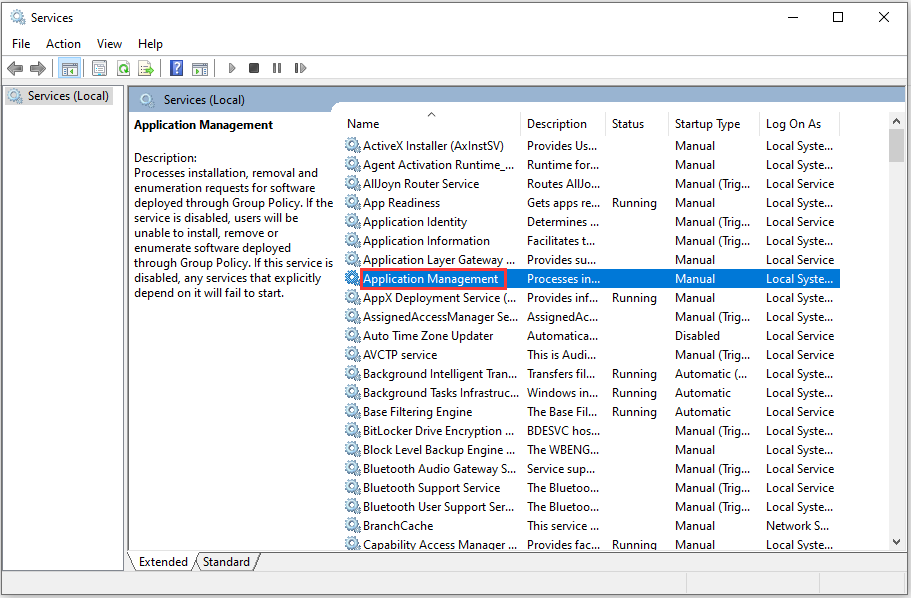 After you do this operation, the high CPU usage will become lower. If not, you can try the next solution.
Method 2: Use the Event Viewer to Identify the Issues
If the issue with WmiPrvSE.exe still exists, you can identify its cause by using the Windows Event Viewer. Maybe there is another system process that makes WMI provider host keep busy, resulting in high CPU usage. Here is how to fix CPU 100%.
Step 1: Right-click the Start button and select Event Viewer to open it.
Step 2: Choose Applications and Service Logs in the left and choose Microsoft. Then click Windows, WMI-Activity, and Operational successively to open them.
Step 3: Now you should find recent Error entries by scrolling through the list of operational events. For each Error, identify the ClientProcessId.
If you suspect that one of these processes is causing the high CPU usage, you can use its ID to find it in the Task Manager and identify the faulty process to fix the high CPU usage.
Method 3: End the Processes that Cause High CPU Usage
When you notice that the PC is getting slower than usual and the CPU 100%, you can try the Task Manager to find which processes are causing high CPU usage. Here is how to fix the 100% CPU usage issue.
Step 1: Search for Task Manager and open it.
Step 2: Click the CPU column header to sort the processes by CPU usage and check which processes cause your CPU becoming higher.
Step 3: Right-click the process that consumes lots of your CPU and then you should click End task to finish this process.
Now, see if the CPU usage is still at 100% after you do the above operations. If not, this issue has been resolved. If the issue persists, try the next solution.
Method 4: Disable Third-Party Antivirus Software or Run an Antivirus Scan
Windows Defender is enough for you to use in your daily life. So please uninstall the third-party antivirus software if it does harm to your CPU.
Additionally, the viruses on your PC can cause the 100% CPU usage issue. So you can try to run an antivirus scan to check if there are viruses, spywares or Trojans on your computer. If you find viruses after scanning your PC, you need to delete them immediately.
If you don't find viruses, you can try the next solution.
Method 5: Reset Your Power Plan
Power Options has a significant impact on your PC's performance. If your computer is on Power saver, especially you have changed its' plan settings, it will cause your CPU becoming higher. The steps to fix high CPU usage are as follows.
Step 1: Choose Hardware and Sound after you launch Control Panel, and click Power Options.
Step 2: Then choose Balanced if your computer is on Power saver.
Step 3: Then click Change plan settings that is next to the Balanced.
Step 4: Now, you just need to click Restore defaults settings for this plan and click OK to make the changes.
This issue can also be caused by Cortana in Windows 10 and Windows notification settings, in that case, you can also try modify settings in registry editor and turn off Windows Notification Settings. For other methods, check out the post.
Reset Your Computer
If all of these solutions are not working, you can only reset your computer. But resetting your computer may cause your important files and data loss. Thus, you had better back up your important files in advance.
Back Up Your Data with MiniTool ShadowMaker
The free backup software - MiniTool ShadowMaker is an all-in-one data protection and disaster recovery solution for PCs. It allows you to back up your systems, important files, folders, partitions, and even the whole disk. Once a disaster occurs, you are able to restore data with a copy of the backup.
MiniTool ShadowMaker also lets you create bootable media to restore your system to a normal state when your computer fails to boot. It's easy to use MiniTool Media Builder and MiniTool PXE Boot Tool to maintain hard drives. And it is compatible with Windows 7/8/8.1/10 and Windows Servers.
You can download MiniTool ShadowMaker Trial to back up files and keep them safe. It can be used for free within 30 days or you can choose to purchase an advanced one.
News From
MiniTool Solution
Category:
Data Recovery Services
Company about: MiniTool Solution Ltd. is a software development company based in Canada. As a dedicated software development company, MiniTool Solution Ltd. provides customers with complete business software solutions in the data recovery and partition management industry.