AMD OverDrive is a software utility from the CPU manufacturer that helps you with overclocking and fan control. However, some people encounter AODDriver2.sys error when using this software. This post from MiniTool provides you with multiple solutions to fix the error.
AODDriver2.sys
AMD OverDrive is a processor manufacturer's software tool that helps users overclock and control fans.
This is a useful tool for ADM processors because it allows you to get the maximum performance from your equipment.
However, any conflict with AMD OverDrive software may cause aoddriver2.sys error on Windows-based computers. The error is not limited to one version of the operating system.
From Windows 7 to 10, a large number of users reported aoddriver2.sys error causing blue screen of death.
Aoddriver2.sys error is a Windows driver that allows the computer to communicate with the hardware or connected devices.
In this case, the CPU. The fact that the driver has direct access to the internal components of the Windows operating system, any conflict between the driver and the hardware can cause the system to shut down.
So, if you are also PC affected by aoddriver2.sys BSOD error, this guide will help you diagnose and solve the problem yourself.
Fix the AODDriver2.sys BSOD Error
There are multiple solutions to this error. You should try them to fix AODDriver2.sys blue screen depends on your case since this error may cause your PC can't boot normally. Thus, if your PC can boot, go to case 1. If cannot, go to case 2.
Case 1: Your PC Can Boot Normally
Fix 1: Uninstall AMD OverDrive
First, if you haven't uninstalled the AMD OverDrive software yet, now you should do that. Follow the instructions below:
Step 1: Search for Control Panel in the Search box to open it.
Step 2: Navigate to the Programs and Features section and click it.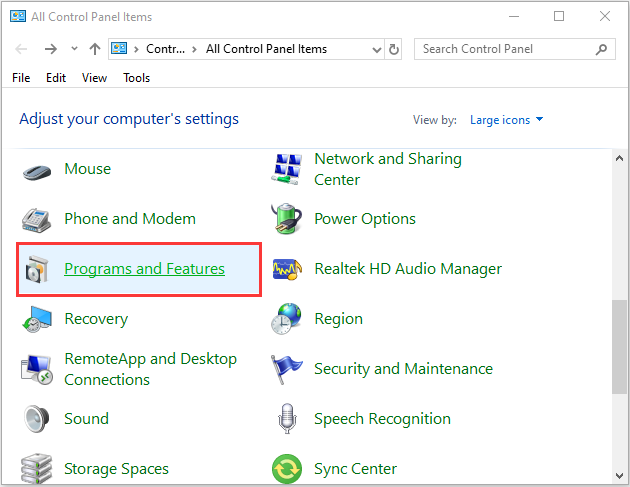 Step 3: Find AMD OverDrive in the list and right-click it to choose Uninstall/Change.
Step 4: Follow the on-screen instructions to uninstall it.
After the uninstallation is complete, restart the PC and check if the issue has been fixed.
Fix 2: Run System File Checker
If the problem persists, continue to the next method: use System File Checker. Sometimes, AODDriver2.sys BSOD is caused by the corrupted Windows system files. Here are the steps to fix it:
Step 1: Input command prompt in the Search box. Then right-click Command Prompt and select Run as administrator to open the command window.
Step 2: Type the command sfc /scannow and then press Enter.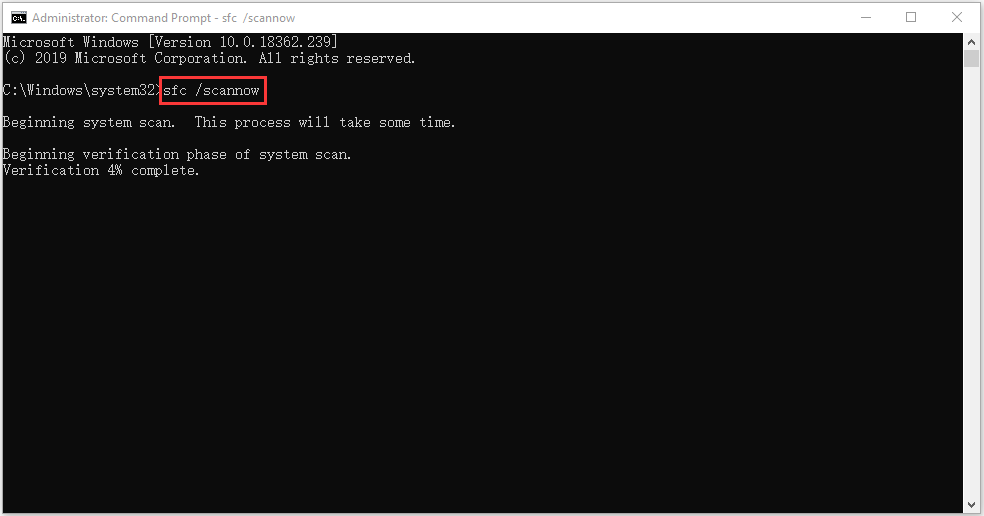 Wait patiently until the verification process 100% completes. Then reboot the computer to see whether the AODDriver2.sys error still exists.
If the sfc /scannow command is unable to fix AODDriver2.sys on Windows 10, you can run DISM to fix the Windows system image. So, type the correct command.
Dism /Online /Cleanup-Image /CheckHealth
Dism /Online /Cleanup-Image /ScanHealth
Dism /Online /Cleanup-Image /RestoreHealth
After that, you can check whether you still encounter the issue.
Fix 3: Perform System Restore
If you have created a system restore point or system image backup with Windows snap-­in tools, you can try using the restore point to restore your computer. This may help you fix the AODDriver2.sys error.
Step 1: Search for control panel in the Search box, then open it.
Step 2: Click Recovery to continue. Choose Open System Restore in the pop-up interface to continue.
Step 3: In the Restore system files and settings interface, you can click Next to continue.
Step 4: Choose a time point to restore your computer to the state it was in before the selected event and click Next to continue.
Step 5: You need to confirm the restore point and click Finish.
When the system restore process is finished, you can reverse your computer to a previous state. Then you can check if the error has gone.
Case 2: Your PC Cannot Boot Normally
If your PC cannot boot normally because of the AODDriver2.sys error, booting your PC into Safe Mode is the first thing you should do. Then you can start to fix the error.
Safe Mode is a built-in diagnostic mode of Windows 10 (7, 8, etc.) computer operating system. If you start Windows 10 PC in Safe Mode, it will only allow starting up basic system programs and services in the booting process.
When your computer can't boot, you should restart your PC several times to boot to WinRE(Windows Recovery Environment) to enter into Safe Mode. You can also use Windows 10 recovery bootable media like a DVD/USB bootable drive to enter WinRE. Check out the steps.
Useful Suggestion: Back up Your System
After you fix the AODDriver2.sys error, I have a suggestion for you. In case of something wrong with your system, it is recommended to back up your system in advance. Now, I will introduce a piece of free backup software for you - MiniTool ShadowMaker.
MiniTool ShadowMaker provides a one-click system backup solution. It supports backing up your system drive completely, including system partition, system reserved partition and EFI system partition. And you can image all of your data including computer settings, applications, drivers, system files and boot files.
The system backup is bootable. When the system crashes, you can restore your computer to a normal state. This post - How to Restore Computer to Earlier Date in Windows 10/8/7 (2 Ways) may be the one you need.
MiniTool ShadowMaker provides a Trial edition that gives you a 30-day free trial for all backup features. You can purchase its Pro Edition to use it permanently.
News From
MiniTool Solution
Category:
Data Recovery Services
Company about: MiniTool Solution Ltd. is a software development company based in Canada. As a dedicated software development company, MiniTool Solution Ltd. provides customers with complete business software solutions in the data recovery and partition management industry.