Find your computer lagging all of a sudden in Windows 10/8/7 when playing games, watching videos, launching programs, booting Windows, etc.? Read this post to learn 10 reasons for computer running slow issue, as well as tips on how to fix lag on PC to ensure it can run fast.
PC lagging issue always happens unexpectedly on Windows 10/8/7 when playing games, watching videos, launching programs, etc. More seriously, the computer keeps freezing. How annoying it can be! Even, some users have reported to us new computer lagging and freezing or good computer lagging issue.
In a nutshell, PC or laptop lagging can manifest itself in different ways, including:
Programs open slowly.
Saving documents or converting files cost much time
Windows opens very slowly
Graphics flicker, stutter and frame rates drop
The operating system takes a long time to load or shut down
Games or applications stutter, flicker and delay
Download/upload speed of internet connection decreases
File writing errors pop up
Windows error messages appear
Printers or other peripherals connected to your computer refuse to function properly
In short, everything is becoming slower and slower. Then, you may ask: why is my computer lagging when I play games, watch videos, run applications, etc.? How do I stop my computer from lagging? To search for the answers, go to the next part!
5 Reasons for PC Lagging and How to Fix Stop Lag Windows 10/8/7 1.
Old Graphics Card
If your computer lags when playing games, one of the main factors is the graphics card issue. For gaming experience, the graphics card is the most crucial part because both 3D graphics rendering and calculating in-game physics are done on the graphics card.
Playing games on computers with the low-level graphics card, your computer is very likely to lag. How to fix lag on PC games in Windows 10/8/7? If the current one is old, upgrade it now!
2. Windows Is Running on HDD
The speed of your hard drive determines loading times. If you are playing games on computers which are still using the traditional mechanical hard disk, your computer would lag especially even freeze when you are playing games fairly demanding for speed.
For this reason, we suggest upgrading HDD to SSD since Windows running on HDD is always slower than it running on SSD. If you configure SSD properly, it would dramatically speed up your gaming speed to solve computer lagging and freezing issue.
Upgrade HDD to SSD without Reinstalling OS
But how to do the upgrade? You can ask technicians for help, but it may cost extra money. Instead, you can upgrade HDD to SSD or migrate Windows 10/8/7 to SSD with professional hard drive cloning software. MiniTool Partition Wizard Free Edition can help you easily finish disk upgrade and system migration.
Its Migrate OS to HD/SSD feature can help you to move OS only to another disk or transfer the entire system disk. Besides, the Copy Disk is designed to clone the entire system disk or data disk to another hard drive.
Here, take Copy Disk as an example.
Step 1: Run MiniTool Partition Wizard to the main interface. Then, choose the system disk and click Copy Disk in the left panel or select Copy from the context menu.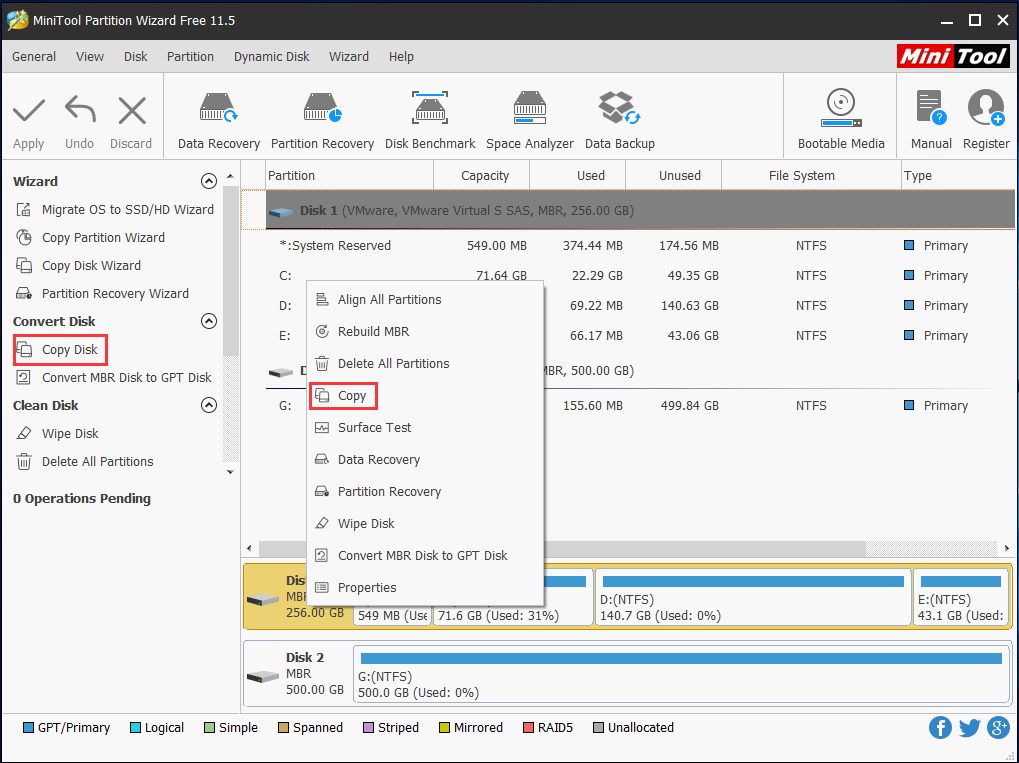 Step 2: Choose the SSD you have connected to your computer as the target disk to save the source content.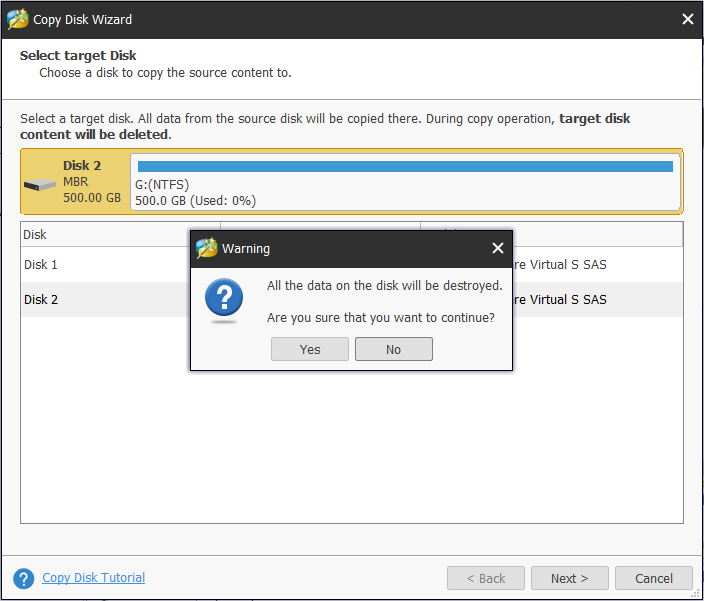 Step 3: Specify a copy method for disk cloning and click the Next button to go on.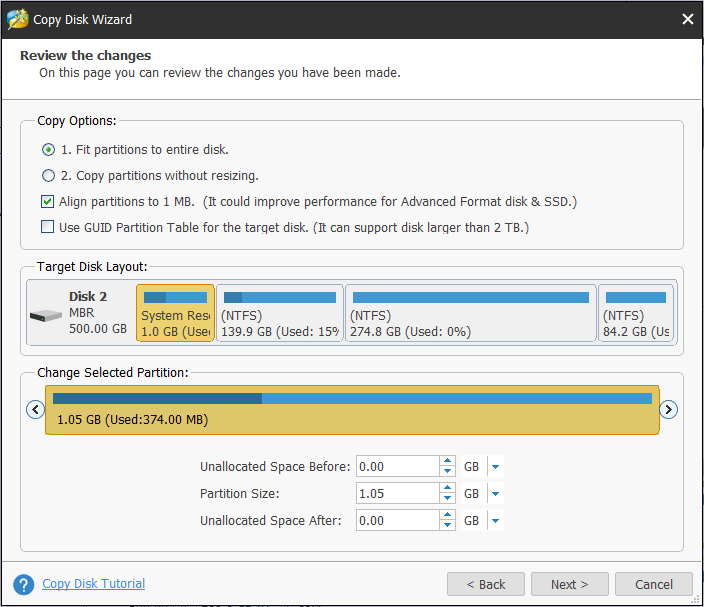 Step 4: Learn how to boot your Windows from the target disk.
Step 5: Click the Apply button to make all changes effective.
If your games are installed on system partition and you only want to migrate OS to the SSD, Migrate OS to HD/SSD is available since migrating Windows will also transfer your games to SSD, which makes it possible to play games on SSD without reinstallation.
After upgrading HDD to SSD, you can replace the HDD with the SSD and boot Windows from SSD. Then, computer lagging Windows 7/8/10 won't occur.
3. Hard Drive Is Damaged
If there is something wrong with your hard drive (especially the system disk), your computer may run very slowly even freeze and fail to start. How to get rid of lag on PC in Windows 10/8/7?
In this case, you can check your hard drive to see if computer lagging and freezing issue is caused by the logical or bad damage of the disk and then fix the errors or shield bad blocks.
To do this, open Command Prompt and use chkdsk.exe to check logical errors or physical damage. Just type the commands one by one: chkdsk x: /f or chkdsk x: r/ (x means the drive letter you want to check).
4. Operating System Isn't Maintained or Upgraded
If your operating system is not periodically maintained, properly configured or upgraded, there may be a number of programs and tools installed. As a result, your computer is lagging all of a sudden even if the computer is new or good.
5. Outdated Drivers
If the drivers are outdated, hardware or software issues often happen on Windows 10/8/7 computer. Most of the time, such issues will result in PC lagging problem. In most cases, you need to update drivers to reduce computer lag.
There are many other reasons for "my computer lags when playing games" issue, including other peripherals malfunction, audio card problem, etc. Just try the solutions based on your actual situations.
News From
MiniTool Solution
Category:
Data Recovery Services
Company about: MiniTool Solution Ltd. is a software development company based in Canada. As a dedicated software development company, MiniTool Solution Ltd. provides customers with complete business software solutions in the data recovery and partition management industry.