Advance Technologies introduces innovative solutions that offer users to virtually visualize the object in the real world. Augmented Reality with many solutions offers user engagement to its extreme level.
Virtual Try on solutions is one of the ways to give the user a better experience in online shopping with Augmented Reality. With this try on solution, the customer can Virtually try products while sitting anywhere.
AR try-on App is an innovative approach that lets user use augmented reality to try on various product hassle less. The focus is to make the user experience better where they don't have to rush to anywhere.
Users just need to install the respective AR app of the respective product and get the product delivered.
The user usually buys a product online via e-commerce websites. But with AR Try-on solution user can virtually try the product anywhere and can get the same try on experience as similar to the showroom. AR try on solutions are taking place in the market in different verticals.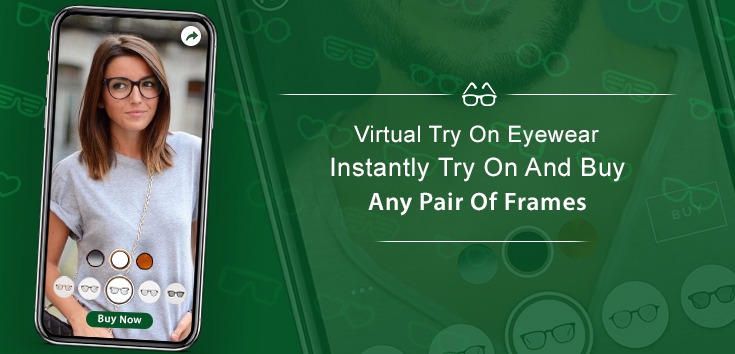 Industries
Our goal is to offer the client the most accurate virtual fit AR Try-on App in branded footwear.
Our cutting-edge technology provides solutions to virtually wear a selection of jewelry to try before customers buy in the comfort of their own home.
This AR try-on eyewear App serves the user to make accurate decisions before buying eyewear online.
Our VR Try on watches solution lets user use augmented reality to try on various model of watch using colored sport wrist bands.
We provided an AR solution with virtual Catalog to let shoppers to try certain pieces of furniture into their existing interior and check how it would look.
Try-on App that transform the mobile screen, where clothing comes to life on e-commerce platform for several seconds. User can view the appearance of product in a realistic pattern.
Benefits of Try-on solutions
Try-on solution offers a chance to feel and experience the product like if they are at the live store.
It is the best way of Engaging consumers with the visualization to the products in the catalog of the brand.
Features
Supports high quality 3D models with product specifications.
Visualization of 3D product that allows brands to showcase their products in an ultra-realistic manner.
Realistic rendering of the product in the customer's environment in real time.
Customization of product's color within the app, offering a full array of color choices.
Facilitating connection with your friends by sharing your selected product from the Try on app.
View multiple models of the product at the same time to find the best out of the collection.
Easy integration into your ecommerce website or App.
As one of the top Mobile application/ AR/VR development company, Quytech has unmatched objectives with your business goals. Dedicated team here works with strong development AR methodologies to generate virtual try-on solutions. Our motto is to give direction to your vision.
News From
Quy Technology
Category:
Mobile App Developers
Company about: Quytech is an Award Winning Mobile App/ AR/VR Development Company having an extensive experience of consulting & developing various Immersive & Mobility solutions which are being used by number of customers globally across the industry. We have build apps for both enterprises and startups. We provide end to end services including conceptualisation, design, development, testing and maintenance. We are working with various industries including Ecommerce, healthcare, Training &a
...