Captiva Verde Land Corp. (CSE: PWR) (the "Company"), is extremely pleased to announce that its 100% wholly owned subsidiary, Solargram Farms Corporation ("Solargram"), a Canadian controlled private corporation, having corporate offices in Moncton, NB has negotiated and signed a binding purchase agreement to acquire a large 5.6 million square feet outdoor grow land package located in Renaud Mills, New Brunswick.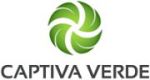 The land acquisition is scheduled to close on or before August 31, 2019. In conjunction with this land package acquisition, Captiva announces the commencement of a non-brokered private placement whereby the company will raise $3,000,000 (12,000,000 units @ $.25 per unit).
The units will have a four month hold and will include one common share and one full share purchase warrant exercisable at $.75 per share within two years of the unit issuance date. Funds are to be used for land acquisition, initial infrastructure build-out and production assets to support the planned outdoor cannabis outdoor grow initiatives for the 2020 grow season.


The acquisition includes land assets, growing assets, proprietary IP and technological expertise necessary to successfully run and operate multiple planned outdoor grown, low cost per gram, vertically integrated, organic cannabis site operations together with its planned related full spectrum cannabis oil concentrate processing facilities. Solargram now has a five year planned outdoor farm grown cannabis production capacity, located over 250 farm acres, spread through three New Brunswick outdoor grow sites representing over 100,000 kgs of dried cannabis targeted for organic cannabis oil (CBD, CBD-THC) concentrate for export as well as developed for in-house, best in class unique cannabis and edible products.
In concert with this acquisition, Captiva Verde is working together with its advisory board chairman Drake Sutton-Shearer, CEO of leading CPG brand and marketing platform PROHBTD, to advise Captiva Verde on best in class branded products for export, enabling Captiva Verde to have a unique position in the Canadian and international market.
Captiva Verde believes the entire cannabis market is at the beginning of its second phase, where hard learned financial lessons gained from the first 130+ licensed producers before it, allow Captiva Verde to emerge as a successful graduate from the first five years of public cannabis operations. The second phase will be a time of consolidations, disintegrations and the emergence of new public companies like Captiva Verde, strengthened by the lessons of this valuable history.
Cannabis is an evolutionary business within a revolutionary change of politics. The torch is being handed back to veteran growers, scientist and proven business leaders who understand the original intent of legalization, which is to have the lowest cost, first in class products available to everyone.

Many scientists believe that the most prolific natural factory of medicines in our planet, is the cannabis plant, and that the most potent and purest of these plants, is the outdoor and organically grown variety, where its contact with the natural elements and diurnal weather patterns, enjoin and stimulate the production of high potency cannabinoids.

Less than 4% of Canada's current legal cannabis products are derived from outdoor operations. Sun grown outdoor plants have the lowest cost with consistent high yields and potency, providing consumers with an opportunity to choose from a selection of natural and healthier products than what the market currently offers.

New successful companies like Captiva Verde, can provide both a superior product and a price point, inclusive of taxes, that is well below the black market rates, which the latter currently outperforms the legal market at a rate of more than three to one. Companies such as Captiva Verde, embrace the experiences of long time growing veterans, scientist and proven business leaders whose collective experience together, puts cannabis where its intention is most valued, to the trusted consumer.

The operation will commence with 5.6 million square feet of outdoor growing space and the acquisition of all the components to start the operations will now begin at a fast pace.

The above activities are in addition to Captiva's ongoing efforts in the USA to offer legal hemp and CBD products to big box retailers and its build-out of a robust distribution network in Mexico that will offer curated and affordable hemp, CBD and Cannabis branded products to people interested in health and wellness. In addition, the company is extremely diversified to provide shareholder security through its ownership of a 50% interest in and to an approved $350 Million residential subdivision in Southern California.
The company's 50% partner, Greenbriar Capital Corp. (GRB-TSXV), is currently in final negotiations with a US Federal Agency, to lease the entire subdivision under a long term lease agreement.

On Behalf of the Board of Directors
"JEFF CIACHURSKI"
Jeffrey Ciachurski
Chief Executive Officer and Director