Global Smart Home Market: Market Expansion Directly Related to Rising Internet Penetration Worldwide
As per Transparency Market Research (TMR), the degree of competition witnessed in the smart home market
will remain medium in the long term. A new study by TMR, have held the concentration of industries in the global smart home market responsible for the prevailing competitive forces.
While it makes consolidation of shares a challenge for the manufacturers, it definitely does not shy them away from toying with novel strategies. In the forthcoming years, manufacturers are likely to introduce several new avenues for value-added services.
Besides this, their focus towards product-differentiation will aid in the market's growth as well.
Browse The Press Release: www.transparencymarketresearch.com…-homes-market.htm
With companies such as Honeywell International, Inc., Siemens AG, Schneider Electric SE, ABB Ltd, and Johnson Controls, Inc., offering tailor-made smart home solution catering to specific consumer segments, the market is likely to report strong growth in the coming years. As per TMR, the global smart home market will exhibit a CAGR of 14.6% between 2017 and 2025.
Given the pace of growth, the market will reach US$97.61 bn by the end of 2025, from its valuation of US$30.02 bn in 2016.
Based on application, the HVAC control segment held the dominant share of 27.2% in the global smart home market in 2016. It is also expected to remain the leading application segment through the forecast period.
Regionally, North America held the highest share of 38.7% in the global smart home market in 2016 and is expected to remain dominant in the forthcoming years.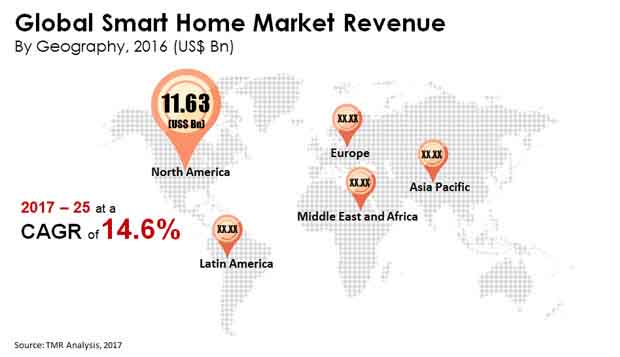 Rising Demand for Wireless Connectivity to Boost Deployment of Smart Home Appliances
The popularity of smart homes is rising on back of the recent advancements in the Internet of Things (IoTs). As these advancements have resulted in drop in the prices of processors and sensors, manufacturers are encouraged to experiment with the latest technologies and innovate more user-friendly products for use in the household sector.
Also with the increasing penetration of high speed internet services, opportunities are expected to increase for the smart home market, as majority of smart home appliances operate effectively with the assistance of wireless connectivity.
Another factor, which is working in favor of the smart home market is that, smart home appliances are energy-efficient. As consumers around the world become aware about the importance of saving energy, the demand for smart home appliances will increase in response.
Also the deployment of cloud-based services helps consumers in lowering energy bills to a great extent. Considering the benefits offered by smart home appliances, consumers are encouraged to invest in them.
They have started acknowledging the need of secure and energy-efficient solutions offered by smart homes. Spurred by these factors, the global smart home market will exhibit strong growth in the coming years.
Vulnerability to Security Breaches Emerges as Key Challenge
On the downside, cloud-connectivity has its share of disadvantages. The technology is still vulnerable to privacy breaches.
Recent incidents of data theft on cloud have made customers wary of installing smart home appliances. While the demand for advanced security measures continues to spike in the household sector, chances of violating privacy on cloud are inhibiting them from investing in these advanced measures.
As smart home devices are connected via the Internet of Things, the chances of these devices getting hacked or exploited with cannot be completely eliminated. Such network security vulnerabilities have continued coercing customers to opt for traditional methods of home security, especially in developing parts of the world.
This is a key challenge that market players are currently faced with.
Make an Enquiry @ www.transparencymarketresearch.com…=S&rep_id=163
Nevertheless, with immense scope for improvement in technology and rising investment in research and development, manufacturers are expected to enhance the security feature in their household appliances in the coming years. Besides this, the introduction of the power line technology could be one of the major opportunities in the global smart home market.
News From
Transparency Market Research
Category:
Market Research Publishers and Retailers
Company about: TMR provides a range of marketing and business research solutions designed for your specific needs. From off-the-shelf syndicated business And market research to made-to-order custom research, we serve our clients to fulfill their immediate as well as ongoing research requirements.      We specialize in the following areas:   Syndicated Research Each TMR syndicated research report covers a different sector - such as pharmaceuticals, chemical, energy, food & beverage
...
For more information:
Make an Inquiry about this report
HERE!
www.transparencymarketresearch.com…-homes-market.htm

www.transparencymarketresearch.com…=S&rep_id=163

www.transparencymarketresearch.com…homes-market.html