Some of the prominent names in the global solid state lighting market, are General Electric, Samsung Electronics Co. Ltd., Panasonic Corporation, OSRAM Licht Group, Mitsubishi Electric Corporation, Eaton Corporation, NICHIA Corporation, Koninklijke Philips N.V., Seoul Semiconductor Co. Ltd., and Applied Materials Inc.
Despite its nascent state, the global solid state lighting market
is progressive, says a recent publication by Transparency Market Research (TMR).
Browse The Press Release: www.transparencymarketresearch.com…isplay-market.htm
The report by TMR projects the global solid state lighting market to register a healthy 8.7% CAGR for the forecast period between 2017 and 2025.
This will translate the market to reach a valuation of US$30.38 bn by 2025 increasing from US$14.48 bn in 2016.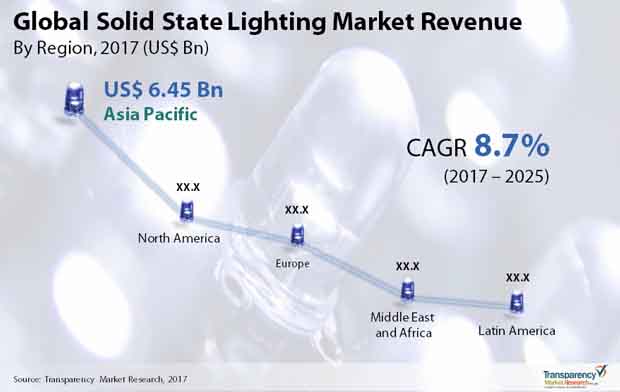 Energy Efficiency Makes LED Leading Technology Type Segment
In terms of sector, residential, commercial, industrial, and outdoor lighting are the segments into which the global solid state lighting market is divided. Commercial sector led the market in 2016 and is likely to stay dominant until the end of the forecast period in 2025.
By technology, LED is expected to hold a significant share of the solid state lighting market over the forecast period as LED lighting solutions gain traction across all sectors.
Geography-wise, the key segments into which the solid state lighting market is divided are North America, Asia Pacific, Europe, the Middle East and Africa, and Latin America. Among these, Asia Pacific is likely to continue its lead position over the forecast period.
The growth of this regional market is largely fuelled by economic development in China, India, and Indonesia. The ceaseless penetration of consumer electronics is one of the key factors for the healthy pace of growth of the Asia Pacific market.
North America holds a notable share in the market as it is home to several key vendors for solid state lighting.
Shift of Manufacturing to Emerging Regions Fortifies Growth
Among the key factors driving the global solid state lighting market is the increasing demand for energy efficient lighting technologies. Solid state lighting features energy efficiency, high durability, and is designed for improved productivity.
Thus, solid state lighting befits stipulations of intelligent lighting technologies for reducing greenhouse gases which is the need of the times. Not only developed economies, countries such as China, India, and Indonesia that are witnessing rapid industrialization and urbanization are being responsible in adopting energy efficient technologies to reduce emissions in order to save the planet.
Moreover, growing technical competence and favorable cost structures in Asia Pacific has been shifting manufacturing to the region. This has been stoking demand for solid state lighting solutions.
Additionally, increasing popularity of Internet of Things and its integration with solid state lighting is anticipated to have a positive impact on the growth of solid state lighting market, "explains the lead analyst of the TMR report.
Make an Enquiry @ www.transparencymarketresearch.com…&rep_id=15080
The high cost of installation of solid state lighting in comparison to conventional incandescent and fluorescent lighting has been prophesied to hamper the growth of the global solid state lighting market over the forecast period. However, the emerging trend of smart cities is expected to witness a sea of change in the demand for smart lighting solutions backed by government initiatives.
News From
Transparency Market Research
Category:
Market Research Publishers and Retailers
Company about: TMR provides a range of marketing and business research solutions designed for your specific needs. From off-the-shelf syndicated business And market research to made-to-order custom research, we serve our clients to fulfill their immediate as well as ongoing research requirements.      We specialize in the following areas:   Syndicated Research Each TMR syndicated research report covers a different sector - such as pharmaceuticals, chemical, energy, food & beverage
...
For more information:
Make an Inquiry about this report
HERE!
www.transparencymarketresearch.com…isplay-market.htm

www.transparencymarketresearch.com…&rep_id=15080

www.transparencymarketresearch.com…splay-market.html