Lithium Ion Cell and Battery Pack Market - Global Industry Analysis Size Share Growth Trends and Forecast 2017 - 2025
Transparency Market Research (TMR) says that the global lithium ion cell and battery pack market
is somewhat fragmented as top six players, namely Panasonic Corporation, Samsung SDI Co. Ltd., BYD Co. Ltd., LG Chem Power Inc., Toshiba Corporation, and GS Yuasa Corporation held a little over 45% of the global market in 2016.
Investments in research and development for cost-effective and energy efficient products is one of the key growth strategies that players in this market are focused on to sustain the continuously changing business scenario. For example, Tianjin Lishen Nattery Co. Ltd. is engaged in research and development in battery technology for upgrading its existing product portfolio.
The company plans to invest US$0.22 billion in its research center in the next 5 years for carrying out research and development pursuits.
Browse The Press Release: www.transparencymarketresearch.com…y-pack-market.htm
Mergers and acquisitions for expansion of product portfolio and to keep abreast with technological advancements is also one of the key growth strategies that companies in this market are adopting, says a TMR analyst. A case in point is Samsung SDI Co. Ltd. The company acquired the battery pack business segment of Magna International, a leading automobile parts manufacturer, to enhance the company's capabilities for the manufacture of battery packs.
The global lithium ion cell and battery pack market is expected to develop at a CAGR of 12.0% between 2017 and 2025 for the valuation of the market to increase from US$32.17 bn in 2016 to US$88.92 bn by 2025.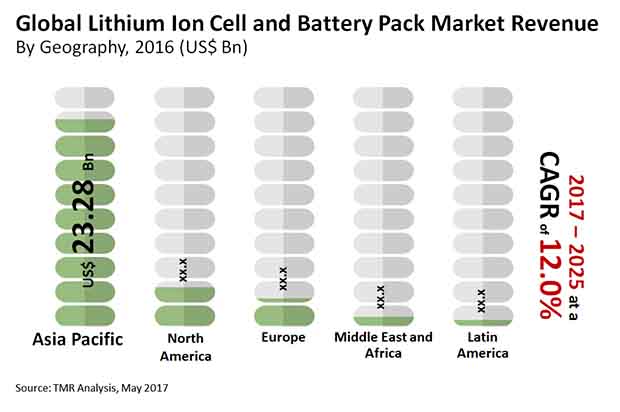 Expanding Consumer Electronics Industry in Asia Pacific Fosters Growth
The 100-250 KWh power capacity segment stood as the most attractive segment mainly due to the high demand for high capacity batteries for specific applications such as in high loading electric vehicles.
Asia Pacific accounted for almost 72.3% revenue to the overall market in 2016. The expanding consumer electronics and automotive industry in the region that exhibits substantial demand for lithium-ion batteries is attracting investments from top players.
High-energy Efficiency of Lithium-ion Batteries Suitable for Numerous Applications Drives Market
The high energy density of lithium-ion batteries translating into longer runtime is one of the primary factors for their increasing use in consumer electronics. Lithium ion batteries with cobalt cathodes offers the best power density needed by handheld devices for wireless data transfer and brighter resolution.
The rising demand for consumer electronics globally is predicted to have a positive impact on the demand for lithium-ion batteries over the forecast period. This is because lithium ion properties display properties of quicker density, lighter weight, and low self-discharge that make suitable for electronics such as laptops and smartphones.
The rising demand for barcode and RFID scanner is also having a positive bearing on the growth of lithium ion cell and battery pack market. RFID systems and barcode play an important role in inventory management of large stores, for automated data recording, correction of warehouse errors, efficient tracking of assets, and other functions for which the runtime of these devices is important.
This makes lithium ion batteries sought after for RFID systems and barcode.
Make an Enquiry @ www.transparencymarketresearch.com…&rep_id=26408
High Price Factor of Lithium-ion Batteries over Conventional Batteries Deters Demand
The growth of lithium ion cell and battery pack market is negatively impacted due to the high prices of lithium ion batteries for electric vehicles. Lithium ion batteries are high priced as compared to conventional batteries which is posing a challenge to the market's growth.
Moreover, the functional limitations of lithium ion batteries in terms of low thermal stability and need for higher energy density is restraining the growth of lithium ion cell and battery pack market. However, the rising awareness related to the cost effectiveness of lithium ion batteries in the long run will help in the growth of this market in the coming years.
News From
Transparency Market Research
Category:
Market Research Publishers and Retailers
Company about: TMR provides a range of marketing and business research solutions designed for your specific needs. From off-the-shelf syndicated business And market research to made-to-order custom research, we serve our clients to fulfill their immediate as well as ongoing research requirements.      We specialize in the following areas:   Syndicated Research Each TMR syndicated research report covers a different sector - such as pharmaceuticals, chemical, energy, food & beverage
...
For more information:
Make an Inquiry about this report
HERE!
www.transparencymarketresearch.com…y-pack-market.htm

www.transparencymarketresearch.com…&rep_id=26408

www.transparencymarketresearch.com…-pack-market.html