Enterprise Search Market - Global Industry Analysis, Size, Share, Growth, Trends and Forecast 2013 - 2019
Enterprise search provides benefits of higher productivity as it can reduce the time spent by employees in searching information by 15% to 30%. It makes business process more effective and productive to data intensive companies.
Enterprise search system helps in maintaining the data security by providing limited access to the information as only authorized people have access to the information stored in the database.
Browse The Report: www.transparencymarketresearch.com…earch-market.html
The enterprise search market is driven by various factors such as the need to make search more relevant, availability of technologies and obtaining relevant information.
The enterprise search market was valued at USD 1,777.5 million in 2012 and is expected to grow at a CAGR of 12.2% during the forecast period from 2013 to 2019.
However, uncertain meaning of keywords, presence of customized internet search and multiple repositories are some factors inhibiting market growth.
In terms of end-user, banking and financial services segment was the largest segment and accounted for a 34.9% share in 2012. Connected banks and financial offices through intranet facilitating protective and effective sharing of data among different branches and offices are the factors driving market growth.
Recommind Inc. based in San Francisco, a key player in information management, email management and enterprise search has provided solutions to leading investment banks. Smart logic Semaphore, based in United States provides enterprise software to key banking players such as Royal Bank of Scotland (RBS), Bank of America and many others.
On the basis of size of enterprise, the market for enterprise search is segmented into large scale enterprise, medium scale enterprise and small scale enterprise. Large scale enterprise was the largest segment in 2012 and accounted for a 61.0% share.
Owing to the increase in number of medium scale enterprises the market for medium scale enterprise is expected to be the fastest growing market among all the types.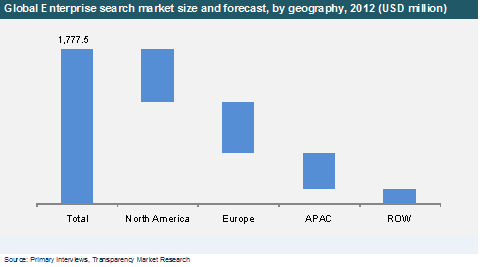 Geographically, North America was the largest enterprise search market in 2012 and accounted for a 34.2% share. Growing market penetration of enterprise search especially in high growth countries such as Canada and Germany has been the driving force for this market.
Most of the U.S. players are entering the European market by collaborating with different European vendors to provide enterprise search in Europe.
Most of the key players in this market are competing amongst each other by developing cost effective enterprise software and solutions with greater performance to gain a competitive advantage. The global enterprise search market is dominated by few organized players and regional players as well.
The organized market players include Microsoft Corporation, Oracle Corporation, IBM Corporation, Coveo Solution Inc., Attivio Inc. and others
News From
Transparency Market Research
Category:
Market Research Publishers and Retailers
Company about: TMR provides a range of marketing and business research solutions designed for your specific needs. From off-the-shelf syndicated business And market research to made-to-order custom research, we serve our clients to fulfill their immediate as well as ongoing research requirements.      We specialize in the following areas:   Syndicated Research Each TMR syndicated research report covers a different sector - such as pharmaceuticals, chemical, energy, food & beverage
...
For more information:
Make an Inquiry about this report
HERE!
www.transparencymarketresearch.com…earch-market.html