Machine Learning as a Service Market - Global Industry Analysis, Size, Share, Growth, Trends, and Forecast 2017 - 2025
The global machine learning as a service (MLaaS) market
is choc-o-bloc with players which makes the market intensely competitive, states a market publication by Transparency Market Research (TMR). The top three players, namely Amazon Web Services, IBM Corporation, and Microsoft Corporation that largely steer the market accounted for more than 73% of the overall market in 2016 as these companies are at the forefront for advancements in machine learning processes.
To hold on to their positions and to expand their outreach, key players in the market are expected to be engaged in carefully crafted mergers and acquisitions and strategic alliances with regional players over the forthcoming years.
Report: www.transparencymarketresearch.com…ervice-market.htm
As per TMR estimations, the global machine as a learning services market is projected to rise at a whopping 38.40% CAGR for the forecast period between 2017 and 2025.
Expanding at this pace, the market which was stood at 1.07 bn in 2016 will present an opportunity of US$19.86 bn by the end of 2025.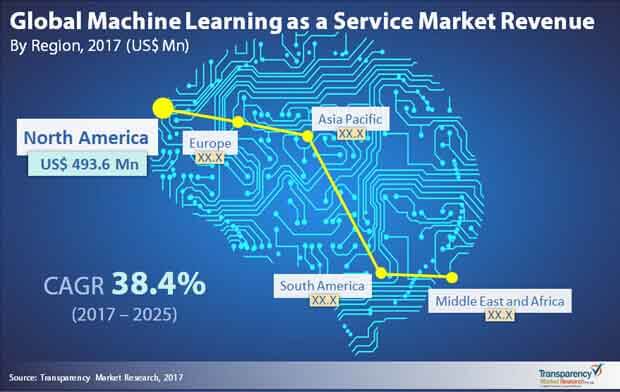 North America to Continue to Stay in Lead
The segment of private cloud depending upon deployment type led the global MLaaS in 2016 revenue-wise. However, public cloud segment is expected to gain market share due to ease of installation and as a cost effective solution for organizations.
Healthcare and life sciences are the key application segments anticipated to contribute the leading revenue share and expand at a significant growth rate between 2017 and 2025.
North America commands the MLaaS market over other key regions on account of rapid integration of machine learning as a service with big data, Internet of Things (IoT), and other advanced technologies. The region being home to topnotch companies for machine learning as a service adds to its benefit.
The region contributed US$362.7 bn to the global market in 2016.
Need to Make Vast Amount of Data Utilizable Boosts Adoption
"Digitalization and the Internet revolution has led to a mounting volume of structured and unstructured data in enterprises, which needs to be made utilizable for organizational growth. This is the key factor driving adoption of machine learning solutions thus fueling the global MLaaS market, as per a TMR analyst.
Further, the rising uptake of IoT connected devices is predicted to present new opportunities for machine as a service market. This is because machine learning capabilities are expected to be integrated with more platforms and applications for organizations to take advantage of them.
Report: www.transparencymarketresearch.com…&rep_id=16907
Besides this, the increasing uptake of cloud-based technologies is stoking growth of the MLaaS market worldwide, as an increasing number of companies are switching to cloud computing solutions to access machine learning services. The adoption of advanced analytics technology by a number of end-use industries such as BFSI, telecom, retail, and manufacturing among others to enhance the decision making capability of machines is having a positive impact on the growth of machine learning as a service market.
While the future of the global machine as a learning service market looks promising, the dearth of skilled personnel and increasing concerns among consumers about data security may hold back the market's growth in the upcoming years, notes the research study.
News From
Transparency Market Research
Category:
Market Research Publishers and Retailers
Company about: TMR provides a range of marketing and business research solutions designed for your specific needs. From off-the-shelf syndicated business And market research to made-to-order custom research, we serve our clients to fulfill their immediate as well as ongoing research requirements.      We specialize in the following areas:   Syndicated Research Each TMR syndicated research report covers a different sector - such as pharmaceuticals, chemical, energy, food & beverage
...
For more information:
Make an Inquiry about this report
HERE!
www.transparencymarketresearch.com…&rep_id=16907

www.transparencymarketresearch.com…rvice-market.html

www.transparencymarketresearch.com…ervice-market.htm