VR Content Creation Market- Global Industry Analysis, Size, Share, Growth, Trends and Forecast 2016 - 2024
Competitors in the global content creation market vary in terms of resources and sizes. While developing innovative technologies to secure favorable reputation is common among market players, partnering with smaller companies is gradually gaining pace among enterprises aiming to expand their geographical footprint.
As a result, degree of competition among the leading market players is forecast to remain high in the global VR content creation market
, finds Transparency Market Research (TMR) in a new study. Blippar, Matterport, and Voxelus are among the key market players.
"Besides financing research and development in the field, acquisitions are also carried out by companies to strengthen their position in the overall market," said a lead TMR analyst.
Report: www.transparencymarketresearch.com…eation-market.htm
According to TMR, the global VR content creation market will reach a whopping US$41.01 bn by the end of 2024, from its valuation of US$147.5 mn in 2015. If these figures hold true, the global market will exhibit exponential rise at a CAGR of 89.8% between 2016 and 2024.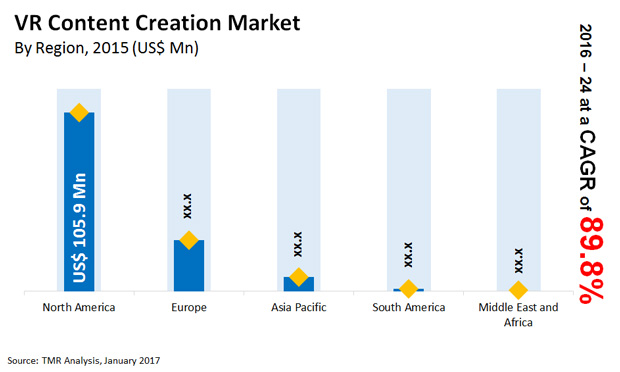 Rising Demand from Gaming Segment to Boost Growth
Among the key end users, the gaming sector emerged as the leading gainer with a share of just below 50% in the market in 2015. While the dominance of this segment is expected to remain constant in the coming years, over the forecast period it will lose a significant share to other end users such as media and entertainment, real estate, travel, hospitality, and event, retail, and automotive.
Regionally, North America emerged dominant with a share of 73.4% in the global VR content creation market in 2016. However, Asia Pacific is forecast to report the highest CAGR during the forecast period due to the growing awareness about virtual reality (VR) across emerging nations.
Use of VR Content as Interactive Marketing Tool to Create Lucrative Opportunities
The global VR content creation market is driven by the increasing use of VR headsets to offer superior entertainment experience to consumers. Besides the increasing demand from travel, media and entertainment, and retail sectors, the VR content creation market will gain from the rising awareness among consumers about virtual reality.
Moreover, these industries have realized the benefits they can achieve from the deployment of this relative new technology. Spurred by these factors, the global VR content creation market is prophesized by TMR to surge at an exponential pace.
VR as an interactive tool adopted by organizations for marketing is forecast to witness spike in demand. "With companies focusing increasingly on brand promotion and enhancing consumer experience, the demand for VR content creation is expected to rise further," said a TMR analyst.
The demand for this novel technology will be comparatively higher in automotive, retail, real-estate, entertainment, and the gaming industries.
Privacy Concerns to Continue to Haunt Market
On the downside, the market is reeling under challenges in protecting content and enabling business model. As a result of vulnerabilities to cyber-threat, protecting VR content in an efficient manner has become the prerogative for most of the market players.
The concern creates bottlenecks for the market.
Report: www.transparencymarketresearch.com…&rep_id=16922
Nevertheless, cloud-computing can be used to provide security and mobility to VR content creation. Besides this, investment in research and development will help the market players to discover technologies for protecting VR content.
In addition, on account of the development of integrated hardware suites and software tools, high quality and immersive VR content creation is on cards. These factors could create attractive opportunities for the market players in the near future.
This review is based on a TMR report, titled "VR Content Creation Market - Global Industry Analysis, Size, Share, Growth, Trends and Forecast 2016 - 2024."
News From
Transparency Market Research
Category:
Market Research Publishers and Retailers
Company about: TMR provides a range of marketing and business research solutions designed for your specific needs. From off-the-shelf syndicated business And market research to made-to-order custom research, we serve our clients to fulfill their immediate as well as ongoing research requirements.      We specialize in the following areas:   Syndicated Research Each TMR syndicated research report covers a different sector - such as pharmaceuticals, chemical, energy, food & beverage
...
For more information:
Make an Inquiry about this report
HERE!
www.transparencymarketresearch.com…eation-market.htm

www.transparencymarketresearch.com…&rep_id=16922

www.transparencymarketresearch.com…ation-market.html