Nano Positioning Systems Market - Global Industry Analysis, Size, Share, Growth, Trends, and Forecast 2017 - 2025
A handful of prominent players account for almost 75.0% share in the global market for nano positioning systems
. This makes the competitive landscape consolidated.
Physik Instrumente (PI), Aerotech, Inc., Prior Scientific Instruments, and Cedrat Technologies are to name a few of the dominant players in the market.
Physik Instrumente held the leading share of 31.1% in the global nano positioning systems market in 2016.
Its leading position has been brought about by the continued thrust on bringing out new products to entice more consumers.
Similar strategies have been employed by other players in the market too, to further their positions.
Report: www.transparencymarketresearch.com…ystems-market.htm
As per a report by Transparency Market Research, the global nano positioning systems market is slated to reach a value of US$264.1 mn in 2025 from US$85.4 mn in 2016 by rising at a robust 13.4% CAGR from 2017 to 2025.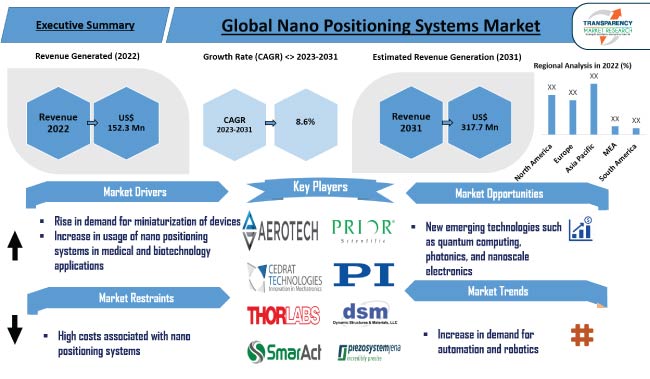 Increasing Research in France and Germany Powers Europe Market
Depending upon the type of actuator, the global nano positioning systems market can be segmented into MEMS-based electrostatic, Magneto-strictive, Electromagnetic, Piezo Actuator, etc. The Piezo actuators accounted for a dominant market share of 37.15% in 2016 and will likely retain their leading position going forward too.
The report by TMR states that MEMs-based technology is being further investigated for its use in integration and performance.
Depending upon geography, the key segments of the global nano positioning systems market are Europe, North America, Asia Pacific, Latin America, and the Middle East and Africa. Of them, Europe accounted for maximum share in the market in 2016 and expanding at a robust CAGR of 13.7% from 2017 to 2025, it is expected to grow its leading share marginally.
Driving phenomenal growth in the nano positioning systems market in Europe is the growing demand for ceramic technology for miniaturization in different applications such as white light inferometry, precision laser machining, and increasing research in nano systems in the nations of France and Germany.
Surging Demand for MEMS Boosts Market
At the forefront of driving demand in the global nano positioning systems market is the rising demand for MEMS depending upon capacitive sensors in consumer electronics and wearables market. "Increasing demand for microscopic structures and devices which combine optical, mechanical, and fluidic elements with electronics, which are even smaller than the grain of a sand and which provides a very simple structure, presenting multiple moving structure being integrated with microelectronics are the major factors expected to boost the demand for MEMS based capacitive sensors during the forecast period," explains the lead analyst of the report.
Apart from that, growing demand for ceramic technology for miniaturization and rising need of piezoelectric actuators in aerospace industry are also serving to underpin growth in the global nano positioning systems market.
Report: www.transparencymarketresearch.com…&rep_id=23603
Hysteresis Loss and Backlash Hobbles Market
Posing a hindrance to the global nano positioning systems market is the hysteresis loss and backlash which is negatively impacting the performance of position actuators. Explains the lead analyst of the report, "Hysteresis relates to the actuator's memory which reduces the effect of the input.
It creates a lag during output related to its immediate input. The lagging effect wastes the energy which is used to produce rotary motion as a mode of heating or vibration.
This issue is very small in nature, but for position actuator applications even a minute loss of motion produces measured inaccuracy."
This review is based on the findings of a TMR report, titled, "Nano Positioning Systems Market (Sensor Type - Capacitive, Piezoresistive, and Piezoelectric; Actuator Type - MEMS-based Electrostatic, Magneto-Strictive, Electromagnetic, and Piezo; Application - Optics & Photonics, R&D, Microscopy, Advance Positioning System, and Aerospace) - Global Industry Analysis, Size, Share, Growth, Trends, and Forecast 2017 - 2025
News From
Transparency Market Research
Category:
Market Research Publishers and Retailers
Company about: TMR provides a range of marketing and business research solutions designed for your specific needs. From off-the-shelf syndicated business And market research to made-to-order custom research, we serve our clients to fulfill their immediate as well as ongoing research requirements.      We specialize in the following areas:   Syndicated Research Each TMR syndicated research report covers a different sector - such as pharmaceuticals, chemical, energy, food & beverage
...
For more information:
Make an Inquiry about this report
HERE!
www.transparencymarketresearch.com…&rep_id=23603

www.transparencymarketresearch.com…stems-market.html

www.transparencymarketresearch.com…ystems-market.htm