Physical Security Information Management Market - Global Industry Analysis, Size, Share, Growth, Trends, and Forecast 2016 – 2024
The global physical security informati…ent (PSIM) market
features an exceedingly fragmented competitive landscape, with the top four companies collectively accounting for merely 36% of the overall market in 2016, observes a recent report by Transparency Market Research. The top two vendors in the market, namely NEC Corporation and Tyco International, command prominent position in the global market owing to their extensive global network of delivery and service centers, especially in key emerging economies such as India, China, and Brazil.
Browse The Report: www.transparencymarketresearch.com…n-management.html
Other key vendors in the global PSIM market, such as the emerging companies CNL Software Ltd., Milestone Systems A/S, Mer, Inc., Intergraph Corporation, and Vidsys, Inc., stay ahead of the competition with the help of a strong product portfolio. A large number of domestic players hold strong positions in key regional pockets, making it difficult for international players to strengthen their foothold in these lucrative markets.
Companies are, therefore, increasing product and service offerings through strategic collaborations, mergers, and acquisitions in order to establish their roots across regions such as Asia Pacific, Latin America, and Middle East and Africa. A recent instance is NEC Corporation's August 2016 acquisition of the Rio de Janeiro, Brazil-based IT security company Arcon Informatica S.A.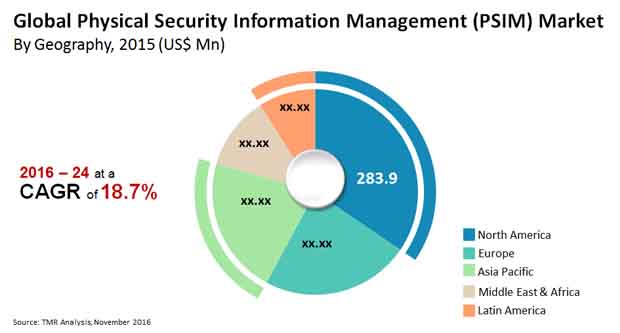 North America Market to Remain Dominant Contributor
Transparency Market Research estimates that the physical security information management market will expand at a remarkable 18.7% CAGR over the period between 2016 and 2024. As a result, the market, which had a valuation of US$823.1 mn in 2015, will rise to US$3,832.6 mn by 2024.
In terms of geography, North America presently leads, holding a nearly 36% of the global PSIM market in 2015. Although the regional market expected to exhibit strong growth over the forecast period and retain its leading position, it will lose prominence to Asia Pacific and Europe in terms of growth pace over the forecast period.
Of the key end users of PSIM solutions, the government and defense sector held the dominant 11.6% of the market in 2016.
Rising Adoption across Organizations Impelling Market Growth
The global demand for effective physical security information management solutions is on a rise across the globe owing to a plethora of factors. Among these, the factors expected to have a lasting influence on market's development include the increasing development of smart city projects, especially across developing economies, and the rising demand for centralized control over the disparate security systems.
The rise in security breaches in organizations processing and managing critical business and consumer data is leading to the demand for a large number of security system deployments. PSIM systems are good contenders for organizational security management purposes.
Their capability to provide an efficient centralized control over disparate security systems, while also providing consistent levels of security, better remote monitoring, and accessibility across all sites, works in their favor, leading to the increased global demand.
IoT Integration to Encourage Product/Service Differentiation, Present Lucrative Growth Opportunities
The high cost associated with PSIM solution deployment is a major concern for the PSIM market. Furthermore, high adoption and extensive penetration of competitive software solutions such as video management systems and access control systems is expected to restrain the PSIM market across the world.
Report: www.transparencymarketresearch.com…S&rep_id=3077
Nevertheless, the rapid development of internet of things (IoT) is expected to provide lucrative opportunities for the global PSIM market. The integration of IoT with PSIM solutions provides significant opportunities to extend solution and service offerings.
This integration would also allow global PSIM vendors to offer additional services such as visualized services platform to enhance the performance of PSIM solutions. The differentiation in product and service offering through this strategy could emerge as the lucrative growth opportunity for vendors.
This review of the market is based on a recent TMR report, titled "Physical Security Information Management Market - Global Industry Analysis, Size, Share, Growth, Trends, and Forecast 2016 - 2024."
News From
Transparency Market Research
Category:
Market Research Publishers and Retailers
Company about: TMR provides a range of marketing and business research solutions designed for your specific needs. From off-the-shelf syndicated business And market research to made-to-order custom research, we serve our clients to fulfill their immediate as well as ongoing research requirements.      We specialize in the following areas:   Syndicated Research Each TMR syndicated research report covers a different sector - such as pharmaceuticals, chemical, energy, food & beverage
...
For more information:
Make an Inquiry about this report
HERE!
www.transparencymarketresearch.com…S&rep_id=3077

www.transparencymarketresearch.com…n-management.html