Mixed Reality Market (Component - Hardware and Software; Application - Automotive & Aerospace, Healthcare, Entertainment, and Ecommerce & Retail) - Global Industry Analysis, Size, Share, Growth, Trends and Forecast 2016 - 2024
Transparency Market Research has observes that collective share of leading players in the global mixed reality market
stood at 71.1% in 2013. The remarkable product innovation and the massive research and development investments have helped Microsoft Corporation, Canon, Inc., Samsung Electronics Co.
Ltd, Recon Instruments Inc., HTC, and Seiko Epson Corporation retain their lead over the years. "Design and development of immersive and interactive experiences applicable to a wide range of end users is expected to winning strategy of these players," states the lead author of this research report.
Browse The Report: www.transparencymarketresearch.com…ality-market.html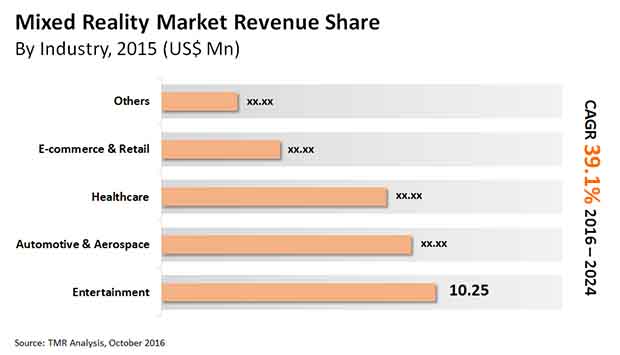 North America Shows Rapid Adoption of Mixed Reality in Various Industries
According to the research report, the opportunity in the global mixed reality market by the end of 2024 is expected to be worth US$1.2 bn. The market is anticipated to progress from for US$ 35.30 mn in 2015 at a whopping CAGR of 39.1% between the forecast period of 2016 and 2024.
The emergence of 3D movies as an integral part of entertainment industry is expected to boost the demand for mixed reality hardware and software. Following this, the entertainment industry is estimated to rise at a CAGR of 40.3% during the forecast period.
In terms of regions, North America expected to dominate the global market due to a high adoption rate of mixed reality across the region. The region is anticipated to witness a CAGR of 41.9% over the estimated period.
Enriching Experiences of Virtual and Real World Keep Consumers Glued to Mixed Reality Devices
The rapid evolution of the entertainment and media segment is anticipated to make a generous contribution to the soaring revenue of the global mixed reality market. The advancements in the mixed reality market have allowed a score of ticketing professionals a chance to develop interactive and unique content.
Such developments have created a whole new world of gaming for users where they can actually experience the game as though it may be occurring in real life. Owing to this radical change, the global market is anticipated to witness a several video game companies vying for its software, hardware, and services.
The growth of the global market will also be attributable to the increasing adoption of mixed reality in healthcare and medical sector as well. Interactive imaging to understand the disease or the disorder better and growing usage of head mounted display to enhance pharmacy management are expected to offer the global market lucrative growth opportunities.
Additionally, the usage of mixed reality in enhancing the online shopping experience is also likely to boost the growth of the overall market. For instance, car manufacturers are using mixed reality techniques to showcase 3D car structures of the buyers that allows them to experience the car as they would have in real life.
Report: www.transparencymarketresearch.com…&rep_id=14210
High Investment Costs Deter Market Growth
Despite the strong market drivers, the global mixed reality market is being stifled due to the necessity of huge investments in research and development of devices. The prolific financial costs related to implementation of mixed reality technology is anticipated to hamper the entry of new entrants and also have a negative impact on the growth of the overall market.
The concerns pertaining to privacy have also been a restraining factor in the global market. The issues pertaining to theft of information, recording copyrighted material, or complications with regards to intellectual property are likely to hinder market growth.
This review of based on Transparency Market Research's report, titled "Mixed Reality Market - Global Industry Analysis, Size, Share, Growth, Trends and Forecast 2016 - 2024."
News From
Transparency Market Research
Category:
Market Research Publishers and Retailers
Company about: TMR provides a range of marketing and business research solutions designed for your specific needs. From off-the-shelf syndicated business And market research to made-to-order custom research, we serve our clients to fulfill their immediate as well as ongoing research requirements.      We specialize in the following areas:   Syndicated Research Each TMR syndicated research report covers a different sector - such as pharmaceuticals, chemical, energy, food & beverage
...
For more information:
Make an Inquiry about this report
HERE!
www.transparencymarketresearch.com…&rep_id=14210

www.transparencymarketresearch.com…ality-market.html