The market is expected to exhibit a 3.4% CAGR over the period between 2016 and 2024. Expanding at this pace, the market, which valued US$4,330.7 mn in 2015, is expected to rise to US$5,969.1 mn by 2024.
The competitive landscape of the global fuel delivery systems market
features high fragmentation and intense competition owing to the presence of a large number of manufacturers, observes Transparency Market Research in a recent report. Notable players in the market are investing on mergers and acquisitions to expand their consumer base across the globe and gain an increased share in the market.
A recent instance is the July 2015 acquisition of Delta Industrial Valves Inc. by The Weir Group PLC. Some of the key vendors in the global fuel delivery systems market are Metso, Honeywell International Inc., Cashco Inc., Cameron (Schlumberger Ltd.), and Watlow Electric Manufacturing Company.
Browse The Report: www.transparencymarketresearch.com…ystem-market.html
In terms of the key components of a typical fuel delivery system, the segment of stop valves presently dominates the global market, accounting for a share of over 54% in 2015. In terms of geography, Asia Pacific holds the dominant position, with a 25% share in the global market in 2015.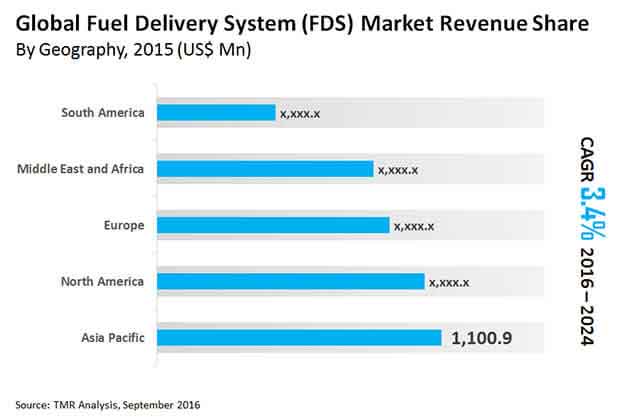 Efforts Aimed at Improving Workplace Safety and Reducing Energy Consumption to Drive Market
The necessity to maintain high level of safety in work environments across process industries that handle a variety of hazardous substances such as oil and gas, chemicals, pulp and paper, and refining is the key driver of the global fuel delivery systems market. Advanced fuel delivery systems play a central role in the effective control and monitoring of flow of gases and fluids to equipment such as industrial ovens, furnaces, and boilers in process industries.
Fuel delivery systems are also used on a large scale in industries for ensuring the efficient management of fluids as per the desired parameters. The global market for fuel delivery systems is also driven by the rising efforts to reduce the total energy consumed across the industrial sector.
Rising Usage of 3D Simulation Software to Increase Industry-wide Adoption of Fuel Delivery Systems
One of the key challenges for the global fuel delivery systems market is the sluggish growth across some of the market's prominent end-use industries globally. The overall production in the U.S.
mining industry, for instance, suffered a substantial blow in 2015. The production of coal declined in the country from a valuation of 1,000,049 Thousand Short Tons in 2014 to 896,977 Thousand Short Tons in 2015.
Investment in mining and exploration activities also went down by 35% in 2015 as compared to the previous year in the U.S. Stringent regulations on mining activities across the U.S.
and many other countries across the globe, owing to their vast negative implications on the environment, will continue to mar the growth prospects of the global fuel delivery systems in the next few years.
Nevertheless, the market is expected to gain sizeable traction owing to the increased usage of simulation software across a number of process industries. The use of 3D simulation software for testing and analyzing the performance of hydraulic components such as valves and pumps under different conditions eliminates the need for designing multiple test rigs and prototypes.
This low-cost alternative to test rigging and prototyping is expected to gain an increased level of adoption in the next few years, leading to the development of vast growth opportunities for the global market.
Make an Enquiry @ www.transparencymarketresearch.com…&rep_id=14798
This review of the market is based on a recent market research report published by Transparency Market Research, titled "Fuel Delivery System Market (by Components: Stop Valves, Flow and Pressure Safety Switches, Gas Regulator, and Others; by Application: Boilers, Furnaces, and Kilns and Ovens; by Fuel Type: Oil, Gas, and Electricity; by End-use: Oil and Gas, Power, Mining, Mineral & Metal, Chemicals, Refining, Water, Printing and Publishing, Specialty Engineering Chemicals, Pharmaceuticals, Food and Beverages, Glass, Ceramics, Alternate Fuel, Automotive, Building, and Others) - Global Industry Analysis, Size, Share, Growth, Trends and Forecast 2016 - 2024."
News From
Transparency Market Research
Category:
Market Research Publishers and Retailers
Company about: TMR provides a range of marketing and business research solutions designed for your specific needs. From off-the-shelf syndicated business And market research to made-to-order custom research, we serve our clients to fulfill their immediate as well as ongoing research requirements.      We specialize in the following areas:   Syndicated Research Each TMR syndicated research report covers a different sector - such as pharmaceuticals, chemical, energy, food & beverage
...
For more information:
Make an Inquiry about this report
HERE!
www.transparencymarketresearch.com…&rep_id=14798

www.transparencymarketresearch.com…ystem-market.html