Hyper Spectral Imaging System Market - Global Industry Analysis Size Share Growth Trends and Forecast 2016 - 2024
With the top 3 players holding just short of 65% of the overall market share in 2015, the global hyper spectral imaging system market
exhibits a high degree of consolidation. These companies are FLIR Systems Inc., Thermo Fisher Scientific, and Teledyne Technologies.
Despite a consolidated vendor landscape, the global hyper spectral imaging system market is witnessing the highly competitive trends, finds Transparency Market Research (TMR) in a recent study.
Browse The Report: www.transparencymarketresearch.com…ystem-market.html
"In order to maintain their lead, leading players are mostly focusing on expanding their regional footprint and product portfolio through mergers and acquisitions," said a lead TMR analyst.
Besides this, focusing on product innovation is also considered indispensable for gaining competitive edge.
Strategies adopted by established and regional players alike, have a profound impact on the overall market.
According to TMR, the global hyper spectral imaging system market, which stood at US$9.12 bn in 2015, is expected to reach US$18.88 bn by the end of 2024. If these figures hold true, the overall market will exhibit a CAGR of 8.4% between 2016 and 2024.
Based on end use, the military surveillance and homeland security segment emerged dominant, with a valuation of US$1.86 bn in 2015. However, exhibiting the highest CAGR during the forecast period, the food processing industry will exhibit the highest demand for hyper spectral imaging system.
Regionally, North America emerged dominant with a share of 34% in the global market in 2015.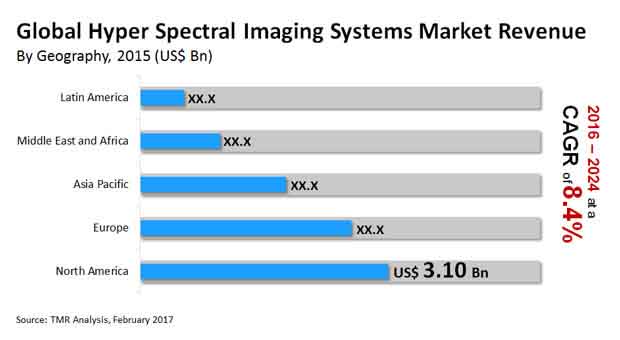 Diverse Industrial Applications of Hyper Spectral Imaging Systems to Aid Growth
Enterprises operating in the market will primarily gain from the expanding industrial applications of hyper spectral imaging system. As per TMR, the application of these systems has expanded across pharmaceutical, forensics, food and agriculture, packaging, automotive, and minerals & mining industries.
They are used in detecting missing coating, tablets, and differentiating dope among other applications across the aforementioned industries. Besides this, the increasing use of hyper spectral imaging systems in remote sensing and surveillance will augment the market's growth.
In the last few years, hyper spectral imaging system successfully forayed into the food processing industry. Its use as an analytical tool for testing quality and safety of packaging foods has gained pace.
Spurred by this, the global market is poised to exhibit positive growth in the coming years.
Increasing Use of Hyper Spectral Imaging System in Agriculture to Boost Growth
The rising use of these systems across the agricultural sector holds promising opportunities for the market. "Hyper spectral imaging systems assist in the constant monitoring and development of crops.
These systems therefore help in setting up early alarm in case of disease outbreaks," observed the TMR report's author.
Report: www.transparencymarketresearch.com…&rep_id=21251
Despite witnessing positive trajectory, the high cost of devices is restraining the global hyper spectral imaging system market. In addition to this, complexities regarding operating hyper spectral imaging systems have emerged as major bottlenecks.
Furthermore, researchers have a difficult time in programming hyper spectral satellites to automatically arrange data for sending across key images. These factors are threatening the overall market.
This review is based on a TMR study, titled "Hyper Spectral Imaging System Market (Systems - PC Based, Outdoor Camera, and Airborne; End-use Industry - Military Surveillance and Homeland Security, Industrial, Medical Diagnostics, Food Processing, Mineralogy, and Astronomy) - Global Industry Analysis Size Share Growth Trends and Forecast 2016 - 2024."
News From
Transparency Market Research
Category:
Market Research Publishers and Retailers
Company about: TMR provides a range of marketing and business research solutions designed for your specific needs. From off-the-shelf syndicated business And market research to made-to-order custom research, we serve our clients to fulfill their immediate as well as ongoing research requirements.      We specialize in the following areas:   Syndicated Research Each TMR syndicated research report covers a different sector - such as pharmaceuticals, chemical, energy, food & beverage
...
For more information:
Make an Inquiry about this report
HERE!
www.transparencymarketresearch.com…&rep_id=21251

www.transparencymarketresearch.com…ystem-market.html