Global Collaborative Robots Market Report, published by Variant Market Research, forecast that the global market is expected to reach $1.3 Billion by 2024 from $0.1 Billion in 2016, growing at a CAGR of 33.2% from 2016 to 2024. By geography, Asia Pacific and Europe expected to grow at a CAGR of 34.9% and 33.0%, respectively, during the forecast period.
Collaborative robots, also known as cobots, are designed to assist humans with a variety of hazardous task. The primary concept of these robotic system is to operate safely along with humans in the same space, where the diverse strengths of both humans and robots can be utilized efficiently.
These robots are significantly less expensive and can work under any harsh conditions. It simplifies the working process in a short period of time, finalizing it more perfectly and accurately than humans.
"Global Collaborative Robots Market is expected to reach $1.3 Billion by 2024 from $0.1 Billion in 2016, growing at a CAGR of 33.2% from 2016 to 2024."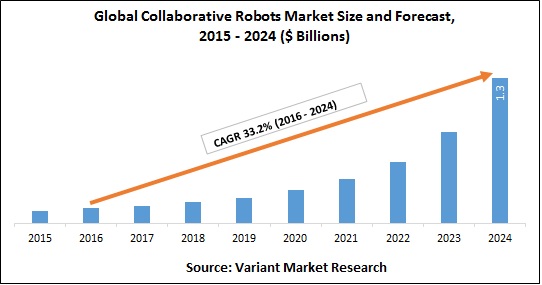 In recent years, the use of such robot has increased dramatically, driven by rising labor cost, increasing need for automation, and expanding robot capabilities. The ability to perform tuff and repetitive jobs for longer hour has increased the acceptance of collaborative robots across various industrial areas.
For instance, heavy industries using chemicals and high temperature in the processes can pose severe hazardous for humans. At such situation, cobots can be a useful solution as it works under any difficult condition without safety concerns with reduced risk of human employee health.
Decline in the cost of sensors and computer power have brought down the overall costs of robots which has increased their presence in various small size businesses. Small and medium companies provide substantial opportunities for the market.
This opportunity is driven by the fact that cobots are less expensive as compared to the traditional industrial robots. They can be trained and deployed easily, and has an ability to do repetitive and mundane task for longer durations.
Full Report Summary at: https://www.variantmarketresearch.com/report-categories/semiconductor-electronics/collaborative-robots-market
Collaborative robots market has gained wide popularity in developed regions such as North America. The market is driven by factors such as, growing investments to increase productivity, and face competitiveness in the market.
North American region covers US, Canada, and Mexico. A Canadian company Kinova Robotics has launched a robotic arm to assist people with disability.
In Mexico, the manufacturing sector is tremendously attracting lot of foreign direct investments. Various major companies are investing in Mexico and using cobots to increase quality, cut costs, and to improve their workforce safety.
UK and other major European countries such as Germany, France, and Spain have also observed an increasing trend for cobots, due to increasing export opportunities and surge in demand from chemical and metal processing industry. Additionally, Asia-Pacific has also showed an increased trend, owing to its increased acceptance across various industries coupled with rising need to optimize product quality, and lack of manual labor availability.
In the coming years, Australia, Singapore, Philippines, and New Zealand is anticipated to be the strongest market for the adoption of collective robot across various sectors. Furthermore, dramatic shifts in economic development, poverty reduction, and adoption of advanced technologies has led to an increased demand for such robots in south America, Africa, and middle east countries.
Click here to request a free sample PDF of this report at www.variantmarketresearch.com/repo…et/sample-request
Exposure of these robots in countries such as Bolivia, Guatemala, Costa Rica, Ecuador, Peru and Colombia will aid in evolve over the coming years. The Inter-American Development Bank (IDB) and SK Telecom had signed an agreement to deliver over 900 units of Albert education robots for 300 schools is Costa Rica.
These smartphone-powered education robots will aid to develop basic skills in arithmetic, algebra, and geometry. Moreover, advancement in artificial intelligence would led to the development of technologically advanced domestic and commercial collaborative robots.
Recently, scientists are overcoming various engineering challenges and are manufacturing personal domestic robots. Introduction of brain-computer interfaces (BCIs) have abled to instruct machines with using natural languages, which is a great success in the field of collaborative robots.
News From
Variant Market Research
Category:
Market Research Publishers and Retailers
Company about: Variant Market Research offers syndicated and customized report to fulfill client's objective. We also provide customized data pack proposing market sizing in an Excel/PDF/Power point or Word format as per the requirement of clients. We cover several industry domains namely- Semiconductor & Electronics, Consumer Electronics, Information and Communication Technology, Automotive, Consumer Goods, Food & Beverages, Pharmaceuticals, Medical Devices, Chemicals, Industrial, Mining Equipmen
...
For more information:
Make an Inquiry about this report
HERE!
www.variantmarketresearch.com

www.variantmarketresearch.com/repo…ive-robots-market

www.variantmarketresearch.com/repo…et/sample-request

www.variantmarketresearch.com/repo…robots-market/toc

www.variantmarketresearch.com/pres…t-market-research