Parking Management Solution Market is expected to be worth US$614.59 bn by 2025, the market is estimated to expand at a CAGR of 9.3% between 2017 and 2025
The frontrunners in the global parking management solution market
, according to a recent report by Transparency Market Research (TMR) are Parkeson S.A.S., IPS Group Inc., Ventek International, J.J.Mackay Canada Limited, LocoMobi Inc., Cale Access AB, Parking BOXX, METRIC Group Ltd., Parking Inc., CivicSmart Inc., and POM Inc.
In order to maintain their position, top market players are engaged in accentuating their product line and are striving to provide integrated applications for efficient management of parking requirements. Besides this, development of parking management solutions that are cost-effective, customer-friendly, and are more reliable compared to currently available solutions is also what companies in this market are engaged in.
Browse The Press Release: www.transparencymarketresearch.com…gement-market.htm
The report by TMR estimates that the global parking management solution market is poised to be worth US$614.59 bn by 2025.
The market is estimated to expand at a CAGR of 9.3% between 2017 and 2025.
The report studies the global parking management solution market based on type, installed location, and region. Multi-space parking meters dominate the market in term of type due to their low maintenance cost, ability to pay with multiple forms of payment, and flexible features.
North America contributed the leading revenue to the global parking management solution market in 2016, with the U.S. being the home to a large number of players in the market.
The deployment of modern advanced parking kiosks is a key trend observed in parking spaces in Europe. These kiosks are expected to help municipalities and private garage operators to keep a record of every parking infringement and provide a comparison against actual citations issued.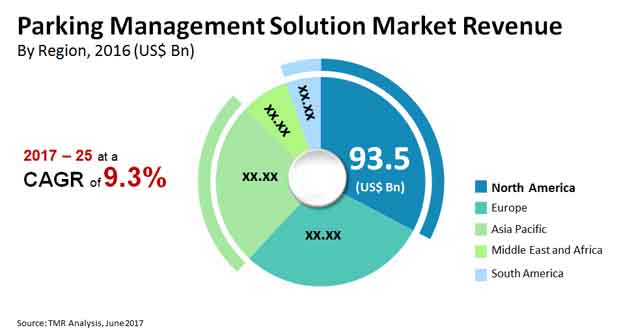 Traffic Snarls Necessitate Technology-driven Vehicular Parking Management Solutions
Demand for smooth traffic movement to address traffic congestion and other transportation issues is the key factor driving the adoption of parking management solutions across large cities. Growing global population and the subsequent increase in the number of vehicles are the key factors behind traffic congestion.
The increasing number of vehicles across the world is intensifying the problem pertaining to the scarcity of parking spaces. This has increased the need for efficient and smart parking systems.
Advanced parking management systems that are currently used not only provide a high level of convenience to drivers but also simplify business operations and other functions at parking sites.
The other benefits of parking management solutions include decreased hardware and connectivity costs and also revenue benefits to parking site owners. However, factors such as cost sensitivity of parking space operators who manage parking sites for parking space owner is posing a challenge to this industry.
Nevertheless, parking management solutions extend growth opportunities for players in regional economies as well as smart cities across the world. Increased pollution and safety, security, and connectivity are other concerns that are driving this market's growth.
Make an Enquiry @ www.transparencymarketresearch.com…&rep_id=15068
Host of Industry Verticals Benefit from Parking Management Solutions
The demand for efficient parking management solutions such as multi space and single space parking kiosks and technological developments in parking management solution is contributing to the growth of parking management solution market. Parking management solutions have been deployed across several industry verticals such as academia, transportation, government and municipalities, recreation, corporate and commercial parks, hospitality, retail, BFSI, and others.
News From
Transparency Market Research
Category:
Market Research Publishers and Retailers
Company about: TMR provides a range of marketing and business research solutions designed for your specific needs. From off-the-shelf syndicated business And market research to made-to-order custom research, we serve our clients to fulfill their immediate as well as ongoing research requirements.      We specialize in the following areas:   Syndicated Research Each TMR syndicated research report covers a different sector - such as pharmaceuticals, chemical, energy, food & beverage
...
For more information:
Make an Inquiry about this report
HERE!
www.transparencymarketresearch.com…gement-market.htm

www.transparencymarketresearch.com…&rep_id=15068

www.transparencymarketresearch.com…ement-market.html