Power System Analysis Software Market - Global Industry Analysis, Size, Share, Growth, Trends and Forecast 2017 - 2025
The global power system analysis software market
represents a highly fragmented vendor landscape with the presence of a large number of regional players spread across geographies, says Transparency Market Research (TMR) in a new report. However, a handful of players such as General Electric Company, Siemens AG, ETAP, and ABB Ltd.
that have established their presence globally by means of mergers and acquisitions and strategic alliances.
Nevertheless, the power system analysis software market is competitive in terms of product offerings due to the higher concentration of service providers.
New product development with the objective to increase the efficiency of software is what players in the power system analysis software market are focused on.
Thus, mergers and acquisitions and partnerships are the focus of companies to strengthen their positions and for conversion of growth opportunities into business gains. A case in point is General Electric Company.
The company acquired Alstom in 2016, following which it is expanding its presence in emerging markets. This is reflected in its near double revenue in India post its acquisition of Alstom.
Report: www.transparencymarketresearch.com…ftware-market.htm
"Strategic alliances in order to enhance operational capabilities of partnering company is the growth strategy that key players in the power system analysis software market are adopting'" says a TMR analyst. An excellent example is ETAP/Operation Technology Inc.
In September 2014, the company partnered with U.S. based OSIsoft LLC to deliver power management solutions for continuous monitoring, automation, optimization, and control of electrical power systems.
These solutions are applicable for utilities, process industries, micro-grids, smart cities, mission critical facilities, and government operations.
The global power system analysis software market stood at US$3,959.7 mn in 2016 and is expected to be worth US$11,585.7 mn by 2025, expanding at a CAGR of 12.7% between 2017 and 2025.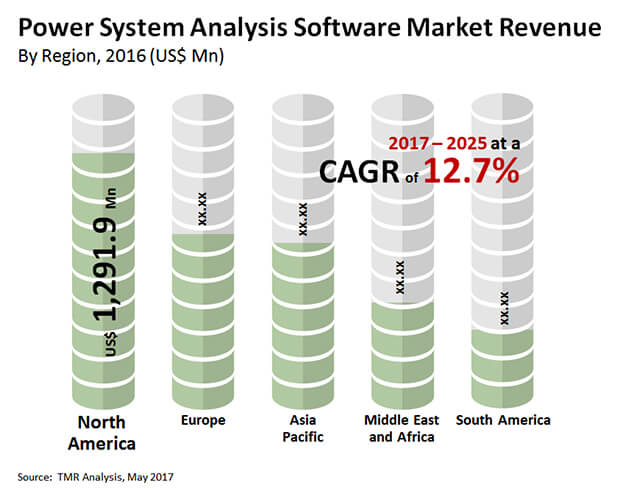 Cloud-based Implementation Segment to Display Steady Rise in Future
The on-premise implementation segment accounted for a massive 81% of revenue of overall power system analysis software market in 2016. The massive revenue contribution of the on-premise segment is due to their better system uptime, as the servers are on-premise at the power utilities' buildings.
However, the segment of cloud-based implementation is also anticipated to display a steady rise due to the widespread outreach of the Internet.
North America is the leading regional market with the region accounting for almost 33% of the power analysis software market in 2016. The growth of this region is primarily driven by huge amount of investments on smart grid systems.
However, Asia Pacific is anticipated to display the fastest growth over the forecast period. India, China, Japan, and Australia are the key domestic markets for power system analysis software in the region.
Adoption of Smart Grid Technology for Boosting Electricity Production Drives Market
The rising investment in smart grid technology is the leading factor boosting the power system analysis software market. Across the world, the incessantly increasing demand for electricity has forced utility companies to boost production.
This includes setting up new power transmission networks and also boosting the capacity of existing power transmission lines, grids, and associated infrastructure, which in turn, enhances their efficiency for electricity generation, transmission, and generation. Smart power technology requires power system analysis software to monitor grid performance and to enable condition-based maintenance.
Report: www.transparencymarketresearch.com…S&rep_id=7502
Governments and regulatory agencies are driving adoption of power system analysis software by advocating the implementation of smart power technologies through incentives or regulatory mandates. Emerging countries are displaying an increased deployment of smart grid technology and thus benefitting the power system analysis software market.
The review presented is based on the findings of Transparency Market Research report, titled "Power System Analysis Software Market (Implementation Model - On- premise and Cloud-based; Application - Distribution and Transmission) - Global Industry Analysis, Size, Share, Growth, Trends and Forecast 2017 - 2025."
News From
Transparency Market Research
Category:
Market Research Publishers and Retailers
Company about: TMR provides a range of marketing and business research solutions designed for your specific needs. From off-the-shelf syndicated business And market research to made-to-order custom research, we serve our clients to fulfill their immediate as well as ongoing research requirements.      We specialize in the following areas:   Syndicated Research Each TMR syndicated research report covers a different sector - such as pharmaceuticals, chemical, energy, food & beverage
...
For more information:
Make an Inquiry about this report
HERE!
www.transparencymarketresearch.com…ftware-market.htm

www.transparencymarketresearch.com…tware-market.html

www.transparencymarketresearch.com…S&rep_id=7502