Software Defined Storage Market - Global Industry Analysis, Size, Share, Growth, Trends and Forecast 2017 - 2025
Transparency Market Research (TMR) states that the global software defined storage market
is likely to witness intense competition as vendors are working on developing better technologies. Some of the leading players in the global market are VMWare, Inc., Dell EMC, Oracle Corporation, and Microsoft Corporation.
These companies are expected to expand their geographical reach in the coming years as developing countries are likely to offer lucrative opportunities. Furthermore, investment in research and development along with mergers and acquisitions will also be some of the key strategic moves adopted by these companies.
Report: www.transparencymarketresearch.com…torage-market.htm
According to the research report, the global software defined storage market is likely to be worth US$48.18 bn by the end of 2025 from US$4.86 bn in 2016. During the forecast years of 2017 to 2025, the global market is projected to progress at a CAGR of 29.2%.
The data security software segment is expected to lead the global market as it is likely to register a whopping CAGR of 30.3% over the forecast period. In terms of geography, Asia Pacific is estimated to emerge as the leading regional market.
The report estimates that it will rise at a CAGR of 31.1% between 2017 and 2025.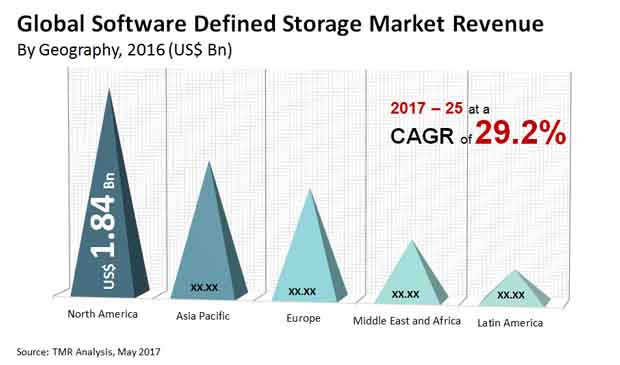 Copious Amount of Data Augments Demand for Software Defined Storage
Data has become an integral part of everyday life and its generation is expected to rise at an exponential rate due to the accelerated penetration of the internet. The growing uptake of information detecting devices such as cameras, software logs, microphones, mobile devices, and frequency identification has led to an unprecedented rise in data.
Furthermore, advent of big data analytics and usage of virtualization technologies has augmented the demand for software defined storage. Today, virtual technologies are extensively used in various organizations to reduce the cost of resources while offering excellent services.
Thus, the introduction of cloud computing is expected to support the growth of the global software defined storage market in the coming years. In the coming years, software defined storage solutions will remain in demand as they cater to the immediate needs of modern network environment.
Several organizations are increasingly shifting towards a cloud-based infrastructure in order to achieve higher level of efficiency in networking, computing, and storing the data with the help of cloud services. Analysts anticipate that the demand for cloud services will continue to be on the rise as they offer immense flexibility.
As software defined storage allows a strong foundation for hybrid cloud models, its global market is likely to receive a significant impetus in the near future.
Challenges with Interoperability become a Threat to the Global Market
Despite the strong market drivers, the global software defined storage market is likely to be challenged by a few factors. Presently, the global market has to compete with existing storage platforms.
Software defined storage involves APIs and standard protocols for which it cannot operate on different kinds of network infrastructure. Thus, issues related to interoperability are expected to dissuade the global market.
Report: www.transparencymarketresearch.com…&rep_id=20039
This review is based on Transparency Market Research's report, titled "Software Defined Storage Market (Usage - Data back up and disaster recovery, Surveillance, and Storage Provisioning; Software - SDS Server, SDS Controller Software, Data Security, and Data Management; End User - BFSI, Telecom, Manufacturing, Education, Media and Entertainment, Healthcare, and High Tech) - Global Industry Analysis, Size, Share, Growth, Trends and Forecast 2017 - 2025
News From
Transparency Market Research
Category:
Market Research Publishers and Retailers
Company about: TMR provides a range of marketing and business research solutions designed for your specific needs. From off-the-shelf syndicated business And market research to made-to-order custom research, we serve our clients to fulfill their immediate as well as ongoing research requirements.      We specialize in the following areas:   Syndicated Research Each TMR syndicated research report covers a different sector - such as pharmaceuticals, chemical, energy, food & beverage
...
For more information:
Make an Inquiry about this report
HERE!
www.transparencymarketresearch.com…&rep_id=20039

www.transparencymarketresearch.com…orage-market.html

www.transparencymarketresearch.com…torage-market.htm