Narrowband Internet-of-Things (IoT) Chipset Market will rise at a momentous 37.9% CAGR from 2017 to 2025 and rise from a valuation of US$45.0 mn in 2016 to US$793.7 mn by 2025
The global market for narrowband internet-of-things (NB-IoT) chipset
features a largely consolidated vendor landscape, with the leading five companies accounting for a massive 98% of the overall market in 2016, observes Transparency Market Research in a recent report. These leading players, namely Qualcomm Inc., U-blox Holding AG, Sequans Communications, Commsolid GMBH, and Altair Semiconductor focus on introducing new products, expanding their geographical reach, and research and development activities to introduce products that can suit new application areas.
Strategic partnership is another essential strategy followed by the leading players in the NB-IoT chipset market in order to expand their businesses and add new products to their portfolios. A recent instance is the May 2015 acquisition of Ikanos by Qualcomm, Inc.
Browse The Press Release: www.transparencymarketresearch.com…hipset-market.htm
Transparency Market Research projects that the global NB-IoT market will expand at a momentous 37.9% CAGR from 2017 to 2025 and rise from a valuation of US$45.0 mn in 2016 to US$793.7 mn by 2025.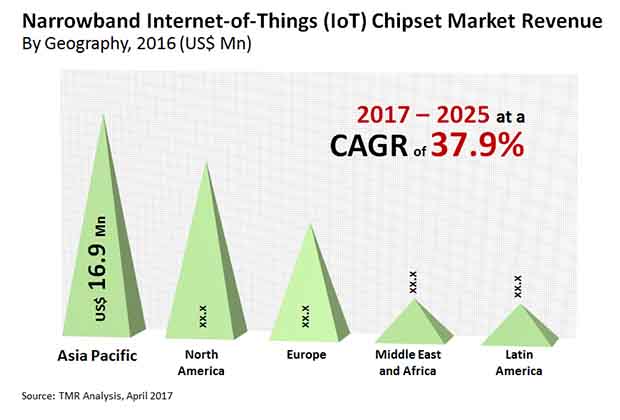 Asia Pacific to Remain Most Lucrative Regional Market
Of the key areas of applications of NB-IoT chipset, the segments of smart appliances, trackers, and smart meters are presently the leading contributors of revenue to the global market. The segment of smart appliances, accounting for a 19.9% of the overall market, is expected to witness a major rise in its share in the global market by 2025.
Asia Pacific region is expected to lead to the most promising growth opportunities for the NB-IoT chipset market over the report's forecast period, chiefly owing to the high level of chip integration across applications such as smart appliances, smart detectors, and smart meters, and the rising adoption of IoT principles across the industrial as well as consumer segments in countries such as China, Singapore, and India. The region accounted for a massive 37.5% of the global market in 2016 and is expected to hold about 55% by 2025.
Low Cost and Reduced Power Consumption to Remain Key Features Encouraging Uptake
Some of the key factors expected to have a positive influence on the uptake of narrowband IoT chipset in smart devices are the capability of these chipsets to lead to a significant reduction in the consumption of power and provide better network scalability. Moreover, a significantly less level of complexity of NB-IoT chipsets helps reduce the cost of device by nearly 60% as compared to the LTE category 4 devices.
Features of NB-IoT chipsets such as simplified deployment and network topology, improved infiltration coverage concerned with existing wide area networks in indoor as well as outdoor settings, and secured connectivity with strong authentication are also expected to boost the rate of their adoption.
Make an Enquiry @ www.transparencymarketresearch.com…&rep_id=23879
A number of IoT technologies are presently being used for smart device applications such as smart meters and point-of-sale machines. NB-IoT outdoes these technologies in terms of power consumption and network coverage while also being relatively very cheap.
For instance, the cost of 2G modules lies anywhere between US$8 to US$13. Compared to this, the cost of NB-IoT modules, which is expected to be less than US$5, can lead to a significant reduction in the overall cost of operation of smart devices.
This factor is expected to have a significant positive impact on the overall demand for NB-IoT chipsets in the next few years.
Lack of Standardization could Hamper Growth Prospects
Although NB-IoT chipsets have vast growth opportunities, challenges such as high operational expenditure and lack of standardization are expected to hamper the growth prospects of the global NB-IoT market to a certain extent. The lack of standardization of low power wide area network technology, especially, is expected to largely hinder the scope of growth opportunities for the telecommunications industry in the field of Internet of Things.
News From
Transparency Market Research
Category:
Market Research Publishers and Retailers
Company about: TMR provides a range of marketing and business research solutions designed for your specific needs. From off-the-shelf syndicated business And market research to made-to-order custom research, we serve our clients to fulfill their immediate as well as ongoing research requirements.      We specialize in the following areas:   Syndicated Research Each TMR syndicated research report covers a different sector - such as pharmaceuticals, chemical, energy, food & beverage
...
For more information:
Make an Inquiry about this report
HERE!
www.transparencymarketresearch.com…hipset-market.htm

www.transparencymarketresearch.com…&rep_id=23879

www.transparencymarketresearch.com…ipset-market.html