Nutraceuticals are products derived from food sources which contain additional health benefits in comparison to basic nutritional food value. The nutraceuticals market majorly comprises food, beverage, and dietary supplements. The ingredients used for manufacturing nutraceuticals product are vitamins, minerals, proteins, amino acids, fibers, and others.
Global Nutraceuticals Product Market Report, published by Variant Market Research, forecast that the global market is expected to reach $340 billion by 2024 from $195 billion in 2016; growing at a CAGR of 7.2% from 2016 to 2024. By geography, Asia-Pacific and Rest of the World are expected to grow at a CAGR of 7.6% and 7.7%, respectively, during the forecast period.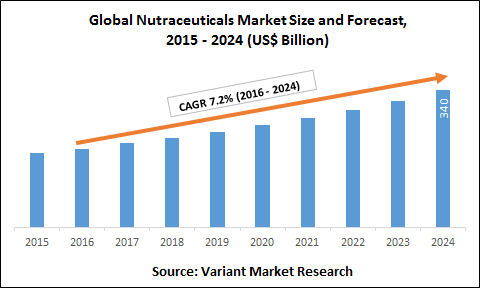 Rise in healthcare expenditure, increased and OTC drugs
and augmented demand for nutritional diet are the major factors driving the global nutraceuticals product market
. However, high price and lack of consumer awareness may hinder the market growth in the coming years.
Technological advancement and practice of nutraceuticals across new application areas would provide new business opportunities for the market in the coming years. New application areas and technological advancements are expected to provide growth opportunities for the market in the coming four to five years.
Full Report Summary at: www.variantmarketresearch.com/repo…aceuticals-market
Product type and geography are the various segmentations of the global nutraceuticals market. The product type segments include, dietary supplements, functional food, functional beverages, and personal care & pharmaceutical.
increased consumer spending on functional food has made the functional food segment to occupy the largest market share in the year 2016. Growing demand for functional food has also led to growth of the functional food segment.
Further sub-categories of the functional food, functional beverages, and dietary supplements segment are also discussed in the report. The sub categories of functional food include, omega fatty acid fortified food, branded wheat flour market, probiotics fortified food, branded ionized salt, and others.
The functional beverages are also categorized into various sub-segments such as fruit & vegetable juices & drinks, noncarbonated drinks, dairy & dairy alternative drinks, and others. The dietary supplement is categorized into proteins & peptides, herbals, vitamins & minerals, and others.
The geographical classifications of the market comprise, North America, Europe, Asia-Pacific, and Rest of the world (RoW). In the year 2016, the highest revenue was generated by North America due to increased acceptance of nutraceuticals product in New York, Chicago, San Francisco, among others.
The region had a market share of 39.4%, which was the highest market share in the global market. Market penetration for these products is higher in U.S.
and Canada, owing to its several benefits such as low risk of cardiovascular problems and diabetes. The second highest market revenue was generated by Asia-Pacific which accounted for the market share of 30.3%.
The growth in the region is majorly driven, owing to increased disposable income of consumers and growth in middle class affluent population, majorly in developing countries such as Japan, China, and India. The huge consumer base of China has supported growth of the market in the Asia-Pacific region.
Rest of the world is expected to grow at the fastest CAGR in the coming five to six years. The growth in the RoW region will be primarily fueled by growing health awareness among consumers.
Click Here to Request a Free Sample PDF of This Report at www.variantmarketresearch.com/repo…et/sample-request
Major players in the nutraceuticals product market comprise, DuPont, Royal DSM N.V., Nestle S.A., Cargill Incorporated, PepsiCo, and Aland (Jiangsu) Nutraceutical Co., Ltd., General Mills, Inc., BASF SE, Archer Daniels Midland Company (ADM), and Groupe Danone S.A., among others.
News From
Variant Market Research
Category:
Market Research Publishers and Retailers
Company about: Variant Market Research offers syndicated and customized report to fulfill client's objective. We also provide customized data pack proposing market sizing in an Excel/PDF/Power point or Word format as per the requirement of clients. We cover several industry domains namely- Semiconductor & Electronics, Consumer Electronics, Information and Communication Technology, Automotive, Consumer Goods, Food & Beverages, Pharmaceuticals, Medical Devices, Chemicals, Industrial, Mining Equipmen
...
For more information:
Make an Inquiry about this report
HERE!
www.variantmarketresearch.com/repo…aceuticals-market

www.variantmarketresearch.com/repo…ticals-market/toc

www.variantmarketresearch.com/repo…et/sample-request

www.variantmarketresearch.com/pres…antmarketresearch

www.variantmarketresearch.com/pres…t-market-research