Data Report in January By Research Firm Enders Analysis - In January, 55% of traffic for internet came from mobiles – 47% from mobile applications and 8% from mobile browsers. Remaining 45% traffic came from PCs.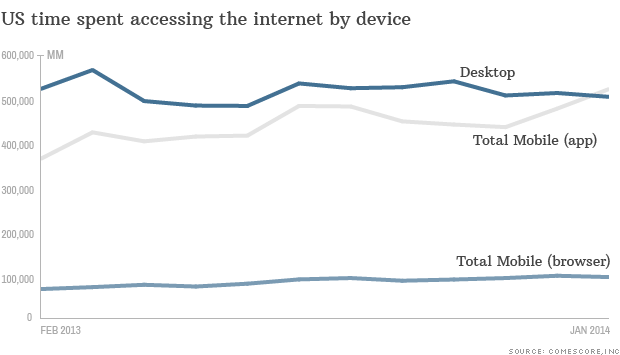 According to the reports shown by Pew Research Centre - Last month, Americans used mobile applications more than PCs for Internet. This report points to exceeding use of mobile applications to access the internet rather than PCs.
The above report shows that mobile devices have already overtake the PC internet usage in January 2014. But, this time reports by Pew Research Centre shows that 55% of traffic has come only from mobile applications alone. This happens first time when mobile applications alone are responsible to overtake the PC internet usage.
Trends of smartphones and tablets are continuously going to be improved. Estimation says that smartphones will completely overtake the PCs internet usage in future.
It is bad news for those businesses that haven't yet entered in to market of mobile applications. 58% of American adults have smartphones for internet access; it means lack of mobile applications for your business makes you bear the loss of more than 50% of customers.
Businesses really need to seriously think about mobile applications whether it is a small business or a big one. Businesses like restaurants, coffee bars, etc also have their own mobile applications that help them to grab customers. Mobile application is potential way to let the users know about you and your business. You don't know who needs you. Mobile application takes you to your customers, no matter where he is around the world.
About: Mobile App Development India
Mobile App Development India is a fastest growing mobile app development company. We help large enterprise as well as small start-ups to create mobile application solution for iPhone, iPad, android, windows, Blackberry and Symbian. We turn your vision into reality and spread it among your users.
For more information:
Make an Inquiry about this report
HERE!
www.mobile-app-development-india.com

www.mobile-app-development-india.com/iphone-application-deve…

www.mobile-app-development-india.com/hire-ipad-developer.htm…
News From
Mobile App Development India
Category:
Mobile App Developers
Company about: Mobile App Development India is one of the leading Mobile App Development Company in India. We incorporate the latest technology in app development in order to meet and serve the requirements of local and global clients. Our skilled app development experts can successfully implement various types of creative business ideas and provide 100% transparency to the clients throughout the whole application development process. Our company's aim is to be a reliable development partner and add value to t
...