When restoring your computer to an earlier state from the system image you have created, the system image restore failed error message may appear in Windows 10/8/7 along with the error code 0x80070057, 0x80042412, etc. In this post, I will tell you professional backup software for troubleshooting, as well as full solutions for the issue.
System Image backups are different than System Restore points, because rolling back your system to a previous state (using System Restore), means that you are partially restoring it to a time that it worked normally and without affecting your personal files. On the other hand, if you recover your system from a system image backup (aka "System Image Recovery"), it means that you'll be fully restoring your system as it was at the date when the image was created and all your personal files which were created after the date of system image creation will be lost.
The System Image Restore Failed Windows 10/8/7
To protect your computer from a system crash, most of you may choose to create a system image with Windows built-in Backup and Restore. Once the PC OS goes wrong, you can use the image file to restore Windows to the previous state.
However, sometimes you may find there is a Windows system image recovery failure with the error message "The system image restore failed" in Re-image your computer interface.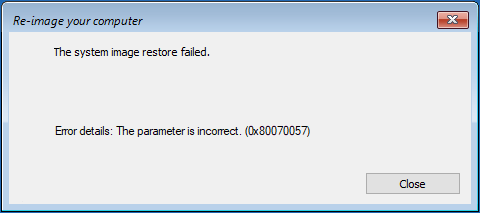 This issue often happens in Windows 10/8/7 and there is always an additional message followed:
The parameter is incorrect. (0x80070057)
An error occurred while performing the recovery operation.
No disk that can be used for recovering the system disk can be found.
Windows cannot restore a system image to a computer that has a different firmware. The system image was created on a computer using BIOS and this computer is using EFI.
A Volume Shadow Copy Service component encountered an unexpected error. Check the Application event log for more information. (0x80042302)
Additionally, the error code 0x80042414 may appear.
How to fix system image restore failed issue in Windows 10/8/7? The following are the solutions. Keep reading to learn details.
MiniTool ShadowMaker: Restore Your PC from a System Image
The best way is to use another backup & restore solution to restore your computer to a normal state. Here, we recommend using MiniTool ShadowMaker, professional backup software for Windows10/8/7.
This freeware can be used to back up Windows system, files, disks or partitions. Once your system crashes or the data is lost, the corresponding image can be used to restore the system or files.
What's more, it offers you Media Builder feature, enabling you to create a bootable drive to boot the PC when it is unbootable and then start an image recovery in MiniTool ShadowMaker Recovery Environment.
Move 1: Back up Another PC System
Step 1: Launch MiniTool ShadowMaker Trial on your computer, click Keep Trial and Connect button in the local section.
Step 2: By default, this software helps to back up Windows system (system partitions and destination haven't been selected). And you can directly click Back up Now button to start the backup.
After finishing the system backup, you need to create a bootable drive for system image recovery in WinPE. Then, enter MiniTool PE Loader and launch MiniTool ShadowMaker to continue.
Move 2: Restore System Image to the System Disk of Your Non-working PC
To fix the system image restore failed issue, the second move is to perform a system image recovery. Please remember to restore the image to the system disk of the problematic computer.
Step 1: Go to the Restore interface, find the system image and click Restore button to continue.
Tip: If the system image file isn't listed, please click Add backup to add it to the list.
Step 2: Choose a backup version.
Step 3: Tick all the partitions that are required for Windows to run from the selected image file. Here, MBR and Track 0 should be chosen.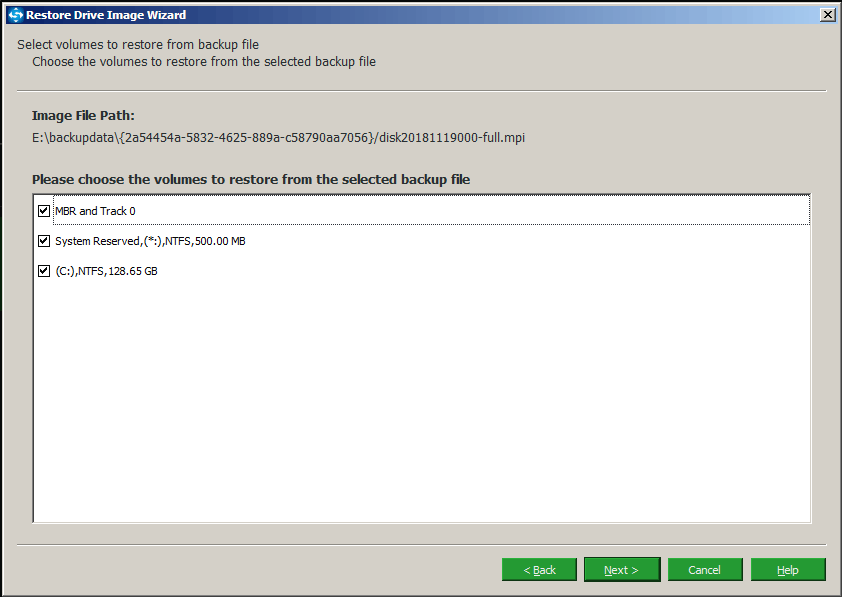 Step 4: Specify a target disk to restore the system image to. To let your PC can run properly, here you can choose the system disk as the destination disk. Then, after clicking Next button, MiniTool ShadowMaker will tell you which partitions to be overwritten during the recovery.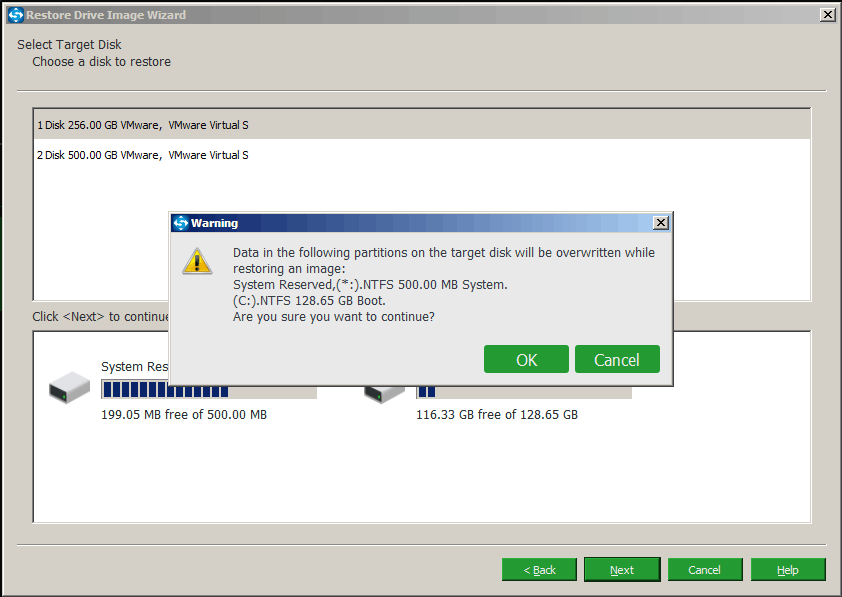 Step 5: Recovery process is performing, please wait patiently.
If you want to fix system image restore failed Windows 10/8/7 issue and still use the built-in Backup and Restore tool to protect the PC, what should you do? The following are the full solutions to solve this problem in different cases.
To Fix the System Image Restore Failed Solution 1: Clean Target Drive
Take Windows 10 as an example.
Step 1: Download Windows media creation tool, and create a Windows installation disc or USB drive for PC boot. After finishing the configuration of language, keyboard, etc, click Repair your computerto enter Windows 10 WinRE.
Step 2: Navigate to Troubleshoot > Advanced options > Command Prompt.
Step 3: Type the following commands and press Enter key after every command:
diskpart
list disk
select disk n: (n means the disk number of the target disk)
clean
exit
Then, you can try to restore the system image to this disk without the system image restore failed 0x80042412 error.
Solution 2: Convert Target Drive to NTFS
Similarly, you need to enter WinRE and use Command Prompt to do this work. In the CMD window, please type the command: convert n: / fs:ntfs (n is the drive letter) and press Enter.
Solution 3: Pull out USB Bootable Drive
If this issue happens on Windows 7, perhaps this is because Windows 7 treats the USB drive that you use to boot your PC as an internal disk drive. When you try to recover your image, the disk Windows sees in the image don't match the physical disk on your computer.
In forums, some users recommend pulling the USB flash drive out after it had booted the recovery instance but before attempting to begin restoration. This solution is proved to be working. For more information, you can read this forum - Windows image restore (Error code 0x80070057; "the parameter is incorrect").
Solution 4: Use CHKDSK Command
This issue may happen in Windows 10/8/7 due to some corruption in the hard disk of the computer. So, we advise you to run a check disk to spot any error in your hard disk.
Step 1: To do this, you can right-click on the Start button and select Command Prompt (Admin) if your computer can run. If the PC is unbootable, you still need to go to WinRE and go to Command Prompt.
Step 2: Type chkdsk c: /f and press Enter. This will display the exact errors occurring in your hard drive and fix them.
If these two ways fail to fix the system image restore failed 0x80070057, perhaps the system image you have created is corrupted. Maybe you need to reinstall Windows.
Solution 5: Make Sure the Destination Disk Has the Same Partition Style as the Source System Disk
If the system disk that you have created a system image is MBR disk, the target disk that you want to restore the image to should be an MBR disk, and vice versa. If it is not, please convert it to MBR or GPT. In a word, both the source system disk and target disk should have the same partition style.
To convert the disk to MBR/GPT, you can use the professional partition manager, MiniTool Partition Wizard Professional Edition since it offers you Bootable Media feature, enabling you to boot the PC and enter WinPE to perform the conversion when you cannot restore a system image in Windows 10/8/7.
Solution 6: Ensure the Destination and Source Computer Are Using the Same Boot Mode
Windows doesn't allow you to restore the system from BIOS computer to UEFI based computer, and vice versa. If your backup was created on a UEFI PC, please enable UEFI mode in another PC. If the backup was created on a BIOS computer, change the boot mode to the Legacy.
To change the firmware mode, please boot your computer to the boot menu by pressing a specific key (this is based on the specific PC) during the bootup. Then, select UEFI or Legacy.
In addition to these cases, you may experience the system image restore failed 0x80042414, 0x80042302, etc. Just look for the solutions online.
News From
MiniTool Solution
Category:
Data Recovery Services
Company about: MiniTool Solution Ltd. is a software development company based in Canada. As a dedicated software development company, MiniTool Solution Ltd. provides customers with complete business software solutions in the data recovery and partition management industry.